SigTac "Shorty"

The SigTac SB15, technically an "arm brace," combined with buffer tubes from KAK Industries of Missouri, when adapted to the AR platform allow an inventive individual the opportunity to build a world class defense weapon second to none.  We will discuss some of the "how and why" and show one in the works.  The video below is supplied by Kurt Kosman of KAK Industries in Lees Summit, Missouri:
[youtube yWOfrESkSJ4]
The weapon from the video is in full .308, a brutally powerful and highly effective "irritant."  Thus, I have to have one!  My first SigTac build will be in .300AAC and somewhat lesser.
As Americans and veterans, I expect readers to have a love of weapons.  I am, perhaps, the most pro-gun "liberal" on the planet.  Cutting to the chase, I am building a few AR based weapons, among them are pistol based AR  platforms in .300 AAC "blackout" and, eventually the .308 or 7.62×51.
Here is the rationale for such weapons, the .300 AAC group; these are short barreled, optimally 8 to 12 inch barrel, very long range, 500 meters and beyond, and capable of subsonic/silenced ammunition or approaching the .308 in higher velocity performance.  The typical comparative weapon is the MP5 in 9mm, a $4000 "pop gun" that does 50 yards and barely tickles body armor.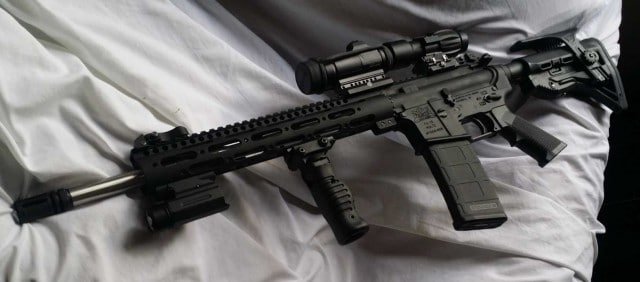 An SBR or Short Barreled Rifle, meaning any weapon with less than a 16 inch barrel that is not technically a pistol requires a special license.  Rifles can be legally "expressed" as pistols as long as they don't have stocks, folding or otherwise, or front vertical grips.  Do not play with this law.  If you want an SBR, learn the law, pay the tax, and do so before buying parts or ordering a weapon.
Here is what you are allowed.  If you purchase the SB15, $130 at KAK and available elsewhere also, you can legally place what could be used as a stock on a pistol.  The SB15 comes with a letter from the ATF stating the legality of this.  Yes, you can legally hold this "arm brace" against your shoulder.  I have carefully verified this.
Here are some assembly issues.  An AR requires a buffer tube.  Most pistol buffer tubes either have foam "junk" on them or are too short to keep the SB15 far enough back to be able to use a sight or optic.  There are several specialized buffer tubes that are round, without an adjustable stock design, that can work with the SB15.  One is the old A2 buffer tube, 9 inches long but it doesn't use a crown nut or plate to hold in the spring and pin that secure the lower receiver to the upper receiver.
This requires some inventive and unattractive screwing with, literally.  Also, the A2 tube is a fair fit but not perfect.  However, it will work and produces an outstanding weapon but is probably not the best decision.  A standard pistol buffer is too short, simple as that.  You need an inch or two of "play" to set the SB15 back or you will knock out an eyeball with recoil.
Of several extended pistol buffers that take crown nuts and will hold base plate sling adaptors, such as the excellent one from Troy Industries, the KAK is by far the best.  There are two models, one quite lovely with available spacers to put the stock at the perfect spacing for optics eye relief.
There are one or more others that don't fit well, sold on Amazon or Ebay.  That is a bad thing.  The price difference is less than a six pack of Miller Lite.
I went with KAK because they are accountable and answer the phone.  This is a big deal with me.
Here are some additional issues to get you started.  If you buy a lower receiver, either full or stripped, it must be registered and purchased as a "pistol" lower.  Yes, I know they are technically the same and this is an area where the law has not been clear.  Registering it as a pistol lower is safe and rational.
You can buy a complete upper receiver with a short barrel, as long as you own a pistol lower.  Without that, it is illegal to buy one.  The only "stock" you can put on a pistol lower is a SigTac.  Do not put a front grip on even if you have the best rail in the world.  If you need to hold on to something, get a MAKO mag well attachment.  They work fine.  Cost is between $18 and $30.  They are legal.
Most upper's come with a standard A2 flash hider.  If you are shooting hot ammunition, a "flash can" is recommended.  KAK has one for $30.  This is quite optional.  Noveske has one for $149 with their "flaming pig" design.  I do like that.
Optics need to placed carefully based on eye relief performance.  I use an Eotech.  They are pricy as are Aimpoint.  You must have height.  Flat and low red dots don't work.  Small ones are hopeless.  Scopes aren't advisable either unless you are shooting at over 300 meters, which one of these can actually do.
A Trijicon works but can do recoil damage to the human head.  However, they are great performers.
Upper profiles are usually flat top but the traditional A2 with the handle and gas block mounted sight works extremely well.  These usually come with a plastic handguard that doesn't allow for flashlights and bottle openers.  Without much expense, you can replace that plastic with Israeli plastic, the CAA.  It has plastic pic rails and works fine though it has that Klingon look about it.
Any "drop in" rail will work with an A2
Most come with 7 inch free float rails, usually the cheaper higher profile rails.  This is fine though the 10 inch works.  The larger rails are recommended as they fit over a flash can or suppressor, if full length is used.  The low profile, like the Midwest Industries, are light, very pretty and not cheap.
A good quality pistol grip is recommended, perhaps a Ergo or UTG.  There are others.
What you will have is a 30 round semi-automatic carbine 2 feet long weighing 3 to 4 pounds capable of hitting hard at over 300 meters with astounding accuracy.  This is "where it is at" today.  You can hit like an AK with no recoil, a smaller weapon by far and very high reliability.
Ammunition will be so expensive you will not be shooting this at the range for amusement, however.  Someone should do something about that.

Gordon Duff is a Marine combat veteran of the Vietnam War. He is a disabled veteran and has worked on veterans and POW issues for decades. Gordon is an accredited diplomat and is generally accepted as one of the top global intelligence specialists. He manages the world's largest private intelligence organization and regularly consults with governments challenged by security issues.
Duff has traveled extensively, is published around the world and is a regular guest on TV and radio in more than "several" countries. He is also a trained chef, wine enthusiast, avid motorcyclist and gunsmith specializing in historical weapons and restoration. Business experience and interests are in energy and defense technology.
ATTENTION READERS
Due to the nature of independent content, VT cannot guarantee content validity.
We ask you to
Read Our Content Policy
so a clear comprehension of VT's independent non-censored media is understood and given its proper place in the world of news, opinion and media.
All content is owned by author exclusively. Expressed opinions are NOT necessarily the views of VT, other authors, affiliates, advertisers, sponsors, partners or technicians. Some content may be satirical in nature. All images within are full responsibility of author and NOT VT.
About VT
-
Read Full Policy Notice
-
Comment Policy