–  Published August 20,  2014  –
Press TV has conducted an interview with Jim W. Dean, with VT from Atlanta, about a Russian official saying that Russia is working on further retaliatory measures in case the West imposes new sanctions against Moscow over the crisis in Ukraine.
You can view the 5 minute news clip on Press TV here.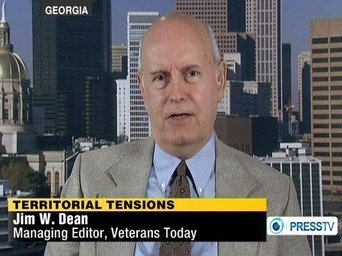 What follows is an approximate transcription of the interview
Press TV:  Jim Dean, we could talk about the sanctions and how it is going to play out. Maybe you want to tell us who is going to win that war but I do not think anybody really is but what is worse is the rhetoric coming from NATO and also from Russia. NATO is saying that it is going to move in if Russia is going to continue doing what is doing pretty much and Russia preparing its submarines I believe or maybe their ships with stronger equipment. I am not too sure many could say how close we are coming to these two entities getting entangled?
________________________________
Dean: Well NATO is running a psychological operation on the military threat from Russia that is totally non-existent.  Russia's military threat to Ukraine is non-existent. The Russians know that this [moving into Ukraine] is exactly what the West and NATO would love to have them do so that they can launch their full-scale retaliation…which is what they would like to do but they cannot politically do.
And all of us know, we have been watching Putin and Russia handle this situation very, very carefully. They have avoided all the provocations and they have not overreacted to anything.
And actually the sanction war in the last two weeks, and especially the last week has taken a tremendous turn because domestic political opposition in the EU countries is expanding daily not only from the folks that are in the industries that are getting hurt, but you are having a lot of high level politicians openly challenging who thought this thing out we have a hundred and ten billion dollar trade surplus with Russia.
So why in the world would we want to get into a sanctions war with Russia when we [the EU] have teetering economies … we are trying to keep them going, we need these export markets and the whole thing is just complete insanity.  People are starting to understand that now, and it is happening quicker than I thought that it would.
Press TV: But there is a war going on, isn't there? I mean you have the central government in Kiev, government forces coming in the east targeting the different areas that they have but so far I think the total altogether is 2,000 people now to have died as a result.
Something has got to stop this, what will it? Is it going to be Russia as they say who were supporting the pro-Russian fighters stop their inflow of weapons and equipment even though Russia says that they are not doing that? What will it take to stop this?
__________________________________
Dean: What we are seeing is that the West for some reason is totally committed to wanting Kiev having complete control over the eastern Ukraine. We do not know whether they are looking at a future base in there, or they want missile positions that close to the Russian border or there is resources. There is something going on economically in the background.
But what we are also beginning to see now with this convoy that has been dragged out with road blocks thrown up to block being able to get to these suffering E. Ukraine people with no water and no electricity into the besieged cities. 

Now some other countries that were onboard with the sanctions like Finland, some of the Latin countries, they are now starting to mention that maybe, if we can get this humanitarian convoy in here, this will be the momentum to get the ceasefire going, and they are beginning to see now that they need to be more active in de-escalating the Ukraine situation so that they will not trigger more sanctions.
They realize now that Ukraine is being used by the West to create this sanctions war against Russia and that all of these other countries are going to be just collateral damage, and there have been some statements by some of these EU politicians that their leaders have made them subservient to US interests where Europeans are going to be punished, not the US public.
It was quite a shock to see this happening so quickly, so it is a very good sign that people are responding.
______________________________
Jim W. Dean was an active editor on VT from 2010-2022.  He was involved in operations, development, and writing, plus an active schedule of TV and radio interviews.
ATTENTION READERS
Due to the nature of independent content, VT cannot guarantee content validity.
We ask you to
Read Our Content Policy
so a clear comprehension of VT's independent non-censored media is understood and given its proper place in the world of news, opinion and media.
All content is owned by author exclusively. Expressed opinions are NOT necessarily the views of VT, other authors, affiliates, advertisers, sponsors, partners or technicians. Some content may be satirical in nature. All images within are full responsibility of author and NOT VT.
About VT
-
Read Full Policy Notice
-
Comment Policy