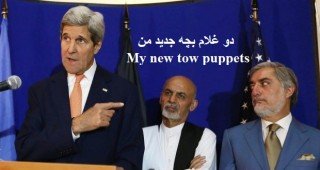 He Has No Legal Authority to Sign a Bilateral Security Agreement
Dr. Ashrarf Ghani was not elected by the Afghan majority but "selected" by the U.S. government . He has no authority to execute any bilateral security agreement on behalf of the Afghan people.
Recently, even the United States government and UNAMA admitted publicly that the election was permeated with fraud. The United States government "selected" Dr. Ghani because it is only concerned about the quick signing of a bilateral security agreement. The United States already knows he will sign it . Ghani's connections with the United States are well known and documented. The U.S. needs the bilateral security agreement so that it can have its nine permanent military bases in Afghanistan to control the Afghan people's vast untapped Rare Earth Elements (REEs) worth trillions and for geopolitical reasons. Since the collapse of the superpower, the Soviet Union in 1989, the U.S. wants military bases in Central Asia located on its new outer defense perimeter next to Russia and its former provinces, China, Pakistan, Iran and India. Without a lawful bilateral security agreement, the United States must end its occupation of Afghanistan and completely remove all of its troops and military bases.
The forced and "selected" Afghan unity government, which consists of communist war criminals such as Rashid Dostum, Mohammad Mahaqiq and war lords, and drug traffickers, cannot represent the Afghan people. These criminals need to be prosecuted in lawful tribunals and imprisoned for their war crimes they have committed these past four decades. Secretary Kerry's "selected" government of warlords and criminals is not acceptable to the Afghan majority.
I strongly believe this forced-signing of the bilateral security agreement will escalate the war in Afghanistan and the surrounding region. It is part of the United States' divide and conquer policy. I think the war strategy diplomacy needs to change to a peace negotiation strategy with the Afghan Freedom Fighters, which is supported by the majority of Afghans. The current U.S. war approach with its proposed bilateral security agreement is just a formula that perpetuates the continuation of occupation, division, corruption and war. I believe the bilateral security agreement, which allows permanent U.S. military bases and troops in Afghanistan, will not lead to true peace and stability, as the presence of such foreign troops on Afghanistan's soil only causes more war as evidenced by the past thirteen plus years.
Is it just and legal that puppet leaders are signing security agreements that are forced upon them by the invader/occupier? In the past, Karzai was forced to sign agreements in the middle of the night. I believe the majority of Afghans do not even know what the Bilateral Security Agreement is and what the REEs are and their value. I think if Afghans do not wake up soon the reality will be foreign (U.S.) permanent military bases in Afghanistan, which will only benefit the greedy war profiteers, puppet government, foreigners and war lords. For Americans, it will only mean more suffocating debt and more young soldiers returning home physically and emotionally wounded, and grieving widows and families. I think the approach has to change to a peace approach from the present war approach,
First of all, from the start, I believe that the invasion and continued occupation of Afghanistan was illegal. Second, based on this illegality, I believe that any agreements, such as the Bilateral Security Agreement, signed by the puppet governments are not lawful and tainted by this war/occupation. The United States' invasion and occupation of Afghanistan violates the UN Charter and international law. As you know, the United Nations' Charter is a treaty, which was ratified by the United States. As a ratified treaty it became part of U.S. law. Therefore the U.S. must comply with the UN Charter. Article 2 (4) of the Charter, bans the use of armed force against another country except under two circumstances. It reads, " All Members shall refrain in their international relations from the threat or use of force against the territorial integrity or political independence of any state, or in any other manner inconsistent with the Purposes of the United Nations." This article has also become part of the international customary law.
Under the UN Charter, there are two exceptions to the ban on the use of armed force. First, a country can use armed force against another country in self-defense as provided for in Article 51. Second, a country can use armed force when the UN Security Council approves such force to maintain or restore international peace and security. Neither of those exceptions was met before the United States invaded Afghanistan and began waging war.
The United States' war in Afghanistan is beyond the scope of self-defense allowed by Article 51. Self-defense can only legally take place when an armed attack takes place against a state. The Afghan government in 2001, led by the Taliban, did not attack the United States on 9/11. Nineteen individuals, fifteen (15) from Saudi Arabia, attacked the United States. Also, individual Afghans did not attack the United States. That is a fact. During the past twelve plus years, no evidence has ever been produced by the United States to the contrary. Propaganda, speculation and expert opinions in the media do not constitute credible and relevant evidence. Furthermore, there was no imminent threat that Afghanistan would attack the U.S. or another UN member country. Self- defense can only be used to repel an attack. Immediately after the tragic events of 9/11, the attacks stopped. There was no imminent threat to attack the U.S. by the Afghan government before or after 9/11.
In addition, the UN Charter and well established international customary law, provide that self-defense would warrant only measures, which are proportionate to the armed attack and necessary to respond to it. It must not entail retaliatory or punitive actions. The United States' war tactics in Afghanistan are retaliatory, punitive and illegal. In and of itself, the use of cluster bombs, weaponized drones, uranium tipped weapons is a disproportionate use of force and unnecessary force. The United States' illegal use of self-defense is collectively punishing an entire nation. It is in violation of the UN Charter and international law. Furthermore, the right to Self-Defense set forth under Article 51 cannot be legally used against Afghanistan because the Afghan government allegedly refused to extradite Bin Laden. Extradition matters are resolved through peaceful measures in courts and not through the use of armed force with massive cluster bombs, drones, uranium tipped weapons etc. which have killed thousands of innocent Afghans and ordinary Americans serving in the military, during the past twelve years. I believe this illegal war and continual killing of innocent Afghans violates the UN Charter and international law.
When the United States invaded Afghanistan, the United Nations' Security Council did not authorize the United States or any country to use military force against Afghanistan under Chapter VII (7) of the UN Charter. The UN Security Council can invoke Chapter VII use of force to maintain or restore international peace and security only when actual military force was being used. "Terrorism" can be a threat to international peace. However, during the thirteen plus years, there has been no evidence showing that the Afghan government or any Afghans committed or were involved in the tragic terrorist attacks on 9/11 nor that it was a threat to international peace and security. Propaganda on television and opinions of experts is not evidence. I believe the United States' war in Afghanistan is illegal and amoral and has only led to a vicious cycle of blood shed, genocide, drug trafficking and corruption.. Thus, I believe that any Bilateral Security Agreement would not be legitimate as it was signed by a corrupt, puppet government not supported by the majority of Afghans. Although some weak –minded, puppet, and war profiteering Afghans argue that if there are no foreign permanent military bases inside Afghanistan, our neighboring countries will invade and take our territory. As history has shown, Afghans are capable of defending Afghanistan even against super powers and countries that have more sophisticated weapons.
I believe to stop this blood shed and further chaos, the United Nations , France, China, Russia, England and the United States need to act and hold peace negotiations now with the Afghan Freedom Fighters to reach an agreement that can lead to true peace and stability. As history has shown, countries that have waged war in Afghanistan have suffered economically and have left in defeat. The British, the Soviet Union, Alexander the Great left defeated and economically weakened. Now the United States is in a big mess. I believe this war approach is not in the long term, best interests of the United States or Afghanistan. The U.S. economy is weak. A country cannot be a leader or secure with a weak and failing economy. This war approach in Afghanistan is not making the U.S. more secure or the economy stronger. It is just perpetuating more war, debt, and corruption. After almost four decades of suffering and war, Afghans deserve better. After thirteen plus years of war and a failing economy, Americans deserve better.
In sum, any bilateral security agreement signed by Ashraf Ghani, Abdullah Abdullah or any other selected puppet of the forced so-called unity government is not legal as it would not be signed by an "elected" Afghan leader. It will not be accepted by the majority of Afghan people.
Sadly, I believe the Afghan people will be subjected to many more decades of suffering because of the actions of superpowers like the United States , which cannot stop playing games in Afghanistan, the Heart of Central Asia. For more than a decade, I along with other Afghans, who are not war profiteers, war lords or war criminals, have drafted and presented Plans for bringing Peace in Afghanistan. The United States and Afghanistan's neighbors must stop interfering in Afghanistan so that these peace plans can be implemented by the Afghan majority to determine their own path to peace.
Sincerely,
Abdul Kadir Mohmand
Former Representative of the Afghan Freedom Fighters for North America in the 1980s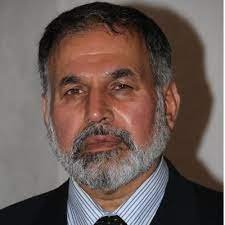 Abdul Kadir Mohmand was born in Kabul, Afghanistan. He currently resides at Kalamazoo, Michigan. He graduated from Kabul High School. On an UNESCO scholarship, Mr. Mohmand studied at Sofia University, Bulgaria from 1976 until 1978 when his studies were interrupted by the Communist seizure of power in Afghanistan. The new Afghan Communist government ordered the Bulgarian government to return him to Afghanistan because he was anti-communist. Mr. Mohmand requested political asylum. With the help of the United Nations and the U.S. Embassy, he arrived to Italy and then the United States in 1979.
Mr. Mohmand returned to his studies and earned his B.S. in 1983 from Western Michigan University. He found employment in various positions in the engineering business. For many years, he worked for BFI and was country operations manager for BFI Italia. Currently, Mr. Mohmand owns a shopping center and develops commercial properties.
During the 1980s, Mr. Mohmand was the Representative of the Afghan Mujahideen for North America. During the 1980s, Mr. Mohmand returned to Afghanistan to fight as a freedom fighter against the Soviets and Afghan communists. Through an arrangement with Borgess Hospital in Kalamazoo, Michigan, Mr. Mohmand would bring back wounded Afghan children and Mujahideen for medical treatment at Borgess and recuperation in his home in Kalamazoo. He formed and was president of a nonprofit, Aid for Afghanistan.
In the 1980s, Mr. Mohmand also worked with the Committee for a Free Afghanistan in Washington D.C to bring wounded Afghans to the United States for medical treatment.
For the past four decades Mr. Mohmand has dedicated his life to working to achieve true peace and stability in Afghanistan.
A few years ago, Mr. Mohmand organized educated Afghans intellectuals across the world who drafted a comprehensive plan for peace. Presently, he has united many different Afghan peace organizations under one umbrella. The goal of this network is to unite Afghans to bring true peace in and the independence of Afghanistan. This network wants to be the bridge between the Afghan freedom fighters and the silent Afghan majority, and the Western World in any peace negotiations.
Mr. Mohmand wants true peace and stability in Afghanistan. As a veteran of war, Mr. Mohmand hates war.
ATTENTION READERS
Due to the nature of independent content, VT cannot guarantee content validity.
We ask you to
Read Our Content Policy
so a clear comprehension of VT's independent non-censored media is understood and given its proper place in the world of news, opinion and media.
All content is owned by author exclusively. Expressed opinions are NOT necessarily the views of VT, other authors, affiliates, advertisers, sponsors, partners or technicians. Some content may be satirical in nature. All images within are full responsibility of author and NOT VT.
About VT
-
Read Full Policy Notice
-
Comment Policy