MaMA Event  5th Edition
A French and International Event for Music Professionals
and Opportunities to Meet Locals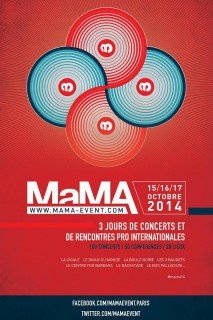 When I saw the sign in the street announcing the MaMA Event — three days of music and professional meetings in Paris from October 15, 16, and 17, I  knew it would be a great event. This was the fifth year, and MaMA Events has already achieved its goal to have meetings with French and international music professionals in the Montmartre area of Paris. There were 100 concerts featuring up and coming or those wishing to be up and coming stars, and all were open to the public, some which were free. The concerts took place in Montmartre and Pigalle in theatres, art gallleries, and cabarets. There were three themes — festivals, artists and recorded music. I went with Mark W. Suits, our photographer at VT.
I really did not know what to expect, so I went to the professional cocktail reception on October 15 to meet music professionals. It was a good opportunity to meet music professionals trying to promote new talent, and to organize our visit.
There were business lunches,  apero-showcases, where those in the music industry from France and international communities had the opportunities to discuss collaborations. Each evening there was a good opportunity for networking at a cocktail in a special building call Trianon. If we wanted to get away from all the noise, we headed for the press lounge.
Following are the statitics for MaMAEvent…
There were 60 conferences, 48 debates and workshops and 17 networking activities, including  speed meetings, initiatives corners, drink -showcases. Topics included international issues, the digital economy, start-ups and investment return. This year there was a 15% increase from 2013, with 4,372 professionals attending. Professionals from 67 nations attended. There were 420 media accreditations issues: There were 7000 people who attended live concerts in Montmartre.
I had never been to these venues in the Montmartre area of Paris, such as La Cigale, Le Boule Noire, Le Divan de Monde and Bus Palladium. Many of the concerts were there. My favorite was the concert by Flavia Coelho from Brazil, which was perfomed in La Diva. She has an excellent voice and relates well with the audience. She dedicated a special song to someone whom she loved and who inspired her — her father.  Her new album "Mundo Meu" includes a variety of different styles –  samba, funk, reggae, afrobeat, boléro, hip-hop and forro. After the concert, I met Sabrina and her colleagues, who are production agents at Media Music Consulting  and are agenets for other  singers. Their office is located minutes away from where I live, so they suggested I visit them.
At Le Divan, I met Barbara and Pierre, who were at the entrance to the concert. They said I must go to O'Sullivans, an Irish pub down the street, which I know to see Fills Monkey. What a show these two entertainers put on without saying a word. They play drums and do skits. They are so funny!
Many of the meetings looked very interesting, such as "Show Me the Money", presented in French. Musicians today have to direct their companies: administration, promotion and bookings. This was a discussion on how the industry works and how the money comes, and some suggestions how to simplify things.

"Where's My Money" was a seminar having simultaneous translation in English/French. It was emphasized that because of numerous free concerts, more activities must be done to get money.
I attended the meeting "How to Do Business in China", which had an independent French journalist as moderator, one French speaker and four Chinese speakers. They talked about promoting musicians and the obstacles they face in China. All programs must be approved by the Communist government based in Beijing. The program was presented in English by Institut Français.   Because it is the 50th year of diplomatic relations with China, the Embassy of France in China and MaMA wished to organize a specific focus on the situation of the music market in China and to respond to numerous questions.  The organization of this conference benefitted from the help of the Kaiguan Culture in Beijing. We heard about the networks to difuse the music, the important players in the industry, as well as festivals, promotors in the physical distriution and digital distribution, and social networks and means of promotion. The question of independent labels competing with the domination of Mandopop was discussed. For the first time at MaMA, five professional Chinese or based-in China answered questions. They are  local promoters, managers of labels, organizing groups and festivals, but also independent consultants for copyright and  pirating.
The moderator was Olivier Richard, an independent journalist in France.
The panel consisted of:
Haisong Yang  (China)  Maybe Mars
Keyl Zang (China) Modrnsky
Ed Peto (China) Outdustry
Billy Koh ( China) Director of Amusic Rights
Leo de Boisgisson (France) Co founder of Kaiguan Culutre and Dong Dong Festival
Another event was Networking.  A speed meeting by MaMA and L'Institut Français, called Meet Africa, was an opportunity for music professions to meet professionals from countries in Africa including Senegal, Cameroon, Bénin, South Africa, Isle Maurice, RD Congo and South Africa.
 While attending a concert, Mark Suits, our photographer with VT, and I met Aude, who told us about Roller Derby, a sport in USA which is gaining popularity in Europe. The Paris team, called Rollergirls was created in 2010 and the Dublin team called Dublin Rollerderby fouded in 2009. In 2013, a USA team Unicorn, (www.madrollindolls.com/index.php/team-unicorn )  from  Madison, Wisconsin came to Paris, and the Paris Rollergirls won.
The members of the teams have nicknames such as Petit Zombie, Oli Barbak, Race Kelly, Bully Bunker, Princess Bitch, Kill Belle, Odalicious Basterd and Demi Déesse. They practice 3 or 4 times per week.
The Paris Rollergirls won against Dublin Rollerderby last year, but on October 25, when we went to see  the Rollergirls play against Dublin, the Dublin Rollerderby team won in Paris.
Friendships are made amongst the girls; and win or lose, they go out to drink after the games, and some stay at each other's homes.
Rollerderby is gaining popularity.  Their World Cup will be December 4-7 in Dallas, TX. Six Paris Rollergirls and 6 Dublin Rollerderby girls are going to the World Cup
What countries will be at the World Cup? 28 countries  http://rollerderbyworldcup.com/
 Mark  Suits agreed with me that MaMA Events was great and was greater than our expectations.
__________________________________
Jane Rosenstein is a U.S. citizen living in Paris, France. She is a professional translator/interpreter. She is the owner of The International Connection which does international marketing consultation including sales of wine, interpretation, and translation.
She enjoys the cultural life that living in Paris offers and has talents in organizing events. She speaks English, French, and Spanish. She has a B.S. degree in mathematics from the University of Pittsburgh and an M.B.A. degree from Georgia State University in Atlanta, GA.
ATTENTION READERS
Due to the nature of independent content, VT cannot guarantee content validity.
We ask you to
Read Our Content Policy
so a clear comprehension of VT's independent non-censored media is understood and given its proper place in the world of news, opinion and media.
All content is owned by author exclusively. Expressed opinions are NOT necessarily the views of VT, other authors, affiliates, advertisers, sponsors, partners or technicians. Some content may be satirical in nature. All images within are full responsibility of author and NOT VT.
About VT
-
Read Full Policy Notice
-
Comment Policy