Commissar Ehrenburg's pamphlet urged Soviet troops to plunder, rape and KILL. This pamphlet was distributed in the millions among Red Army troops on the front lines of battle — men who were already intoxicated with hate and vengefulness as a result of over two decades of Bolshevik oppression: the collectivization of their farms, the confiscation of their grain and property, and the mass murder of their families.
Here are the final paragraphs of Ilya Ehrenberg's pamphlet entitled "Kill":
"The Germans are not human beings. From now on, the word 'German' is the most horrible curse. From now on, the word 'German' strikes us to the quick. We have nothing to discuss. We will not get excited. We will kill. If you have not killed at least one German a day, you have wasted that day.
If you cannot kill a German with a bullet, then kill him with your bayonet. If your part of the front is quiet and there is no fighting, then kill a German in the meantime. If you have already killed a German, then kill another one — there is nothing more amusing to us than a heap of German corpses.
Don't count the days, don't count the kilometers. Count only one thing: the number of Germans you have killed.
Kill the Germans!… Kill the Germans!… Kill!"
And in another leaflet, this is what the same psychopath has to say:
"The Germans must be killed. One must kill them….Do you feel sick? Do you feel a nightmare in your breast?… Kill a German! If you are a righteous and conscientious man, kill a German!.. Kill!"
Ehrenburg, like any skilled propagandist with a penchant for revenge and training in human psychology, appealed to the basest instincts of his men, urging them to rape and wantonly slaughter other human beings at will. There would be no penalties for this injustice. It was all officially sanctioned.
Here is Ehrenburg again, rising to new heights of mental derangement, this time giving his troops the green light to rape and kill as many German women as they wanted:
"Kill! Kill! In the German race, there is nothing but evil; not one among the living, not one among the yet unborn but is evil! Follow the precepts of Comrade Stalin. Stamp out the fascist beast once and for all in its lair! Use force and break the racial pride of these German women. Take them as your lawful booty. Kill! As you storm onward, KILL, you gallant soldiers of the Red Army!"
LASHA DARKMOON: This psychopathic war criminal, directly responsible for the rape, torture and mass murder of 2 million German women after WWII, is now honored in Israel, his papers being lovingly preserved by the Yad Vashem Holocaust museum.
In his 6-volume memoirs, Ehrenberg openly boasts about being aware of the crimes of the Stalin regime, his own included, and actually admits that a veil of silence has been drawn over these matters.
He is buried in Moscow at the Novodevichy Cemetery where his tomb is graced with a crude, cartoonish portrait by his close friend Picasso. One cannot help wondering if the great Spanish painter was aware that his Jewish pal, who won the absurdly named "Stalin Peace Prize" in 1952,  was a psychotic serial killer. (See here).
---
The thought of being burned alive is horrific, but the thought of being burned alive because you are trapped in melted asphalt and literally stuck by your own disfigured hands and knees and screaming is worse.
What did you do to be burned or boiled alive? What was your crime?
You supported Adolf Hitler, the man who dared to stand up to international finance and the Jewish system of systematic international monetary and spiritual enslavement.
THAT was your "crime" and the crime of millions of others in Germany and Europe who were incinerated, melted, tortured, strafed, raped or blown into body parts by their own racial and cultural kindred in the USSR, Britain and America.
The core of the firestorms often reached 3,000 degrees Fahrenheit; the flames 1,300 to 1,800 degrees Fahrenheit. A Holocaust in the truest sense of the word: a burnt offering of the Germanic race – women, children, refugees, POWs, the elderly, and even animals at the Berlin Zoo – to the Christian-Jewish "god" Jahve.
The truth is that this was the single largest burnt offering of human flesh to the Devil in recorded history. And for what? For what did hundreds of thousands of German victims suffer: international finance Capitalism.
And WHY? This is why: So that a few people, mostly ethnic Jews, could continue to make money from money and enslave millions of people in the process.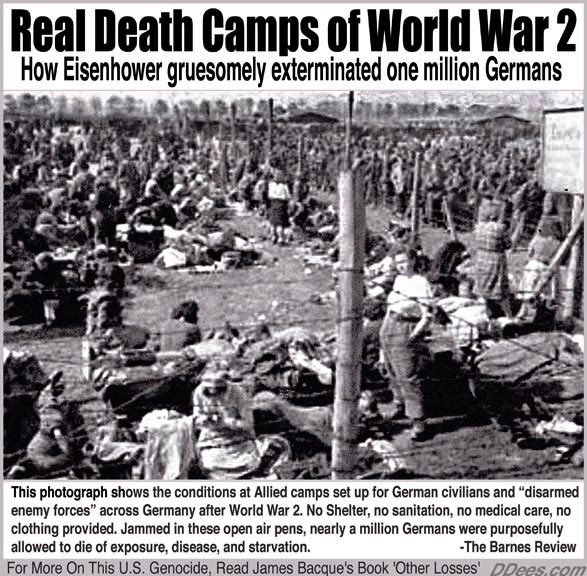 Eisenhower's camps were designed with one purpose in mind: mass death. They were, quite literally, death camps.
Millions of German men and boys died from starvation, disease, exposure, heat exhaustion, thirst, and of course torture, slave labor, random massacre, and systematic execution.
After having served in the worst war in Western history, and one of the worst in world history, German men came "home" to nothing more than rubble.
Their wives, girlfriends, and children were dead, enslaved, mutilated, driven to madness, missing, lost, or had gone with the enemy to survive and prevent further systematic rape by Polish, Russian, and Mongolian soldiers.
There were very few "homes" to return to, so thousands of men ended their lives in despair. They had survived six years of horror and warfare only to end it all in the rubble-strewn wasteland once called "Germany." Why? Because their own blood kindred in America and Britain — and even in much of Europe — had betrayed them: had turned on them to appease their Jewish overlords.
ATTENTION READERS
Due to the nature of independent content, VT cannot guarantee content validity.
We ask you to
Read Our Content Policy
so a clear comprehension of VT's independent non-censored media is understood and given its proper place in the world of news, opinion and media.
All content is owned by author exclusively. Expressed opinions are NOT necessarily the views of VT, other authors, affiliates, advertisers, sponsors, partners or technicians. Some content may be satirical in nature. All images within are full responsibility of author and NOT VT.
About VT
-
Read Full Policy Notice
-
Comment Policy