Is the West digging a hole for itself in Ukraine?

[ Editor's note:  The Ukrainian Separatist Republics are now suffering the Israeli model of collective punishment which has been used on the Palestinians for decades… no infrastructure, health care, education or anything.

If Jews were treated like this, the world Jewish community would be on a rampage, but when dishing it out, all we hear is "we have to defend ourselves".

When I get this cheap pitch for guilt-tripping Israel supporters, I usually turn the tables on them with, "So… if I feel you are a threat to me, then I have the right to put you, your children and grandchildren in refugee camps for 65 years so I can feel safer".

"And if I can get a third-party country like Mars to help me build a wall around you, then that is cool, too… because you have set that immoral precedent?" Needless to say, this does not go down well with them, and it is the last time I have such a discussion with them.

What is going on now is the US and EU are backing an Israeli-style occupation of the Russian-heritage sections of Ukraine that have a problem living in a country where the muscle of the current coup government has openly stated that they should be "eliminated". Remember the Yulia Tymoshenko phone call intercept where the darling of the West offered the solution of "nuking them"?

Germans are protesting the Russian sanctions in the streets as beyond stupid after many years of successful efforts to expand peaceful ties and trade with each other. In the US, the 28% unemployed and underemployed take it all laying down. We see no fight in them despite the occasional whining. I fear this will get worse before it gets better… Jim W. Dean ]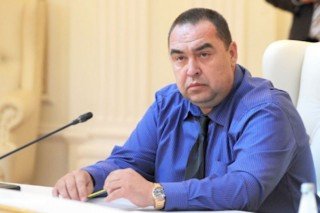 We present you the interview regarding the situation in the New Russia with a political analyst and observer of the elections on 2nd of November Ph.D. Mateusz Piskorski. He is the founder of the Center for Geopolitical Analysis.
Igor Plotnitsky, the head of Luhansk People's Republic, while commenting on Facebook about the decision of Ukrainian authorities to discontinue payments of all social obligations to the residents of Donbas, announced about a possibility of a referendum on accession of LPR into the Russian Federation:
"If people will vote for the accession to the Russian Federation, Russia will have the full right to send to its own territory of the former Luhansk region (today – LPR) a regular army and expel the invaders from our land".
Is this a realistic scenario?
This is certainly a desire, a dream and an idea, supported by many residents of Luhansk and Donetsk district. This is not feasible at this stage. Russia will not decide to join these republics to Russia and does not take up the scenario that realized in the Crimea. For several reasons, not only geopolitical but also economic. The most likely scenario is the functioning of these republics and perhaps, in the future, a variety of newly appointed People's Republics within the progressive Ukraine socio-economic crisis.
They may function on the basis of such unrecognized states, of course, receiving some humanitarian support. If we conducted a survey among the residents of these districts, we would see that they are guided by a very simple premises. Some of them recognize that Russia is able to secure the realization of basic needs: social needs, domestic needs, economic, but also the need to provide basic security on the streets. Therefore, they would obviously want to live on the territory of a State that actually works, whose state authorities, more or less efficiently operate.
On the other hand, we have a very large number of people: old people, so just as it was in the Crimea. These people live with a certain sentiment and belief that Eastern Ukraine district form a civilizational, cultural, linguistic whole. And hence they should form a political whole with the Russian Federation.
These two factors mean that if we today would held a referendum, the result would likely be very clear and most of the population would favour annexation to the Russian Federation. Whereas, I emphasize that the Russian Federation today is not ready for such a scenario and will not be ready in a next few years.
Abolishing the social benefits, including pensions, shows that the authorities in Kiev have taken a very risky decision, because that decision says that that Kiev at least partially acknowledged that the areas controlled by the Donetsk and Luhansk People's Republic are no longer part of the state of the Ukraine.
The Ukrainian State, making such a decision, found that it is not responsible for some part of the population, for providing them the social benefits. Thus, this part of the population now has the full right to organize their state structures independently.
Because what Kiev offers today to the population, living in Donetsk and Luhansk area? Absolutely nothing. If I were in a place of the authorities in Kiev, I would thought deeply before launching such decisions. We can clearly see that someone in Kiev fully realized that Donetsk and Luhansk never again will be the part of Ukraine, or not thought very well before making such a decision.
As for the repression that residents in other areas face; residents are routinely accused of supporting the so-called 'separatism' and undermining the constitutional order in Ukraine. Well, this kind of repression takes place not only in those parts of Donetsk and Luhansk district, which are controlled by Kiev – they take place in different districts and even in Kiev. When there is any criticism of the authorities in Kiev, when there are any doubts that the so-called 'anti-terrorist operation "should be immediately terminated and they should start dialogue.
Even the call for dialogue results in repression by the already discussed SBU. It often results in prosecution allegations. I am convinced that sooner or later, people in different regions of Ukraine will come to the streets and we will have a repeat scenario of Donetsk and Luhansk, together with the subsequent proclamation of the People's Republics.
Well, because authority that requires obedience and does not fulfil the elementary obligations to citizens cannot count on the loyalty of the citizens. Those citizens will sooner or later turn from it. In winter in the upcoming months, we will have to deal with a wave of social protests, which will either lead to a profound and radical transformation and the abolition of the surface of the earth part of the political elite today in power in Kiev, or will lead to a further separatism and properly to the end of the Ukrainian State.
Definitive end of Ukrainian state and the formation of its ruins, a whole range of different states that regardless of whether they will be recognized internationally or not, will be de facto countries.
– We have information that Kiev side deliberately destroys infrastructure, destroys towns in eastern Ukraine, many areas are deserted. On the territories occupied by the Kiev, people are afraid to say what they think because they may go jail. ATMs do not work.

Kiev resigned from the payment of benefits, including pension payments for the residents of eastern Ukraine. Medicines are three times more expensive and people cannot buy them anyway, because they do not have the money. On the other hand, we have information that in Donetsk, companies start running as well as payments. People should get a job and social measures. Where the truth lies?
When it comes to Donetsk People's Republic, the situation is relatively good. Basic resources are available there. The situation is much worse in Luhansk where you actually have to deal with a humanitarian disaster.
This humanitarian catastrophe is associated with cutting large part of the infrastructure. Such as power, electricity.
As lack of supply of water which is often not supplied for days. In view of the fact that the infrastructure has been destroyed by missiles falling from the Ukrainian side.
General reflection that is born in the face of these facts is that we are dealing with the creation of a vacuum that consists in the fact that regardless of whether people live in areas controlled by insurgents or areas controlled by the Kiev, they are already convinced of one thing; of the total bankruptcy of Ukrainian statehood. At the moment, they are faced with the need to assume the appointment and often build their own state institutions ensuring the functioning of elementary infrastructure in these areas.
They do so right now. Each bombing water supply provided from Kiev reinforces the idea of Luhansk and Donetsk residents that they must, as soon as possible, create their own state structures, its own army that will protect them against such events. Their own ministries, their own structures responsible for the security of supply of water, electricity. This is happening now.
I spoke with a number of representatives of the People's Republic of Donetsk. I see a very positive phenomenon for them. All the ministries are established. Actually former administration officials will remain in place and continue to work despite the fact that they temporarily do not receive payments due to the difficult situation of war. However, they are in place and continue to perform their duties.
Followed by a smooth transition from the Ukrainian government to self-administration system; Donetsk Republic and the People's Republic of Luhansk. Only those who have held managerial positions went to Kiev and those who could be accused of all sorts of corrupt practices and those who believed that they may have problems if the insurgents will remain power (and probably they will remain in the next few years). They escaped to Kiev at the beginning of the events. Middle and lower clerical state is currently building the state structures.
– What about the nationalization of oligarchs' assets ?
The approach is as follows: part of the representatives of the People's Republic of Donetsk told me that those of Ukrainian oligarchs who declare that they will continue to give people jobs and wages will be able to conduct its business in the areas of DRL.
And that's how it is. Donetsk authorities know that in the current budgetary situation, takeover through nationalization of very many plants would be something beyond the financial capacity of Donetsk.
Therefore, they allow some of these companies to operate. I think that from the point of view of securing the payment of wages at least at the minimum level, it is quite justified. How the future ownership structure in the Donetsk and Luhansk Republics will look like is difficult to decide today.
I rather think that there won't be an extensive nationalization. It will be rather limited to a few companies; mining and heavy industry, but the lion's share of the economy of these areas simply will pass under the control of other business groups. What is going to be performed in these areas is taking over the assets of Ukrainian oligarchs by the owners of small and medium-sized businesses who are trying to continue the activities of these plants.
Let me repeat that Donetsk Republic – state which is not recognized and Luhansk Republic, today have no budgetary possibilities to deal with the modernization and rebuilding of these workplaces.
– How does humanitarian aid for New Russia look like. For assistance of which countries these people may expect?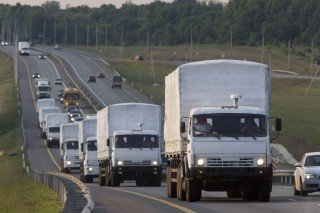 Russia is the only country that gives any humanitarian aid to Donetsk and Luhansk. Of course, you can always count on more.
You can count on the fact that the Russians, in a more proactive manner, will try to maintain functioning of the infrastructure of the republics, but Russia itself has its own problems and honestly in Russia I already meet with such conviction that we have too much budget problems to, even on a larger scale, support Donetsk and Luhansk.
Of course, on the one hand we have the attitude of solidarity indicating that it is the obligation of each of the Russians. We have great public collections that makes this humanitarian aid possible, but of course again everything in a reasonable framework.
On the one hand, Russia can not announce today a major project involving the organization of huge shipments of humanitarian aid to Donetsk and Luhansk. On the other hand, Russia cannot allow the humanitarian catastrophe in Donetsk and Luhansk. So, the level of humanitarian aid is on the medium level. Enabling survival, but it leaves a lot to be desired. Acceptable, however, from the viewpoint of a Russian citizen.
– What is the economic situation of Ukraine? Does insolvency of Ukrainian Naftogaz may disrupt the transfer of Russian gas to Europe?
I would not worry about the energy industry. Well, anyway, at this stage of the development and transmission of the export structure of the Russian Federation. However, Russia in a some small way, will be forced to use the structure of Naftogaz.
The question is under what conditions, the question is how much of this gas will get to Europe – this is completely different question. Because indeed, Ukraine is also insolvent as a contractor buying gas and other natural resources. It may be the case that some of the gas sent to Europe will not be reached to us because it will simply disappear along the way in the Ukrainian containers.
This is the only threat. The threat is not that Russia will completely spin the gas tap, it is not in its interest. It has a long-term gas supply contracts with a number of European Union countries. I would be not afraid of this scenario. Gazprom cares very much about its credibility in this regard. But I would be afraid of theft, by the Ukrainians part of the transportation walking through the territory of Ukraine.
As for the health state of the Ukrainian economy, I will say this: I led quite an interesting discussion with the representatives, let's say bigger Ukrainian business, and many of them say the following: they are not able to continue its business for the very simple reason, they are not able to buy any raw materials or components because the guarantees given by the Ukrainian banks are not recognized and accepted by any European companies, by any partners from other countries.
Therefore, there is a complete paralysis of the Ukrainian economy and without tens of billions of euro aid, resuscitation of the economy seems to be impossible. Socially, of course it will result in the degradation of large areas of Ukraine and the ongoing process of migration. Mass emigration of working age Ukrainians who will also come to Poland. There will be hundreds of thousands of them and in the future already millions of people. Infrastructure of the Ukrainian industry will also be progressively degrading.
Contracts carried out by a number of Ukrainian companies so far will be annulled and these companies will be even brought to bankruptcy by penalties for non-compliance with these contracts. The most recent example of this is one of the Kiev companies, Artiom that supplies rockets for military fighters.
It had contracts with China, but Beijing, at the last minute, due to a lack of credibility of its Ukrainian partners decided to purchase a similar rocket, the same equipment in one of the Russian companies – developing cooperation with Russia. This process will be repeated which of course will lead to disaster in Ukraine.
Konrad Stachnio is an independent Poland based journalist, and has hosted a number of radio and TV programs for the Polish edition of PrisonPlanet; exclusively for the online magazine "New Eastern Outlook".
ATTENTION READERS
Due to the nature of independent content, VT cannot guarantee content validity.
We ask you to
Read Our Content Policy
so a clear comprehension of VT's independent non-censored media is understood and given its proper place in the world of news, opinion and media.
All content is owned by author exclusively. Expressed opinions are NOT necessarily the views of VT, other authors, affiliates, advertisers, sponsors, partners or technicians. Some content may be satirical in nature. All images within are full responsibility of author and NOT VT.
About VT
-
Read Full Policy Notice
-
Comment Policy