by Jonas E. Alexis
I had to see The Interview in order to get a real picture of what the Dreadful Few are up to in Hollywood these days. And believe me, they are still working hard to pervert or subvert or invert anything that they do not like.
First of all, it must be said at the outset that the North Korean regime does not operate by the moral law.[1] As scholar Andrei Lankov at Kookmin University (South Korea) has put it, the regime sees "international politics as a cut-throat, zero sum game."[2]
In a cut-throat competition, the rich and the powerful will thrive and eliminate the weak—a sort of Darwinian and Jewish struggle for existence. In that sense, some North Korean diplomats think that they can get away with their immoral behavior:
"In 1976, Norwegian police intercepted a large shipment of hashish in the luggage of North Korean diplomats. The same year, another group of North Korean officials was found in possession of the same drug by Egyptian customs; they had 400 kilograms of hashish in their luggage.
"In both cases, diplomatic passports saved them from any formal investigation. Next year, North Korean diplomats were caught trying to smuggle drugs into Venezuela and India.
"In India, quite friendly to North Korea in those days, the 15 kgs of hashish was transported by the ambassador's secretary. After that, such seizures became regular occurrences, usually once every year or two, and usually involving North Korean diplomats…
"Official corruption became endemic, so officials became more than willing to turn a blind eye to all sorts of illegal activities as long as they received their cut.
"Arguably, North Korea nowadays might be described as the most corrupt country of East Asia: every interaction with authorities requires payment, and if the payment is sufficient, almost everything is possible."[3]
It is also important to note here that the political regime in North Korea is the product of Jewish ideology, most specifically Stalinist ideology.[4] It is true that North Korea, as Suzy Kim points out, "never witnessed the kind of wholesale purging of its enemies, as under Stalin in the 1930s."[5]
But the fact is that North Korea, during its "primordial" years, mimicked the Stalinist model in many ways. Andrei Lankov, who attended Kim Il-sung University in 1985, argues that
"The Kim family regime began as a bold experiment in social engineering. The experiment was led by the elite, whose efforts were much encouraged—and often directly controlled—by Stalin's Russia, but they also enjoyed considerable support from below."[6]
Kim Il Sung, Lankov continues, "was finally chosen by the Soviet military as the person to lead the Communist regime that was to be built in North Korea."[7]
Furthermore,
"between 1945 and 1948 the nascent North Korean regime operated under the complete control of the Soviet supervisors. The Soviet advisors drafted…land reform law and Stalin himself edited the draft of the 1948 North Korean Constitution.

"The Soviet military police arrested all the major opponents of the emerging Communist regime, who were then sent to prison camps in Siberia—no North Korean penitentiary system existed as yet."[8]
What we are seeing here is that the Jewish ideology opened the Bolshevik floodgate in 1917 in the Soviet Union, moved to places like North Korea around 1945, but now the Dreadful Few cannot control it because we are all familiar with the general principle that when you open a floodgate, you simply cannot tell the water what to do or where to land.
And since Jewish ideology is based on cut-throat competition, which means that it uses the Goyim only when they agree with the ideology, then Kim Jung-un by definition has to be politically and sexually denigrated because he seems to have some reservation on how the Zionist movement ends up manipulating America in general.
http://www.youtube.com/watch?v=jR4q61byve4
---
This brings us to a central point here: one cannot understand the metaphysical substratum behind the movie without coming to terms with Jewish ideology.
Civilta Cattolica postulated quite rightly in 1890 that the metaphysical ideology of Rabbinic Judaism, which finds its expression in the Talmud, will inevitably reduce people "to a kind of moral nothingness, which contradicts the principles of natural law."
The moral and natural law and practical reason are many of the major principles against the powers that be. Moreover, these principles bind us all and keep everyone in check. The reason you are reading this article is largely because you deeply believe in moral and practical reasoning. The moment I slip on a banana peel and start making illogical leaps, most readers will quickly object for good reasons.
What the Dreadful Few are doing through movies such as The Interview is that they want to cut off the moral law and dismiss practical reason and substitute essentially Talmudic disputation, which can logically lead to pornography, the denigration of Logos, sexual liberation, political chaos, etc. Once again, it is pertinent to cite Al Goldstein here:
"The only reason that Jews are in pornography is that we think that Christ sucks. Catholicism sucks. We don't believe in authoritarianism." 
---
This brings us to the crux of The Interview. What, then, do the Dreadful Few end up delivering?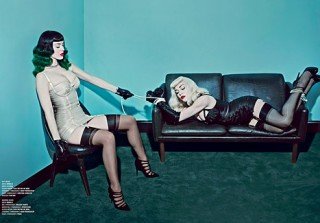 Well, they basically give the West two options with respect to North Korea: You either side with Kim Jung-un and defend him, or you embrace the sexual liberation, pornography, and violence which the Dreadful Few themselves are forcing upon us all.  In other words, we are back to the Jewish "either/or" dichotomy. Aren't there other alternatives?
In one particular scene in The Interview, one North Korean official (a woman) learns about America through punks and whores and sluts like Eminem, Miley Cyrus and Katy Perry. In her own words, she believes that Miley Cyrus' vagina is "very deep." "You Americans," she continues, "are so creative with your sexual innuendoes."
In another scene, the same official emulates Cyrus by practicing literal pornography with "the American" (Seth Rogen), which she finds liberating and fulfilling.
This is no accident that the Dreadful Few implanted those particular scenes in the movie, for we know that they are masters at using pornography as a weapon. We should never forget what at least five Jewish scholars have written:
Nathan Abrams: "[O]lder generation of Jewish filmmakers and actors, here [Woody] Allen, [Stanley] Kubrick and [Ron] Jeremy, arguably not only increased the Jewishness of their work, but updated it to match the new post-1990 sensibility by defining it in increasingly sexualized (and pornographic) terms…Drawing upon films of the past, the New Jew exhibits menschlikayt, and it is this characteristic that allows him to mock the dominant value of goyim naches."[9]

Josh Lambert: the Dreadful Few have used pornography and obscenity "to fight anti-Semitism, while others use it to rewrite traditional stories in a contemporary idiom."[10]

Paula Hyman: "Jewish men, first in the countries of western and central Europe and later in America, constructed a modern Jewish identity that devalued women, the Other within the Jewish community…"[11]

Jay A. Gertzman: "Jews were prominent in the distribution of gallantiana [fiction on erotic themes and books of dirty jokes and ballads], avant-garde sexually explicit novels, sex pulps, sexology, and flagitious materials.'"[12]

Edward J. Bristow: "between 1880 and 1939, the Jews played a conspicuous role in 'white slavery,' as the commercial prostitution of that era was dramatically called. Not only was this Jewish participation conspicuous, it was historically unprecedented, geographically widespread, and fraught with collective political dangers."

The prostitution business, Bristow continues, ranged from "almost all parts of North and South Africa, to India, China, Japan, Philippine Islands, North and South America, and also to many of the countries of Europe" where "Yiddish speaking Jews are maintaining a regular flow of Jewesses, trafficked solely for the purpose of prostitution."[13]
In short, the Dreadful Few want to liberate North Korea through pornography, sexual liberation, and through the decadent music of Katy Perry and Miley Cyrus.  Furthermore, they had to work with the CIA and other neoconservative corporations:
"The Interview was made with the direct and open involvement of CIA and Rand Corporation operatives for the express purpose of destabilizing North Korea. Star and co-director Seth Rogen has admitted that he worked 'directly with people who work in the government as consultants, who I'm convinced are in the CIA.'
"Originally conceived to be a plot taking place in an 'unnamed country,' Sony Pictures co-chairman Michael Lynton, who also sits on the board of the Rand Corporation, encouraged the film makers to make the movie overtly about murdering Kim Jong-Un.
"Bruce Bennett, the Rand Corporation's North Korean specialist, also had an active role, expressing enthusiasm that the film would assist regime change and spark South Korean action against Pyongyang. Other government figures from the State Department, even operatives connected to Hillary Clinton, read the script."
I have talked to many of my South Korean friends who do not even like Kim Jung-un, but their complete reaction to Hollywood's machination was unbelievable.[14]
Andrei Lankov documents throughout many of his books that Kim Jung-un is not a good guy. Yet in a quick review of The Interview, he declared,
"One cannot condone the initial decision of Sony Pictures to make a movie mocking and glamorizing the assassination of a real, living person. While the author believes in the right to freedom of speech, creating such a film is an act of utter tastelessness and is liable to elicit a response."[15]
On his way to America in 1909, Sigmund Freud said that "We are bringing them the plague." That plague was none other than psychoanalysis, which on the surface used "scientific" flavor but was, in reality, a form of sexual bondage.
The Dreadful Few are basically bringing the plague—sexual liberation—to North Korea through The Interview. But if countries in Asia realize that they are being juiced, it's not going to be good for the Dreadful Few.
---
 Let me conclude with the following thought experiment. Instead of mocking and denigrating North Koreans in The Interview, what if the Dreadful Few made a different movie about North Korea and the United States? What if they produced something as decent (but not excellent) as The King and I, which doesn't denigrate women, which respects cultural differences and values, and which for the most part upholds the dignity of human life?
What if Obama actually called Kim Jung-un last year as Kim Jung-un was hoping he would[16] and said something like, "Let us set aside our ideology, try to resolve our political differences, and aim for peace between the two countries"? Didn't Christ himself say, "Blessed are the peacemakers, for they shall be called the Children of God"?
If the United States does not want to settle down and at least talk to North Korean leaders in order to bring peace and not bloodshed, why in the world did we forge a diabolical alliance with arguably the worst mass murderer in the history of mankind—Joseph Stalin?
---
[1] There is some anecdotal (but not scholarly) evidence showing that Kim Jung-il enjoyed watching porn. Tim Stanley, "'Kim so horny': pornography might be the one North Korean industry that's flourishing," Telegraph, July 24, 2013. It is also known among some North Korean defectors that Kim Jung-il traveled with "a troupe of attractive young women" known as "Pleasure Brigade…whose function was to help Kim and his officials 'relax.'" There are also rumors and speculations stating that Ri Sol-ju, Kim Jung-un's wife, was a porn star and executed those who knew about her past. "Hyon Song-wol, Kim Jong-un's ex-girlfriend, was shot to death for taking part in the alleged pornography according to media outlets, and this was confirmed." Kang Seung-woo, "Was NK First Lady [a] Porn Star?," Korea Times, October 10, 2013. Song-wol was a member of the group Unhasu Orchestra and the Wangjaesan Light Music Band, and they "were accused of filming themselves having sex and selling the tapes. Hyon, who first met Kim about a decade ago, was among a dozen well-known performers executed with machineguns." "North Korean dictator Kim Jong-un's former girlfriend shot by firing squad over porn scandal," Daily Telegraph, August 29, 2013; see also Peter Popham, "The singer, the X-rated movies and the dictator: Kim Jong-un's former lover 'executed by machine-gun for appearing in porn films,'" The Independent, August 29, 2013. For similar stories, see "Western vices reportedly on rise in North Korea," LA Times, October 12, 2011; Oliver Hotham, "North Korea internet users 'downloading Top Gear and porn,'" The Telegraph, August 15, 2014; Jill Reilly, "Porn, Top Gear and Angry Birds: What North Korean internet users are downloading is revealed by internet analysts," Daily Mail, August 15, 2014.
[2] Andrei Lankov, "Narco-Capitalism Grips North Korea," Asia Times, March 18, 2011.
[3] Ibid.
[4] For a historical study on this, see for example Andrei Lankov, From Stalin to Kim Il Sung: The Formation of North Korea, 1945-1960 (New Brunswick: Rutgers University Press, 2002).
[5] Suzy Kim, Everyday Life in the North Korean Revolution, 1945-1950 (Ithaca: Cornell University Press, 2013), 138.
[6] Andrei Lankov, The Real North Korea: Life and Politics in the Failed Stalinist Utopia (New York: Oxford University Press, 2013), xii.
[7] Ibid., 4.
[8] Ibid., 6.
[9] Nathan Abrams, The New Jew in Film: Exploring Jewishness and Judaism in Contemporary Cinema (New Brunswick: Rutgers University Press, 2012), 72, 40-41.
[10] Josh Lambert, "'Dirty Jews' and the Christian Right," Haaretz, March 2, 2014.
[11] Abrams, The New Jew in Film, 40.
[12] Quoted in Nathan Abrams, "Triple Exthnics," Jewish Quarterly, Winter 2004.
[13] Edward J. Bristow, Prostitution and Prejudice: The Jewish Fight Against White Slavery, 1870-1939 (New York: Schocken Books, 1983), 1.
[14] Even rapper Yoon Mi-rae is planning to sue Sony Pictures because they use her music without permission. "Rapper to sue Sony over song in 'The Interview,'" Korea Times, December 28, 2014.
[15] Andrei Lankov, "A Sad Comedy of Errors," Korea Times, December 28, 2014.
[16] Michael Walsh, "Dennis Rodman: Kim Jong Un 'wants to talk peace,'" NY Daily News, March 19, 2013;  "Kim Jong Un just wants Obama to call him, says Dennis Rodman," National Post, March 3, 2013; Lucia Graves, "Dennis Rodman: North Korea Leader Kim Jong Un Wants Obama To Call," Huffington Post, March 5, 2013; "Dennis Rodman says Kim Jong Un wants Obama to call him, doesn't want war," NY Post, March 3, 2013.
Jonas E. Alexis has degrees in mathematics and philosophy. He studied education at the graduate level. His main interests include U.S. foreign policy, the history of the Israel/Palestine conflict, and the history of ideas. He is the author of the new book Zionism vs. the West: How Talmudic Ideology is Undermining Western Culture. He teaches mathematics in South Korea.
ATTENTION READERS
We See The World From All Sides and Want YOU To Be Fully Informed
In fact, intentional disinformation is a disgraceful scourge in media today. So to assuage any possible errant incorrect information posted herein, we strongly encourage you to seek corroboration from other non-VT sources before forming educated opinion. In addition, to get a clear comprehension of VT's independent non-censored media, please read our
Policies and Disclosures
.
Due to the nature of uncensored content posted by VT's fully independent international writers, VT cannot guarantee absolute validity. All content is owned by the author exclusively. Expressed opinions are NOT necessarily the views of VT, other authors, affiliates, advertisers, sponsors, partners, or technicians. Some content may be satirical in nature. All images are the full responsibility of the article author and NOT VT.
About VT
-
Comment Policy