___
[ Editor's note: It may be a generational divide, but the younger generation in Israel partially understands the depth and breadth of the corruption in leadership that they are facing.
While back here at the farm, Christian Zionists keep sending the big bucks so it can be whizzed away in occupied lands… ostensibly to pay for that ticket to paradise.
In the run up to this election we may be witness to an agonizing game of assertion and retraction – two steps forward and one step backward. And, notwithstanding General Galant's recent comments, our money's always been on the invincible Jewish women.
Sure, there is a zionistic contingency of see no evil, hear no evil, and speak no evil — but there are also brightly burning human supernovas that are poised to sweep away the leviathans of the past. (Now, there's a word that contains "levi" in it…)
These are the nieces and cousins and granddaughters of the New York City women — so many second-generation Eastern European immigrants — who, as legend had it, kicked intrusive Yellow Cabs out of the way with one soccer-like snap of their high-heeled ankles, as the New Yorker cartoon once vividly illustrated.
Uri presents us with a slice of the picture — his usual tantalizing detail dusted with disinformation. But, there is much more to this year's silly-season electoral dysfunction in Israel than meets the eye… because each election season provides a media platform in which to further cement a false Zionist mythology.
For even as Uri writes, 'the bloody attacks in Buenos Aires 20 years ago were attributed to Hezbollah and Iran', he surely has an inkling that reliable sources have indicated that Tel Aviv was behind the Argentinian attack, rather than Tehran.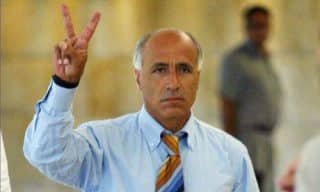 Uri also has been totally mum on Israeli WMD, international terrorism, its massive espionage operations and political subversion wherever it can do these dirty deeds.
His liberal concern for humanity is quite limited actually. There are no marches for Mordechai Vanunu by Gush Shalom.
Just one example is that, after years of publishing our articles here, he has not called to thank us for breaking 9-11 open as a nuclear event with Israel clearly involved, via direct evidence from US investigators.
At the end of this piece, in the spirit of Saturday night adventure we provide a different data point, and invite you to see a shooting star in motion… Why?
Because it seems like more than a lifetime ago when any American held forth with any kind of real or passionate conscience to defend America in the Washington DC Knesset — save for Dennis Kucinich. So, get out your popcorn and get ready to wave your pom poms… Erica P. Wissinger  and  Jim W. Dean ]
______________________________________
–  First published  …  January 24, 2015  –
There used to be a joke about a sadist and a masochist.
"Hit me! Beat me! Kick me!" the masochist pleads with the sadist. The sadist smiles a cruel smile and slowly answers: "No!"
That, more or less, reflects the situation on our northern border at this moment.
Two Israeli drones have bombed (or missiled) a small Hezbollah convoy, a few miles beyond the border with Syria on the Golan heights. Twelve people were killed.
One was an Iranian general. One was a very young Hezbollah officer, the son of Imad Mughniyeh, a very high-ranking Hezbollah officer who was also killed by Israel, some seven years ago, in a Damascus car explosion.
The killing of the Iranian general was perhaps unintended. Seems that Israeli intelligence did not know that he, and five other Iranian Revolutionary Guards officers, were in the convoy. An Israeli army officer admitted this in a roundabout way. A second officer denied the statement of the first.
He did not apologize, of course. One cannot apologize when one does not officially admit to being the perpetrator. And, of course, Israelis do not apologize. Never ever. Indeed, one far-right party in the present election has turned this into an election slogan: "No apologies!"
The intended victim of the attack was the 25-year old Jihad Mughniyeh, a junior Hezbollah officer whose only claim to fame was his family name.
Immediately after the killing, the question arose: Why? Why now? Why at all? The Israeli-Syrian border (or, rather, cease-fire line) has been for decades the quietest border of Israel. No shooting. No incidents. Nothing.
Assad the father and Assad the son both saw to this. They were not interested in provoking Israel. After the 1973 Yom Kippur War, which started with a huge Syrian surprise success and ended with a complete Syrian defeat, the Assads wanted no new adventure.
Even when Ariel Sharon attacked Lebanon in 1982, the Syrian troops stationed in Lebanon did not intervene. But since one of Sharon's war aims was to drive the Syrians out of Lebanon, he had to open fire himself to get them involved. That adventure ended with a Syrian success.
Any intention Bashar al-Assad might ever have had to provoke Israel (and it seems that he never had any) vanished when the Syrian civil war started, more than four years ago. Both Bashar al-Assad and the various rebel factions were fully occupied with their bloody business. Israel could not interest them less.
So why did Israeli drones hit a small convoy of Assad's allies – Hezbollah and Iran? It is very unlikely that they had any aggressive intentions against Israel. Probably they were scouting the terrain in search of Syrian rebels.
The Israeli government and the army did not explain. How could they, when they did not officially admit to the action? Even unofficially, there was no hint.
But there is an elephant in the room: the Israeli elections.
We are now in the middle of the election campaign. Was there, could there be, any connection between the election campaign and the attack? You bet!
To suggest that our leaders could order a military action to increase their chances in an election borders on treason. Yet it has happened before. Indeed, it happened in many of our 19 election campaigns till now.
The first election took place when we were still at war. David Ben-Gurion, the war leader, won a great election victory, of course.
[Editor's note: And no one charged Ben-Gurion at that time with rigging the election, as was done with Assad recently. There was no mention of suppressing the opposition, the Neturei Karta Jews in Palestine that had lived there in peace for hundreds of years and wanted no part of the Zionist homeland.
I have video footage of one of my Heritage TV shows with Rabbi Weiss explaining how the NK Jews asked the UN to to put them under the protection of Jordan. One of these days I will air it here…Jim W. Dean ]
The second election took place during the fight against the Arab "infiltrators", with almost daily incidents along the new borders. Who won? Ben-Gurion.
And so on. In 1981, when Menachem Begin ordered the bombing of the Iraqi nuclear reactor, somebody dared to suggest that the action was connected with the upcoming Knesset election.
This gave Begin the opportunity for one of his greatest speeches. Begin was an outstanding orator in the European (and very un-Israeli) tradition.
"Jews!" he addressed his audience, "You have known me for many years. Do you believe that I would send our gallant boys on a dangerous mission, where they could be killed or, worse – fall into the captivity of these human animals – in order to gain votes?" The crowd roared back "No!"
Even the other side played their part. The Egyptians and Syrians launched their surprise attack on Yom Kippur 1973 in the middle of the Israeli election campaign.
After the assassination of Yitzhak Rabin in 1995, his heir, Shimon Peres, also faced an election campaign. During his short regency, he managed to start and lose a war. He invaded Lebanon and during the fighting a UN refugee camp was bombed by mistake. That was the end of the war and of Peres' reign. Binyamin Netanyahu won.
When last week's killing was announced, the country and the army were requested to prepare for war. Along the border, tension spread. Massive troop deployments took place. Armored brigades moved north. "Iron Dome" anti-missile batteries were positioned near the border. All the media prepared the public for instant revenge actions by Hezbollah and Iran.
That's where the joke comes in! Netanyahu fully expected Hassan Nasrallah, the Hezbollah chief, to bomb Galilee in retaliation. Nasrallah just smiled one of his enigmatic smiles… Revenge? Sure. But not just now. Some other time, perhaps.
Some other place, too. Maybe in Bulgaria, where Israeli tourists were killed to avenge Imad Mughniyeh's assassination. Or even in Argentina, where the prosecutor investigating the destruction of two Israel-Jewish centers was found shot this week (by himself or by others.)
The bloody attacks in Buenos Aires, 20 years ago, were attributed to Hezbollah and Iran after another Israeli action in Lebanon.
So why doesn't Nasrallah avenge the drone action now? When you count on an enemy's revenge action, it is very frustrating when it doesn't come on time.
____________________________________
Likud vs. Labor
To understand this, one must review the election campaign, which is being waged by two large blocks – the right-wing led by the Likud and the center-left led by the Labor party.
The left has gathered unexpected momentum by uniting Labor with Tzipi Livni's little faction, and now, incredibly, has overtaken Likud in the polls. Aside from the two blocks there are the Orthodox and the Arab citizens, who have their own agendas.
The two main blocks sail under different flags. Likud and Co. sail under the flag of Security. The public believes that Netanyahu and his allies are more trustworthy when it comes to war and keeping our army big and powerful. The public also believes that Labor and its allies are more effective when it comes to the economy, the price of housing and such.
This means that the outcome will be decided by which side succeeds in imposing its agenda on the campaign. If the campaign comes to be dominated by the issues of war and fear, the Right will probably win. If, alternatively, the main issue is housing and the exorbitant price of cottage cheese, the Left has a chance.
This is not a matter of particularly acute perception, but of general public knowledge. Every missile launched by Hezbollah or Hamas will be a missile for Likud. Every day of quiet on the borders will be a day for Labor.
It was therefore quite obvious to many Israelis that the sudden flare up on the northern border, caused by an unprovoked Israeli attack that makes no sense, was an election ploy by Netanyahu and his companions.
Many knew. But nobody dared to say so. The political parties were afraid of being seen as stabbing the army in the back. Accusing Netanyahu of risking a major war in order to win an election is a very grave matter. 
The Labor party published a lame statement supporting the army. Meretz kept quiet. The Arab parties were busy with creating a united Arab list. The Orthodox couldn't care less. Gush Shalom, of which I am a member, prepared to publish an unequivocal accusation.
And then the silence was broken from a totally unexpected quarter. General Galant gave an interview in which he squarely accused the government of warming up the northern border for election purposes. Galant? Incredible!
Yoav Galant was the chief of the Southern Command during the cruel Molten Lead campaign. After that he was appointed by Netanyahu as the new army Chief of Staff.
But before the appointment could be consummated Galant was accused of expropriating public village land for his palatial home and had to back out. I always considered him an out-and-out militarist.
Two weeks ago, Galant suddenly reappeared on the stage as candidate No. 2 on the list of Moshe Kahlon's new center party with no ideology except bringing down prices.
Galant's statement caused an outcry, and he quietly retracted it. But the deed was done. Galant had opened the gate. A horde of commentators stormed through it to spread the accusation.
The campaign may never be the same again after Galant's gallant deed.
__________

__________
* … Turn on the closed captions for English… *
Jim W. Dean is Managing Editor of Veterans Today involved in operations, development, and writing, plus an active schedule of TV and radio interviews.
ATTENTION READERS
Due to the nature of independent content, VT cannot guarantee content validity.
We ask you to
Read Our Content Policy
so a clear comprehension of VT's independent non-censored media is understood and given its proper place in the world of news, opinion and media.
All content is owned by author exclusively. Expressed opinions are NOT necessarily the views of VT, other authors, affiliates, advertisers, sponsors, partners or technicians. Some content may be satirical in nature. All images within are full responsibility of author and NOT VT.
About VT
-
Read Full Policy Notice
-
Comment Policy