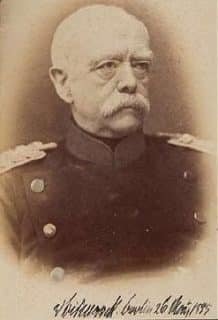 [ Editor's note: Seth Ferris takes on a two headed monster today, taking on the evolving Holocaust story and Polish politics at the same time, and I will, also. It reminds me of one of my favorite Otto von Bismark quotes when he was the first Chancellor.
"People never lie so much as after a hunt, during a war or before an election." I would bet my money that lies of war beat the other two categories hands down.
 Seth's focus today is the lies told to rewrite history, but that is a minefield, with WWII having two distinct versions. The massive lying about anything deemed necessary to hide, with those in power always making the final decision by security classifications.
And then there is re-spinning the official version to suit some contemporary political objective, which Seth will feature with Poland today.
My favorite is the hypnotic trance about the six million Jewish deaths in the Holocaust, as it has always been patently untrue, with archival sources to back it, but almost all of it was totally ignored. The Holo-holics finally had to give up the ghost when the "four million died plaque" at Auschwitz was replaced with "one million (Jews) died".
From time to time, I use this to torment journalists who kept using the six million figure. I generally will call them and ask them why they are using a debunked number, which unsettles them right away… followed by their response, "What exactly do you mean?"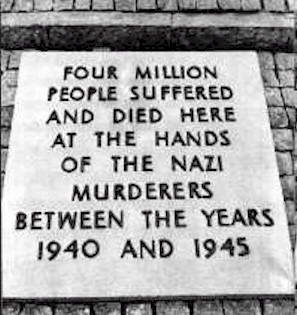 I tell them the short story about three million having been subtracted from the "six million Jews died", and that I have checked my math, and confirmed that six minus three equals three.
They are stunned of course. Not a one was aware of the Auschwitz numbers having been changed.
The Holo-hype continues as Seth shows below, because someone wants to use it again. The six million figure was originally pulled out of the air during the first Israeli-Germany reparation negotiations. For some strange reason, there was an agreement on the reparation per head figure.
That left working out what the final amount would be. The Zionists simply took the amount that they wanted, divided in by the agreed upon per head number, and rounded it off to six million. That is the basis of the story of where the number came from.
Truth is never allowed to get in the way of what people want to believe. The proof of that is the massive amounts spent on propagandizing people, which has a double payoff because they will reject any evidence to the contrary to hide that they were suckers to begin with.
I have had my short six minus three does not equal six lesson — what I call the Jim Dean condensed Holocaust seminar. They all were as stunned as the reporters. None responded in any way, and none ever spoke to me again afterward. That was my first real exposure to the power of propaganda, and how it could turn people's brains into mush.
Personally I don't like the traditional Holocaust Story, because I view it as a perverse historical hijacking. I view all of WWII as one big giant holocaust, and the proof of that is self evident. And I am also anti-victim supremacy, which is the bottom line of the "official" holocaust story, the six minus three equals six one.
These state-sponsored deceptions dishonor WWII veterans right off the bat, sending them to the back of the bus, while "you know who rides in the front".
The sordid truth of this in the WWII memorial in DC, funded with 100% private donations, and while very beautiful, it is not interactive, but a silent memorial.
On the other side of the Mall we have the Holocaust Museum, funded with a lot of government money — with a state-of-the-art interactive, impressive display, which can be toured rain or shine or zero degree weather.
After school kids make their DC school bus trips to see the sites and they return home, what do you think they say when asked what moved them the most about their trip? And for all those kids that had a Great Grandpa in WWII, how many do you think know what his unit was (ahhh… a "soldier" does not count).
I hope you are getting the picture about the inequality… yes, the carjacking of the kids' minds, imprinting them basically so they will always support Israel, because the big tragedy of WWII was that a bunch of Jews died.
And what about everybody else who died? They get sent to the back of the bus. You can choose whom you feel lives on a higher moral plane. I will not defile the graves nor the memory of the Un-chosen Dead of World War II. I would eat a bullet before I did that… Jim W. Dean ]
______________________________________________
–  First published  January 24, 2015  –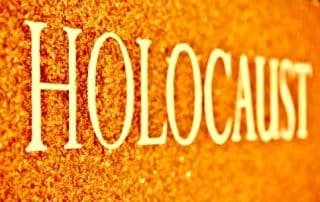 Many years ago the notorious business tycoon Sir James Goldsmith sued a satirical magazine for criminal libel, rather than civil libel, under a statute few people knew existed.
He justified this by saying that if someone makes false claims about a person, which are then used as a source for a succession of other false stories, even the victim, who knows differently, will ultimately begin to believe such stories because they have to continually defend themselves, and so must embrace the lie to counter it.
Goldsmith was roundly ridiculed for bringing these legal cases and for giving this reasoning for them. One wonders, therefore, what he would have made of the latest remarks of the Polish Foreign Minister, Grzegorz Schetyna, and the broader agenda they are part of – particularly as Goldsmith was Jewish.
Some things are not matters of interpretation
Schetyna has invited international ridicule of his own by saying on Polish radio that it was Ukrainians, rather than the Russian Red Army, which liberated the Auschwitz concentration camp at the end of World War Two. However, this statement was not made by accident. His listeners were expected to draw a conclusion from it.
The Poroshenko government in Kiev has a pronounced neo-fascist element. If, however, the Ukrainian "nationalists" of the Bandera era, from whom they openly take their inspiration, liberated the Nazi death camp they can't really be Nazis, so they must be alright really.
From now on, any criticism of the neo-fascist element in Ukraine will be met by "they are not fascists because they are the descendants of the people who liberated Auschwitz", even though the claim is absurd and it will soon be forgotten where it came from.
Therefore, any action in support of the Chocolate Soldiers is allowed because the opposition is based on a misguided notion. Therefore, any action the Chocolate Soldiers take is justified because their opponents are unfairly maligning them.
Revising revisionism
Trying to rewrite history is nothing new. It is done for a variety of motives. For example, in Ceaucescu's Romania a succession of films were made about "national heroes" from history whose connection with Romania was very tenuous, and who would never have approved of either the Communist ideology or being called Romanian.
The purpose of this was to show that Ceaucescu was the latest, and greatest, of an inexorable parade of great men.
However the present attempt bears more than a passing resemblance to the dispute about the Jasenovac concentration camp, constructed by the fascist Ustashi regime of independent Croatia in 1941.
For many years, it was widely claimed that over 700,000 people, the vast majority of them Serbs, were murdered in this camp complex for being non-Aryan, which was hardly surprising as this "independent state" had been created by, and always remained a client of, the Axis powers.
One of the first acts of the independent Croatia declared in 1990 was to champion a much lower figure of camp deaths, less than 60,000, at a time when its soldiers were wearing Ustashi symbols on their helmets and revering the wartime state.
It may well be true that the postwar Yugoslav government inflated the figures to claim more compensation, but similarly there are obvious reasons why the lower figure was now being claimed by the self-proclaimed successors of the Ustashi.
As the Jasenovac site has never been fully excavated, there may well be many more mass graves than the ones yet discovered, which form the basis of the some of the more reliable calculations. But as the West chose to support Croatia during the 1990s war, the crimes of Jasenovac had to be presented as a trivial incident or just ignored.
The lower figure was allowed to gain traction because, as in the case of present-day Ukraine, the West needed to find something relatively good to say about its new friends after shedding so much blood to stop them in years gone by.
Now Croatia is in the EU it is publicly distancing itself from its fascist past and implying that it does not support attempts to lower the death count at Jasenovac. Well it would, wouldn't it?
However the modern state of Croatia came into existence by invoking the wartime state and justifying its every move. Today's Croatian politicians can't avoid the fact that they wouldn't be there to make these statements if they hadn't rewritten history to suit their purposes, or still be supporting such behaviour now.
Under the radar
The Polish Foreign Minister's remarks could not have been more ill-timed, against the backdrop of the carnage being carried out by Kiev in the East of Ukraine which is turning the US-inspired local conflict into an effective proxy war between the US and Russia.
Russia has rightly accused Poland of engaging in a "mockery of history" to support the official US and NATO line on Ukraine. As UK-based journalist and writer Neil Clark recently said,
"The fact of the matter is that it was the Soviet Red Army which liberated that appalling camp Auschwitz…Yet now in 2015 we are rewriting history to write out the role of the Red Army liberating Auschwitz for political purposes."
All this was famously foreseen by George Orwell, who wrote:
"The most effective way to destroy people is to deny and obliterate their own understanding of their history" and "indifference to objective truth is encouraged by the sealing off of one part of the world from another, which makes it more difficult to discover what is actually happening …facts will be so dishonestly set forth in that the ordinary reader can be forgiven either for swallowing lies or for failing to form an opinion."
World War Two is ancient history for most people alive now, something only relevant to their parents' or grandparents' generations. The last major legacy of it, the divided Europe symbolized by the Eastern Bloc and Western alliance, died long ago.
Therefore it is not an issue for most people who did what in that war. Most will not care whether the defunct Soviets or defunct Ukrainian nationalists liberated the camp, as the issue is not seen as relevant to today.
The true significance of Schetyna's comments, even if understood, is not going to trouble most people who heard them. Consequently they will be repeated as throwaway facts for a long time to come, because people are sealed off from the realities they refer to.
But if anyone wants to challenge such blatant falsehood, how can it be done without adopting the lie? All discussion will have to start by repeating the premise that it really could have been Ukrainian troops who liberated Auschwitz, and then demolishing it. It won't work the other way round.
If someone has heard a story that Shakespeare didn't write his plays, they inevitably bring the subject up when told otherwise. Mere recitation of the evidence to the contrary will not satisfy such a person. So the interlocutor must then embrace the idea that a particular other person might have written the plays and then show why they didn't.
But discussing the subject at all raises a seed of doubt, and the likes of Marlowe and De Vere become "alternative candidates" when they are nothing of the sort.
These claims can only be demolished in the same way, by accepting the theoretical possibility that they might be true. As long as people are obliged to treat them as an "alternative theory", they have a credibility they do not deserve in reality.
Most people won't want to discuss the subject for long anyway, so the nonsense will work at a subliminal level. Someone who's interested has said it, so it can't just be dismissed by those who have less interest in the subject.
Them and us, a little confused
The attempt to excuse or rehabilitate fascists has another subtext. It is being linked to attempts to maintain that fascists actually cared about the victims of the holocaust, despite the fact they committed it, and Russia does not.
We are meant to infer from this that in any dispute between Russia and a Western-supported neo-fascist group, Russia must be morally wrong.
It is being claimed that Vladimir Putin will not attend the attend Holocaust commemorations in Poland later this month. He is unlikely to attend because he hasn't been invited, and it was Poland which chose not to invite him. If Putin gatecrashed the commemorations, (which from now on will always be called "Pulling a Bibi"…Jim Dean) this too would be a negative story.
Many in the West conveniently forget that without the Russians/Soviets a lot more Jews and others would have died at the hands of the West's new friends, simply because they were Jews or considered "other", without any recourse to any of the due processes of law demanded of Russia.
We might also ask, "Where next?" All over Europe right-wing anti-immigration parties are gaining support. Most of these do not have a fascist ideology, either in its racist or corporatist aspects, but they openly court people who hold such views to get elected.
As in Ukraine, it would be easy to insert into any government full-blooded card-carrying fascists, small groups of whom exist everywhere even if they have minuscule public support, as a "harmless extension" of a sanitised, mainstream force, which is happy to court them.
This has happened more often than is generally supposed, as with the curious "civilian-military" regime in Uruguay from 1973 onwards, which even Jimmy Carter was seen supporting.
Tell a lie in the right way, everyone is forced to address it as potentially fact. Those who wish to believe the lie can simply deride those who don't as ignorant or prejudiced, without having to provide any evidence to support their own position.
The Polish Foreign Minister's comments are an insult to all those who died winning World War Two, and to those who died in the death camps, the few remaining living survivors and their families.
But the man who says he is not embarrassed by his predecessor saying that Poland and Russia should divide Ukraine up between themselves is not likely to be bothered by such concerns when he is trying to pursue the same policy in a more subtle way.
Seth Ferris, investigative journalist and political scientist, expert on Middle Eastern affairs, exclusively for the online magazine "New Eastern Outlook".

Author Details
Jim W. Dean is Managing Editor of Veterans Today involved in operations, development, and writing, plus an active schedule of TV and radio interviews. He broke into television work doing Atlanta Public TV programs for variety of American heritage, historical,military, veterans and Intel topics and organizations since 2000. Jim's only film appearance was in the PBS Looking for Lincoln documentary with Prof. Henry Lewis Gates, and he has guest lectured at the Army Command and General Staff School at Fort Gordon, GA.
He is working to find time now to database his extensive video archive of Americana and interviews filmed during his public TV days so individual topic segments can be key word searched to quickly use in future multi-media projects.
Read Full Complete Bio >>>
Jim's Latest Posts
ATTENTION READERS
Due to the nature of independent content, VT cannot guarantee content validity.
We ask you to
Read Our Content Policy
so a clear comprehension of VT's independent non-censored media is understood and given its proper place in the world of news, opinion and media.
All content is owned by author exclusively. Expressed opinions are NOT necessarily the views of VT, other authors, affiliates, advertisers, sponsors, partners or technicians. Some content may be satirical in nature. All images within are full responsibility of author and NOT VT.
About VT
-
Read Full Policy Notice
-
Comment Policy