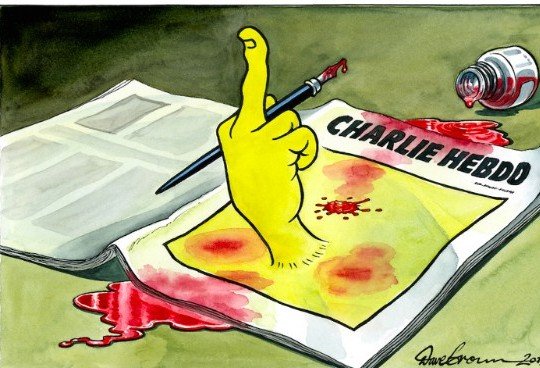 The murderous Islamic terrorist attack on January 7th on the offices of the French satirical journal Charlie Hebdo has already faded from the headlines. The inevitable conspiracy theories have already started circulating, suggesting that either there wasn't an attack at all, or that if there was, it wasn't perpetrated by Moslems.
Get used to it. The Charlie Hebdo and associated attacks were carried out by murderous Islamic terrorists. For once an official French version of events is actually fairly accurate.
The Bad Guys have made a major miscalculation. The Germans might even lose control of France. The major political beneficiary will most likely be Marine Le Pen, the only French politician to have made meaningful proposals for reform since the attacks.
In an unusual development some journalists actually asked an intelligent question – how come the terrorist Kouachi brothers had their surveillance lifted? The answer is obvious of course. The Fifth Republic is essentially Vichyist. The most powerful organisation in France is the DVD's black agency in Paris, successor to the Abwehr organisation in France, which included Petain.
Spyhunter, so far as I know, was the first publication anywhere to reveal the existence of this agency. Sadly, sales have not taken off. There hasn't been a single order from France, to my knowledge. The result is that the French public and media live in ignorance of how their state actually functions.
The Charlie attack thus came as a great shock. Since Islamic terrorism is ultimately controlled from Dachau, of course Islamic terrorists are going to be protected by penetrated intelligence agencies in the West.
The Jerries made desperate efforts to protect the Kouachi brothers, ensuring they had an exit and forcing police to scale down the manhunt. Fortunately it was to no avail, and they were taken down. Their deaths revealed a weakness in Germany's covert control of the Fifth Republic. The post 1945 model for German domination of Europe requires suppression of the truth. The black agency in Paris has to stay deep. That means that from time to time it will lose control of events. Great.

Will anything be done?
Of course not. The meaningless platitudes offered by President Hollande, Prime Minister Cameron and others were just that – meaningless platitudes. They condemned the attack, but failed utterly to offer any constructive policy suggestions.
Neither leader is prepared to stand up to Germany. In that they reflect the failed leaders of the Third Republic, who so cravenly caved in to Germany in 1940, making sure that the French Army, e.g. did not have sufficient armor (the French actually had more tanks than the Germans, but many were held back).
I don't agree with all of Marine Le Pen's policies, but she is the only active French politician prepared to stand up for France. If she is elected in 2017, and the Jerries don't assassinate her, then we might see some action.
________________________________________
Phase Five of the War on Terror
The attacks and their aftermath seem to me to mark a new phase of President George W. Bush's great Global War on Terror. Phase 1 was Afghanistan and the immediate response to 9/11. Phase 2 was the successful attack on Iraq, Phase 3 marked going on the defensive in Iraq and Phase 4 has been the marking time of the wasted Obama years. Since 2009 Islamic terrorists have pretty much been allowed to run amok, and murder at will.
To describe Obama as the leader of the West is just silly, no offense intended. The West has been like a rudderless ship in the last 7 years. George W. wasn't perfect, but no one could say they didn't know where he stood, or that he wasn't a leader.
Cameron isn't even in charge of his own party or government, let alone the West, and Hollande has difficulty controlling his own household. They're a bunch of failures. The only decent leader in the West is Aussie PM Tony Abbott. The Russians don't know how well off they are with such a magnificent leader as President Putin. Don't be distracted by the with respect silly inquest currently happening in London by the way – Lt-Col Litvinenko died of peritonitis, not polonium poisoning, and the polonium came out of Iran, not Russia.
Phase Five will see a true Clash of Civilisations. Since Islam is the enemy, albeit as a German ally, we have to attack Islam. That there are many good Moslems is beside the point. Not all Nazis were homicidal, anti-semitic maniacs – some of them were quite charming in fact – but they were nonetheless the enemy. We had to shoot the nice Nazis as well as the nasty ones.
Islam is and always has been an aggressive religion. That was the whole point of setting it up. It was nothing to do with God of course – as I point out in Spyhunter, if Almighty God had founded Islam, the Koran would have been written in English! It was in fact written in Latin, unsurprisingly as its authors were based in the Vatican. So far as I know the Vatican Library still has one of the original versions – not in one book of course, as it took years to write and it was taken to Arabia in parts.
It took so long to write in fact that the original author(s) had snuffed it by the time the later chapters came to be written. The true purpose of Islam was to take control of the Holy Land, on behalf of the Bad Guys in the Vatican, which was split, then as now. The Holy Crusades – and the War on Terror is and always has been a Holy Crusade, as well as a geopolitical concept – reflected the split in the Vatican, with the Crusaders being sold out from within their own ranks.
There is only one authorised Holy Book, of course – the King James Bible!
The over-reaction to the comparatively inoffensive Charlie Hebdo cartoons (copies please, Editor!) has been so absurd that it has brought Islam itself into disrepute. The disgraceful attack in Paris was an attack on Reason and Enlightenment, and challenged the fundamental values of the West.
Islam will not be destroyed, but it needs to be defeated, in the way that Don John of Austria did at Lepanto, or the Spaniards whacked the Moors. 2015 will probably see a highpoint for Islamic influence in the West. It is perfectly clear after Charlie Hebdo, if it wasn't clear before, that Islam and Christianity cannot co-exist in the same society.
That does not mean that law-abiding Moslems in the West should not continue to enjoy the protection of the law. It does mean rethinking mass immigration of Moslems and absurd, self-defeating human rights conventions that hamper an effective counter-terrorist effort.
________________________________________
Movie of the week – American Sniper (2015), dir. Clint Eastwood
Any movie which upsets Michael Moore has to be good. Every reader by now will be aware that this wonderful movie is a bio-pic of the great American sniper Chris Kyle, who did outstanding work in four tours of Iraq.
The movie is controversial, i.e. has upset the left and assorted terrorist sympathisers, because it paints the US military in a good light, and is not afraid to remind the audience that you guys are the Good Guys, and AQI were the Bad Guys. It's a movie which lives in the real world.
Moore is seriously confused, by the way, about snipers. Sniping is not a safe occupation, like making dodgy documentaries about climate change. The sniper reveals his or her position as soon as he or she shoots. Sniping is not a one-way street.
Chris Kyle was clearly a good man, and an authentic American hero. The movie does not glorify war, but it does say good things about Kyle, the SEALS, and the mission. Great. I am not surprised it is breaking box-office records. Even the Odeon in Aylesbury was fuller than usual for this outstanding movie.
It's too good a movie to sweep the Oscars, nor will it win critical acclaim, but it should. Brad Cooper's acting and Clint Eastwood's direction are outstanding. Clint in particular has excelled himself.
It is not absolutely historically accurate, but no movie is going to be. It's gets a lot closer to the truth than most movies. Most of the criticisms seem to me to be quibbles. It's a movie after all, not a documentary.
It's not just an action war movie. It is a moving study of the pressures war brings to those back home, and on the veterans themselves. It should lead to public pressure for improved support for veterans. It has already started a re-evaluation of Operation Iraqi Freedom, where America's armed forces did America proud. Nobody served the flag with greater devotion than Chief Kyle. The movie is a fine memorial to him. Go see it.
For the record, I agree with Chris Kyle's widow, Taya, that the attributed motive of his alleged murderer, who comes up for trial this month, does not hold water. I am far from convinced that we are getting the full picture, but the guy's entitled to a fair trial, and I'll hold my piece till the verdict is in. That's assuming I'm not in jail myself, of course!
February 1st 2015
Michael Shrimpton was a barrister from his call to the Bar in London in 1983 until being disbarred in 2019 over a fraudulently obtained conviction. He is a specialist in National Security and Constitutional Law, Strategic Intelligence, and Counter-terrorism. He is a former Adjunct Professor of Intelligence Studies at the American Military University.
ATTENTION READERS
Due to the nature of independent content, VT cannot guarantee content validity.
We ask you to
Read Our Content Policy
so a clear comprehension of VT's independent non-censored media is understood and given its proper place in the world of news, opinion and media.
All content is owned by author exclusively. Expressed opinions are NOT necessarily the views of VT, other authors, affiliates, advertisers, sponsors, partners or technicians. Some content may be satirical in nature. All images within are full responsibility of author and NOT VT.
About VT
-
Read Full Policy Notice
-
Comment Policy