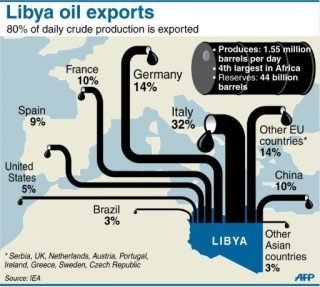 [ Editor's Note: When I saw this photo of the raging oil fire, the symbolism of Libya burning itself down was self evident. VT supported the Libyan revolution, simply to allow those who had to live with the corrupt boot on their necks have a chance to run their own government.
Sure, we knew that North Africa has a long history of endless tribal competition and infighting, something manipulated by the past colonial powers as part of their divide and conquer game to prevent any serious opposition for being able to throw their colonial masters out.
We now see Libya worse off than having Gaddafi's boot on its neck. Now there are thousands of militia thug boots doing what Gaddafi used to do… with the national income down 80%.
When I saw the pattern of those who were not winning elections choosing to become "wreckers" — holding the oil exports hostage, even crashing them, throwing billions in national income away — I knew these people were descending into a black hole.
With the UN attempting to work out a political settlement, the grabbing of all the oil properties was no surprise. As the old saying goes here in the US in legal disputes… possession is 9/10ths of the law.
These different factions have no intention now of ever having real jobs. They have tasted the power of the gun and entitlement of becoming mini-Gaddafis, and a scourge upon their fellow citizens.
The loss of the Libyan exports on the world market is actually a good thing for the other producers, or there would be an even bigger glut and more downward price pressure. So these competitive producers are in no rush to see oil exports return to normal.
The productive people of Libya did not deserve this – the law of the gunman over the rule of law. What we have here is an entity that is referred to as a country, but obviously is not one.
I fear that things could get worse before they get better, with part of that being the reinforcing of the colonial stereotype that these "little people" are not mature enough to govern themselves. They need a strong man to rule over them with an iron fist… for their own good… Jim W. Dean ]
___________________________________
Since the beginning of March this year, against the background of ongoing civil strife in Libya, a wave of violence has covered a large number of oil-producing areas in the country.
Eleven oil fields, el-Bahi, Zakhra, el-Mabrouk, el-Ghani and others, located 700-km southeast of Tripoli were subjected to attacks by armed militias. Many believe them to be supporters of ISIS. During these skirmishes, 11 local guardsmen were killed, 7 foreign experts were kidnapped and several objects were lit on fire.
It was inevitable for violence to hit the Libya's oil sector with the country having been plunged into anarchy after Gaddafi's overthrow from power three and a half years ago.
"Pre-revolutionary" Libya's oil production of about 1.6 million barrels per day dropped to 800 thousand barrels in 2012 and 350 thousand barrels by the end of 2014. This decline has snowballed due to the actions of former rebel groups. Reacting to their liberation they began to blackmail the central government with impunity in order to obtain a piece of the country's oil pie.
Since the summer of 2013, militants have blocked operations of a number of terminals for the exportation of black gold in the east and have begun to smuggle the commodity that is the property of the Libyan people. Ali Zeidan, the Libyan Prime Minister at the time, tolerated the situation and was replaced in the spring of 2014.
After that the dissension in the Libyan leadership reached its peak and two military-political camps were formed. One with its own government and parliament in Tripoli and the other in Tobruk (1200-km to the East), recognized by the international community.
The degree of alienation and intransigence of the two camps has not diminished. They have failed to stop battles between their armed factions. Negotiations between delegates from both sides under the auspices of the United Nations are at a sluggish flow — from Ghadames (southern Libya) and Geneva and at present to Morocco.
It is clear that the oil sector has become a hostage to this conflict. Libya has seven oil ports on the Mediterranean coast, three of them — El-Hariga, Az-Zuwaytinah and el-Briga in the eastern part of the country — are under the control of the government of Tobruk. 
El-Hariga is the largest and its oil supply comes from the oil fields in the south of the country, Sarir and Misalla.
The other two, As-Sidra and Ra's Lanuf, are a stumbling point between the parties. At the end of 2014 "Libyan Dawn", a group of militia loyal to Tripoli, launched two attacks on the men loyal to Tobruk near Ra's Lanuf. In the course of these attacks, large oil reservoirs were set ablaze, that took more than a week to put out, to hamper oil exports.
Planes used by Tripoli loyalists tried to bomb one of As-Sidra's export terminals but were fought back by gunfire from the Tobruk opponents' anti-aircraft defences.
The rest of oil facilities in the west of the country are in the hands of forces under the auspices of the government of Tripoli. One of them, As-Zawiya, can't accept oil tankers because the pipeline that provides its oil from the el-Sharara oil field is closed.
The Libyan National Oil Company recently announced a force majeure situation and threatened to close all ports and oil fields if fighting at these facilities continue. This is a sure sign that it will not assume its responsibilities of fulfilling previously-signed contracts to supply hydrocarbons. And this effectively increases the concern over safety of foreign employees working in Libya.
Libya's budget depends almost entirely on oil exports. Exports brought in about $47 billion to the treasury (the country produced about 2% of world oil production) in 2010. In Libya some of the world's largest corporations are present: BP, Royal Dutch Shell, Eni, Total, Occidental Petroleum, ConocoPhillips, OMVI as well as some Russian corporations.
Oil is the Libyan people and other Arab nations' heritage and a powerful tool for development, economic growth and progress. However after the so called "colour and democratic" revolutions supported from outside it risks becoming not only a source of wealth but also of strife in society and funding Islamic extremist activities that has raised its head in the Middle East.
An example of this is the activities of ISIS that uses money, gained from occupied oil territories in Syria and Iraq, to finance their evil designs in order to reverse the course of the movement of this region.___
Yuriy Zinin, Senior Research Fellow at the Moscow State Institute of International Relations (MGIMO), exclusively for the online magazine "New Eastern Outlook".
___
Editing: Jim W. Dean and Erica P. Wissinger
Author Details
Jim W. Dean is Managing Editor of Veterans Today involved in operations, development, and writing, plus an active schedule of TV and radio interviews. He broke into television work doing Atlanta Public TV programs for variety of American heritage, historical,military, veterans and Intel topics and organizations since 2000. Jim's only film appearance was in the PBS Looking for Lincoln documentary with Prof. Henry Lewis Gates, and he has guest lectured at the Army Command and General Staff School at Fort Gordon, GA.
He is working to find time now to database his extensive video archive of Americana and interviews filmed during his public TV days so individual topic segments can be key word searched to quickly use in future multi-media projects.
Read Full Complete Bio >>>
Jim's Latest Posts
ATTENTION READERS
Due to the nature of independent content, VT cannot guarantee content validity.
We ask you to
Read Our Content Policy
so a clear comprehension of VT's independent non-censored media is understood and given its proper place in the world of news, opinion and media.
All content is owned by author exclusively. Expressed opinions are NOT necessarily the views of VT, other authors, affiliates, advertisers, sponsors, partners or technicians. Some content may be satirical in nature. All images within are full responsibility of author and NOT VT.
About VT
-
Read Full Policy Notice
-
Comment Policy