by Jonas E. Alexis
Whenever the Dreadful Few and their controlled media start talking about anti-Semitism,[1] you can be sure that you are in for a wild trip. You might as well grab your munchies, sit down for a while, and listen to a little bit because you are going to have some fun. But always keep your thinking cap on.
Why?
Well, if you like logic and reason and have little patience with complete nonsense and mumbo jumbo, then you definitely will have an urge to puke as the Dreadful Few propound their ideology upon the masses. First, let us start with Mila Kunis, one of Hollywood's newest darlings.
Back in 2012, long after she literally prostituted herself in the movie Black Swan, Kunis complained that she "had to hide her Jewishness as a youngster in Ukraine and was miserable during her early years in the United States."[2]
She continued to say that
"After the Holocaust, in Russia, you were not allowed to be religious. So my parents raised me to know I was Jewish. You know who you are inside. My whole family was in the Holocaust. My grandparents passed and not many survived."
She added,
"One of my friends who grew up in Russia, she was in second grade. She came home one day crying. Her mother asked why and she said on the back of her seat there was a swastika.  This is a country that obviously does not want you."

Swastikas, according to this reasoning, symbolize evil, wickedness, hatred, and persecution. Swastikas remind Kunis of concentration camps, gas chambers, pogroms, and ultimately the extermination of European Jewry.
Yet, as we have pointed out in a previous article, Jewish Neocon Victoria Nuland made a pack with neo-Nazis in Ukraine where Kunis was born! Will Kunis chastise her? Will she tell her to stop destabilizing the situation in Russia? You see, Kunis is not making any sense whatsoever.
The only way that Kunis can prove that her testimony is genuine is if she abides by practical reason and consistency. If that is too hard to do, then it is hard for us to believe that she suffered at the hands of "anti-Semites."
Kunis said something then that should be taken a little seriously: "I'm pretty Jewish…when I'm in New York, I become super-Jew."
If Christ is right, that you will recognize people by their fruit, then the best way to test what Kunis meant by "super-Jew" is to look at the fruit that she has produced over the years.
Black Swan indicates that Kunis means something darker and sinister. If Eli Roth admits that he wants to "fu$k an entire generation" through his movies,[3] then Kunis wants to do the same thing through her sexual acts in front of the camera. Other movies such as Ted is also an indication that Kunis seems to mean something diabolical. (In Black Swan, we indirectly see Sigmund Freud's ideas lurking in the background.)
Another extremely important point to consider is that ballet requires talent, skills, concentration, and lots of practice (E. Michael Jones has written an excellent article on this topic entitled, "Swan Lake Meets Wilhelm Reich in Black Swan." It is worth every piece of a dime). Not every joker in Hollywood can decide to do ballet because most celebrities do not have patience enough. They want to get money the easy way by producing filth and corrupting the culture. As the old book says, "The love of money is the root of all evil." Moreover, there is something beautiful and aesthetic about ballet that defies the Dreadful Few's revolutionary purposes. Ballet symbolizes or displays order, docility, and reason. The Dreadful Few's revolutionary purposes challenge that order, docility, and reason, and this is why we have people like David Cronenberg producing filth as "art."
This brings us to a key point here: there is no way that Natalie Portman could have acquired such talents and skills in such a short period of time or without embracing or upholding some version of the moral order. The producers indeed had to use someone else (double) to do the hard work, but she got virtually no credit for her labor:
Well, what do you expect? Haven't we been told that we the Goyim are donkeys?
In any event, right after Ted was released, Ukrainian lawmaker Igor Miroshnichenko said that Kunis was a "dirty Jewess."[4] The Dreadful Few, of course, went on a political killing spree by saying that Miroshnichenko was an anti-Semite and that anti-Semitism was on the rise.
But Kunis could have proved Miroshnichenko wrong by dissociating herself from other "dirty" movies, but she doesn't seem to give an indication that she will do so at all.
So, is Miroshnichenko an anti-Semite for uttering a statement that the Dreadful Few do not like? And shouldn't the statement itself be judged on its merit, not on what the Dreadful Few prefer? If not, then the Dreadful Few once again show that they are, in the words of David Irving, "the traditional enemy of the truth."
And if Miroshnichenko is an anti-Semite for saying impermissible things, then why is it not racist or impermissible to say that the Goyim are donkeys? Is the Simon Wiesenthal Center saying that they have never heard of Rabbi Ovadia Yosef? How about Rabbi Eli Ben Dahan saying that homosexual Jews possess "higher souls" than the Goyim?[5]
As it turns out, Kunis, like Scarlett Johannson,[6] are just Israeli shills. Perhaps Kunis and others should read what Zionist puppet Winston Churchill said about the Jews: "They have been partly responsible for the antagonism from which they suffer."[7]
---
Right after the Charlie Hebdo debacle, Haim Korsia, a chief rabbi from France, went to New York and discussed "terrorism and a rising wave of anti-Semitism during an address at a New York City synagogue."[8] Around the same time, lawmakers in the U.K. declared that there must be an urgency to stop "anti-Semitism."[9] What those lawmakers did not put into consideration was that
"Many of those incidents were sparked by the 50-day conflict in Gaza that ended in August. Israel launched its Gaza offensive with the declared aim of halting rocket attacks by Hamas. More than 2,100 Palestinians, most of them civilians, were killed, along with 73 mostly Israeli soldiers."[10]
Jewish Neocon John Podhoretz, son of Norman Podhoretz, was upset because the Obama administration did not really see the Charlie Hebdo debacle as an indication of anti-Semitism. Podhoretz had this to say of one U.S. official:
"It's dishonorable because his remarks suggest these murders [in France] were meaningless acts of nihilism when they, in fact, were terrifyingly meaningful acts of anti-Semitic murder on European soil 70 years after the Holocaust — acts that are causing many if not most of the 600,000 Jews in France to think seriously about emigrating.
"Alas, it appears that Earnest's vile lie can't be excused away as an expression of his own moral cretinousness."[11]
Point well taken. Now let us switch the table around. Former CIA official Philip Giraldi has recently reported:
"The abuse of Christian clergy and laity in Israel has been widely reported, and there are 50 laws that discriminate in various ways against non-Jews.
"The Israeli bureaucracy de facto aids the process by refusing basic services for non-Jews, appropriating or infringing on Christian and Muslim religious sites, and systematically denying things like building permits even if there is no law that is directly applicable.
"Some Israeli politicians are on record calling for the expulsion of all Arabs or creating incentives for them to leave voluntarily. Christians, many of whom are in communion with Rome, confronted by a government hostile to their interests have already done and will continue to do the latter, emigrating to find a better life within their diaspora community overseas. The number of Catholics in Israel declined by half between 1980 and 2008."[12]
Will Podhoretz write about this in the New York Post or Commentary? Will he tell his audience about Israel's real racism? The Daily Beast has just recently reported that Israel has deported at least three Ethiopian Christians, but they were not that lucky at all. They got caught by Israel's friendly neighbors, ISIS. ISIS in turn beheaded them.[13]
Where are people like Raymond Ibrahim when you need them? Where are the New York Times, the Washington Post, the Neocons/Neo-Bolsheviks? Will they ever have at least some courage to report this fact?
The answer is no. In fact, Podhoretz, as his other articles indicate, would like to finish the job that his father had started: he wants to encourage the United States to get into a useless and bloody conflict with Iran and then send precious Americans to die in the Middle East for the Israeli regime.
In fact, Podhoretz and Sheldon Adelson have been saying that America needs to bomb Iran since 2013.[14] As already indicated, John Podhoretz got this idea from his father, who wrote an article in 2007 entitled, "The Case for Bombing Iran." Their puppets, most specifically John McCain and John Bolton and to a large extent the Republican Party, which Bill Kristol himself says is similar to Zionism,[15] took copious notes and repeated the same thing this year.[16]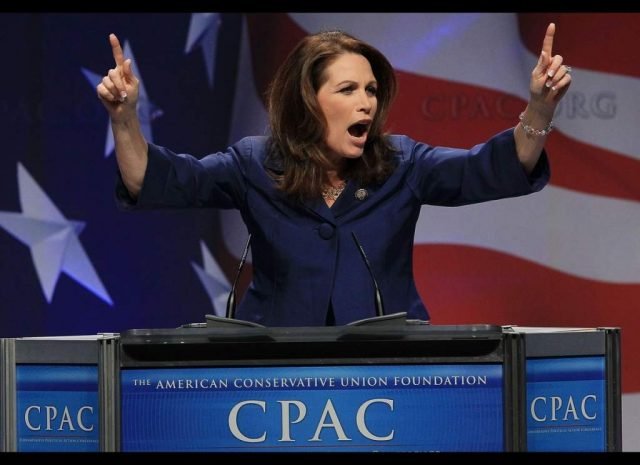 Christian Zionists such as Michelle Bachmann also got into the act. Bachmann believes that the rapture is right around the corner because, among other things, Obama is trying to make a deal with Iran! "If you look at the president's rhetoric," Bachmann adds, "and if you look at his actions, everything he has done has been to cut the legs out of Israel and lift up the agenda of radical Islam."[17]
Sounds like Bachmann has been reading HAl Lindsey's The Late Great Planet Earth. Lindsey, who laughed all the way to the bank in the 1980s and 1990s with his crazy apocalyptic books, believed that "the decade of the 1980s could very well be the last decade of history as we know it."[18]
Not every evangelical believes that nonsense anymore. In fact, there is a small but significant number of Protestant sects that completely reject not only Christian Zionism but the Jewish hegemony on Christians.
---
SOURCES
[1] See for example Jim Yardley, "Europe's Anti-Semitism Comes Out of the Shadows," NY Times, September 23, 2014; "Anti-Semitism Rises in Europe Amid Israel-Gaza Conflict," NY Times, August 1, 2014; Richard Cohen, "Anti-Semitism Is Once Again on the March in Europe," Washington Post, February 2, 2015.
[2]"Actress Mila Kunis opens up about Jewish history," Times of Israel, May 7, 2012; "The Black Swan with a secret Jewish history," Haaretz, May 7, 2012.
[3] "Netflix series Hemlock Grove: 'People want their horror horrific,' says Eli Roth," Guardian, April 10, 2013.
[4] Cristina Everett, "Mila Kunis hit with anti-Semitic slur made by Ukrainian politician Igor Miroshnichenko," NY Daily News, December 21, 2012.
[5] "Gay Jews have 'higher souls' than gentiles, says deputy minister," Haaretz, December 29, 2013.
[6] Mitch Wolfe, "Hollywood Actress Scarlett Johannson Joins Harper in Fighting Against Global Anti-Semitism," Huffington Post, February 11, 2014.
[7] Quoted in "Pre-WW2 Churchill article says Jews partly to blame for anti-Semitism," Haaretz, May 11, 2007.
[8] "France's Chief Rabbi, Haim Korsia, Will Give Speech On Anti-Semitism At New York City Synagogue," Huffington Post, February 19, 2015.
[9] "UK needs to take urgent action over anti-Semitism, lawmakers say," Daily Mail, February 9, 2015.
[10] Ibid.
[11] John Podhoretz, "Anti-Semitic Horrors Don't Exist in Obama's World," NY Post, February 11, 2015.
[12] Philip Giraldi, "The Popes Rebukes Turkey—and Should Challenge America and Israel," American Conservative, April 21, 2015.
[13] Creede Newton, "Israel Deported Them. Then ISIS Cut Off Their Heads," Daily Beast, April 21, 2015.
[14] Bob Dreyfuss, "Podhoretz, Adelson: Bomb Iran!," The Nation, December 13, 2013.
[15] Scott McConnell, "How the GOP Became the Israel Party," American Conservative, April 8, 2015.
[16] John R. Bolton, "To Stop Iran's Bomb, Bomb Iran," NY Times, March 26, 2015.
[17] Quoted in Marina Fang, "Michele Bachmann: The Rapture Is Coming And It's Obama's Fault," Huffington Post, April 20, 2015; Ariel Cohen, "Michelle Bachmann: Obama's Poor Relationship with Israel Will Bring the Return of Jesus," Jerusalem Post, April 15, 2015.
[18] Hal Lindsey, The 1980's Countdown to Armageddon (New York: Bantam Books, 1982), 8.
Jonas E. Alexis has degrees in mathematics and philosophy. He studied education at the graduate level. His main interests include U.S. foreign policy, the history of the Israel/Palestine conflict, and the history of ideas. He is the author of the new book Zionism vs. the West: How Talmudic Ideology is Undermining Western Culture. He teaches mathematics in South Korea.
ATTENTION READERS
Due to the nature of independent content, VT cannot guarantee content validity.
We ask you to
Read Our Content Policy
so a clear comprehension of VT's independent non-censored media is understood and given its proper place in the world of news, opinion and media.
All content is owned by author exclusively. Expressed opinions are NOT necessarily the views of VT, other authors, affiliates, advertisers, sponsors, partners or technicians. Some content may be satirical in nature. All images within are full responsibility of author and NOT VT.
About VT
-
Read Full Policy Notice
-
Comment Policy