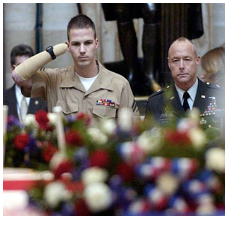 Written by Katharine Russ for VT
RUSS REPORT-Last week, Iowa Senator Chuck Grassley, Chairman of the Senate Judiciary Committee requested an explanation from the Justice Department as to why nearly every name in the "mentally defective" category of the FBI's National Instant Criminal Background Check System (NICS) belongs to a Veteran or their dependents. Grassley is one of many who have raised this issue in recent years but introduced Bills to correct such a miscarriage of justice always seem to die in the Senate.
Grassley's April 15 letter to Attorney General Eric Holder says in part, "Specifically, once the VA determines that a veteran requires a fiduciary to administer benefit payments, the VA reports that veteran to the gun ban list, consequently denying his or her right to possess and own firearms.  In the past, the VA has attempted to justify its actions by relying on a single federal regulation, 38 C.F.R. § 3.353, which by its plain language grants limited authority to determine incompetence, but only in the context of financial matters.
The NICS Improvement Amendments Act of 2007 (NIAA) Section 922(g)(4), Title 18, United States Code, prohibits the receipt or possession of firearms by an individual who has been "adjudicated as a mental defective" or "committed to a mental institution. Regulations implemented by the Bureau of Alcohol, Tobacco, Firearms and Explosives (ATF) defined the terms as "A determination by a court, board, commission, or other lawful authority that a person, as a result of marked subnormal intelligence, or mental illness, incompetency, condition, or disease: Is a danger to himself or to others; or Lacks the mental capacity to contract or manage his own affairs."
ATF definitions do not include persons suffering from mental illness who are not a danger to themselves or others.
Over 99.3% of the names listed as "mentally defective" are veterans and their families reported by the VA to NICS, many without notice or even apparent reason. Most of the veterans who lost their Second Amendment rights have no history of violence, no criminal record and not prone to violent outbursts.
Grassley told reporters, "It's disturbing to think that the men and women who dedicated themselves to defending our freedom and values face undue threats to their fundamental Second Amendment rights from the very agency established to serve them. A veteran or dependent shouldn't lose their Constitutional rights because they need help with bookkeeping."
 The United States Justice Foundation (USJF), at the forefront of protecting veteran's rights, represents dozens of veterans across the country whose Constitutional rights have been quashed without proper adjudication. In early 2013, the USJF sought records via the Freedom of Information Act (FOIA) regarding "Veterans Benefits Administration (VBA) rules, regulations, and criteria for making determinations of incompetency due to a physical or mental condition of a benefit recipient, and all VBA rules, regulations, and criteria for appointing of fiduciaries to manage VA payment.
The FOIA request also sought "copies of all rules, regulations and criteria used by the VBA to determine that a veteran found incompetent for any reason can be prohibited from purchasing or possessing a firearm." USJF requested records with a date range from January 1, 2008 through February 21, 2013. Those requests were denied and USJF successfully sued to obtain them.
A Feb 27, 2012 memo obtained through FOIA says, "This Memorandum of Understanding (MOU) constitutes an agreement between the United States Department of Veterans Affairs (VA) and the Federal Bureau of Investigation (FBI) whereby the VA will provide an encrypted compact disc exchanged via mail to the FBI no less than quarterly for, inter alia, inclusion in the NICS and use when making determinations required by the Brady Handgun Violence Prevention Act of 1993, the Public Health Security and Bioterrorism Preparedness and Response Act of 2002, the Safe Explosives Act and the Energy Policy Act of 2005."
In 2015, the USJF has not received all public documents requested even though they were court ordered.
While the Brady Act and its amendments have been law for many years, approximately 100,000 names had been added to the NICS (category 4) database prior to 2009. In April 2009, the Department of Homeland Security (DHS) publicized a report titled, "Rightwing Extremism: Current Economic and Political Climate Fueling Resurgence in Radicalization and Recruitment" targeting veterans as potential terrorists. The number of reported veteran names to NICS began a rapid climb.
Senator Richard Burr, R-NC introduced legislation in 2013 titled The Veterans 2nd Amendment Protection Act. The bill would mandate that no veteran's right be denied unless a judicial authority found that person to be a danger to him or herself or others. This was the fourth go around for a bill like this. Each time these bills were defeated in the Senate.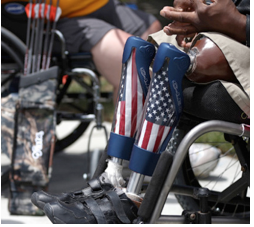 Veterans, by the thousands, continue to receive letters from the VA that informs them the VA intends to rate them incompetent for "VA purposes" and gives the veteran 60 days to present MEDICAL evidence that says they are able to handle their own finances in a responsible manner. Diagnoses of minor depression, minor PTSD, and even minor short-term memory loss often trigger a declaration of incompetence by the VA. Those who submit convincing evidence from a medical professional often find themselves in a "years long" battle with the VA at their own expense. In many cases, appeals get lost in the shuffle or veterans are never told of an incompetency rating until the 60-day limit for an appeal passes.
The Department of Defense (DOD) has also gotten into the act and is hiring outside independent contractors to declare veterans and even active duty personnel "incompetent" in order to strip them of their Second Amendment rights. When the VA sends a letter to veterans telling them that they are about to be declared incompetent they are given 60 days to respond but the DOD's outside contractors have given many veterans just five days to respond.
The horror stories don't end there. Veterans have been threatened with the withholding of and loss of benefits if they appeal, have been hauled to hospitals for involuntary psychiatric holds and had their guns and ammunition seized without warrants.
Michael Connelly, Executive Director of the USJF, has been a vocal opponent of these practices. He said, "Once the declaration is made the veterans names are sent to the FBI that adds them into the NICS database because they are not competent to handle their own financial affairs. That classes them as "mentally defective" and suddenly a danger to themselves or others. A psychologist or psychiatrist does not make the determination of this status and there is no adjudication process as required by law. Eric Holder has decreed that any Federal employee, including independent contractors can declare a veteran mentally defective.
It gets worse; the FBI is doubling down on the denial of due process because on those rare occasions when veterans win their appeals and have the incompetency ruling reversed, the FBI will not take them off NICS, further prohibiting ownership of a firearm and further violating the Constitutional rights of innocent veterans."
Grassley noted, "It appears veterans are particularly singled out and should not be required by the VA to shoulder the entire burden to prove that they have the ability to exercise their Second Amendment rights."
It is, unequivocally, unsound and irrational thinking that sends our young men and women off to war and expects them to come home "whole." Most veterans experience minor depression, minor PTSD, and even minor short-term memory loss when they return home but can still function competently and not be a danger to him/herself or others.
We, as Americans, must stand up and speak out against the unfair targeting and punishment of innocent men and women who risked their lives to keep us free and preserve the very rights they are now being stripped of.  For more information please visit www.usjf.net
(Katharine Russ is an investigative reporter and a regular contributor to CityWatch. Katharine Russ can be reached at [email protected].
–
ATTENTION READERS
Due to the nature of independent content, VT cannot guarantee content validity.
We ask you to
Read Our Content Policy
so a clear comprehension of VT's independent non-censored media is understood and given its proper place in the world of news, opinion and media.
All content is owned by author exclusively. Expressed opinions are NOT necessarily the views of VT, other authors, affiliates, advertisers, sponsors, partners or technicians. Some content may be satirical in nature. All images within are full responsibility of author and NOT VT.
About VT
-
Read Full Policy Notice
-
Comment Policy