There are many reasons why war is bad. Innocent children and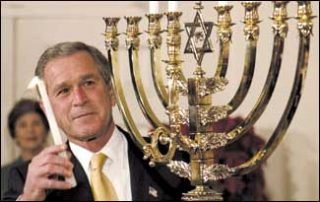 civilians getting wounded and slaughtered, military people getting wounded and slaughtered, mass destruction of civilization – the list is endless.
George W. Bush recently proved United States Marine General Smedley Butler correct. Butler wrote a landmark book, War is a Racket, in which he points out how war harms the average person while enriching the plutocrats and most wealthy people.
George W. Bush started the unnecessary war against Iraq for religious reasons (he said his favorite philosopher is Jesus) and for practical political reasons.
In 2003 W told a Palestinian delegation at "peace talks" with the Jewish state of Israel, "And now, again, I feel God's words coming to me, 'Go get the Palestinians their state and get the Israelis their security, and get peace in the Middle East'. And, by God, I'm gonna do it."
The practical reason for the war against Iraq, according to former George W. Bush adviser Philip Zelikow, was the security of the Jewish state of Israel. Zelikow said, "Why would Iraq attack America or use nuclear weapons against us? I'll tell you what I think the real threat (is) and actually has been since 1990 – it's the threat against Israel." He continued, "And this is the threat that dare not speak its name, because the Europeans don't care deeply about that threat, I will tell you frankly. And the American government doesn't want to lean too hard on it rhetorically, because it is not a popular sell."
How could it possibly be a popular sell to convince people to send their children to fight, kill and die for a foreign nation? Nobody signs up in the US military to defend Israel or any other foreign nation.
George W. Bush and his wife Laura are raking in the cash because of the wars Bush started in Iraq and Afghanistan. W was paid $100,000.00 and Laura $50,000.00 for speaking at a veterans charity group for severely wounded vets from the Afghanistan and Iraq wars, Helping a Hero. They also were provided a private jet at a cost of $20,000.00. War really is a racket!
It seems W lied to the event organizers of the veterans group. Meredith Iler, a former chairman of the veterans group said, "It was great because he reduced his normal fee of $250,000 down to $100,000." Politico reports that that is not true. W was receiving $100,000.00 to $175,000.00 per speech during that time.
Eddie Wright was a US Marine fighting in Fallujah, Iraq when he had both of his hands blown off during a rocket attack. ABC News quotes Wright as saying, "For him to be paid to raise money for veterans that were wounded in combat under his orders, I don't think that's right."

For grunts to really take care of their fellow grunts they need to do all they can to avoid getting in a combat situation for any reason other than defending the US and the US Constitution from all enemies foreign and domestic. The US politicians from both parties who send Americans to fight and die in wars for the benefit of Israel and their own political careers are domestic enemies of the US and the US Constitution.
The Deistic document, the Declaration of Independence, states:
We hold these truths to be self-evident, that all men are created equal, that they are endowed by their Creator with certain unalienable Rights, that among these are Life, Liberty and the pursuit of Happiness.–That to secure these rights, Governments are instituted among Men, deriving their just powers from the consent of the governed, –That whenever any Form of Government becomes destructive of these ends, it is the Right of the People to alter or to abolish it, and to institute new Government, laying its foundation on such principles and organizing its powers in such form, as to them shall seem most likely to effect their Safety and Happiness.
Fighting and dying in unnecessary wars that are waged for the benefit of a foreign nation and the sell-out politicians who serve that nation violates our rights of "Life, Liberty and the pursuit of Happiness." Paying BILLIONS of dollars for these unnecessary religious wars is a violation of these rights. The politicians taking money from American tax payers and giving it to the Jewish state of Israel to the tune of $8.5 million PER DAY is another violation of these rights.
The first step in breaking free of this death-mill is to learn to truly appreciate and use our innate God-given reason. We need to apply our reason to every aspect of our lives and act accordingly. This will eventually bring an end to this deadly and corrupt kosher plutocracy.
ATTENTION READERS
Due to the nature of independent content, VT cannot guarantee content validity.
We ask you to
Read Our Content Policy
so a clear comprehension of VT's independent non-censored media is understood and given its proper place in the world of news, opinion and media.
All content is owned by author exclusively. Expressed opinions are NOT necessarily the views of VT, other authors, affiliates, advertisers, sponsors, partners or technicians. Some content may be satirical in nature. All images within are full responsibility of author and NOT VT.
About VT
-
Read Full Policy Notice
-
Comment Policy