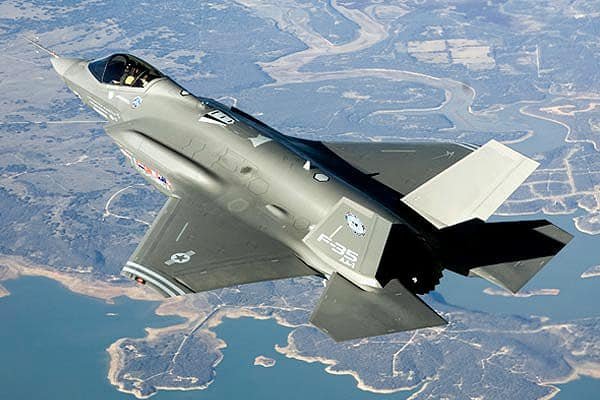 … from Russia Today,  Moscow
[ Editors Note:  As the disaster of the F-35 rolls on, all we continue to get from the defense PR spin machine on this is a flowery version of doo-doo happens. But what no one will come right out and say is that the disaster was foreseen by those not at the hog trough, and they were ignored by those who viewed it as a no lose deal.
And that is because Lockheed and all the subcontractors whose names the public never hears make even for money on the overruns. The defense contractors invented a hardwired cost overrun supply-chain guarantee by spreading out manufacturing into as many Congressional districts as possible. That put all those districts on their play string, as they could not care less about cost overruns, as long as the big money still flowed to them.
This is another classic case of the big thieves cutting the "folks" in for a piece of the pie, and to hell with what is best for the country and getting the best bang for its buck.
Don't expect to see anyone campaigning on this theme.  They know the public has a short attention span on these issues, whereas the contractors do not. America gets pillaged once again with a scam, and anyone who objects to it can be attacked for being un-American. It's a good racket… Jim W. Dean ]
____________________________________
_____________________
–  First published  …  July 30,  2015  –
The Air Force secretary admitted that there have been numerous, ongoing problems with the expensive, high-tech F-35 joint strike fighter aircraft, saying it has cost the US "way more money than we ever imagined possible."
"The biggest lesson I have learned from the F-35 is never again should we be flying an aircraft while we're building it," Air Force Secretary Deborah Lee James told an audience at the Aspen Security Forum in Colorado which ended on Saturday, according to a new report by the Military Times.
The F-35, made by Lockheed Martin Corp, is the most expensive US weapons system ever, at nearly $400 billion for a planned fleet of over 2,400 aircraft. It's also a flying computer, with more than 8 million lines of software code in each plane.
The Pentagon will invest nearly $1 trillion to maintain and operate the joint strike fighter (JSF) program over the course of its lifetime, according to the Government Accountability Office (GAO).
Secretary James said that in the development period "people believed we could go faster, cheaper, better" by designing and building the F-35 concurrently, but that the strategy "has not worked as well as we hoped and that's probably the understatement of the day."
The F35's shortcomings involve a series of hardware malfunctions and software glitches that have set the program back more than three years and pushed it some $200 billion over its initial budget, according to CNN.
In a mock dog-fight in January, the F-35 failed to turn quickly enough to engage an F-16, the plane it is supposed to replace.
James said the dogfight provided valuable data, but she stressed that the F-35 will be a different plane when it's fully operational and that it will eventually guarantee the US' continued air supremacy over rivals.
"[It will have the capability to] see an enemy hundreds of miles in the distance," James said. "We get the first weapon off, we deliver the first punch and the bad guys don't know what hit them. The idea is not a close-in dogfight but with that said, by the time we're at full operational capability, we'll be much better in that arena as well."
Other problems have included engines catching fire, as well as unreliable engine performance in general. The software system intended to identify maintenance issues was also found to give false-positive readings 80 percent of the time.
"It has taken us too long, it has cost us way more money than we ever imagined possible" over the course of its 15-year development, she added.
__________________________________
Jim W. Dean was an active editor on VT from 2010-2022.  He was involved in operations, development, and writing, plus an active schedule of TV and radio interviews.
ATTENTION READERS
Due to the nature of independent content, VT cannot guarantee content validity.
We ask you to
Read Our Content Policy
so a clear comprehension of VT's independent non-censored media is understood and given its proper place in the world of news, opinion and media.
All content is owned by author exclusively. Expressed opinions are NOT necessarily the views of VT, other authors, affiliates, advertisers, sponsors, partners or technicians. Some content may be satirical in nature. All images within are full responsibility of author and NOT VT.
About VT
-
Read Full Policy Notice
-
Comment Policy