… from Russia Today,  Moscow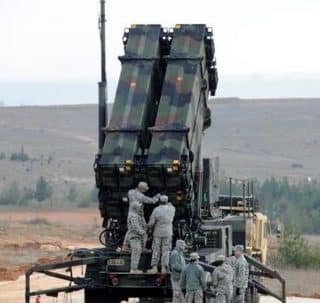 [ Editors Note:  I did an interview with Press TV this morning to try to point out that these defensive Patriot missile sales are to replace older models.
Obama is playing this card now, trying to take the wind out of the Congressional NeoCons' new spin that once Iran becomes the economic power in the region, it will arm itself to the teeth and attack westward.
This is a ridiculous ploy with not a shred of proof behind it, what we call "fear porn." The main modern combat record the West has with Iran is the one million casualties inflicted on it by America's proxy at the time, having Saddam engage in the long war with them.
American chemical weapons were illegally field-tested on both the Kurds and the Iranians during that war. So who the real WMD threat has been in the region is part of history.
That did not work out too well then, nor did it when we invaded Iraq versus seeking a diplomatic solution. Our methods have destabilized most of the region, impoverished large numbers of Americans, destroyed veterans' families, and enriched some special interests.
This is really an economic war where the US is fully committed to using its military to help win, and to economically subjugate the rest of the world so the special interests behind the scenes can continue their concentration of wealth.
Americans have become cannon fodder in this plan, but a notch above the throw-away jihadis that are being used for cheap "boots on the ground" substitutes… no VA benefits, no college, no disability payments, no pensions. Rumsfeld would love all this.
The rest of Americans or their children look forward to a reduced standard of living, but have yet to focus on who is really behind it. More should read VT… Jim W. Dean ]
________________________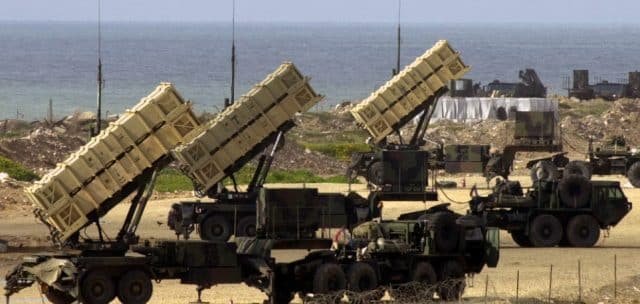 –  First published  …  July 29,  2015  –
Washington is set to approve a $5.4 billion sale of 600 advanced Patriot missiles to Saudi Arabia. More such sales are expected in the coming months, defense analysts say, as Gulf nations react to the Iran nuclear deal by buying US weapons systems.
According to a notice sent to Congress by the Pentagon on Wednesday, the State Department has approved a request by Saudi Arabia to purchase $5.4 billion worth of PAC-3 missiles.
"The proposed sale will modernize and replenish Saudi Arabia's current Patriot missile stockpile, which is becoming obsolete and difficult to sustain due to age and limited availability of repair parts," said the Pentagon's notice to Congress. "The purchase of the PAC-3 missiles will support current and future defense missions and promote stability within the region."
PAC-3 stands for the third generation of the Patriot Advanced Capability missile, the interceptor famously deployed during the first Iraq War. Made by Lockheed Martin Corp, the PAC-3, is advertised as the "the world's most effective air and missile defense interceptor" against aircraft, cruise missiles and tactical ballistic missiles.
"Lockheed Martin is supporting the US government and the kingdom of Saudi Arabia as they discuss the potential sale of additional PAC-3 Missiles as part of the upgrade of the Royal Saudi Air Defense Force," the company said in a statement.
Saudi Arabia already bought a $2 billion shipment of Patriots in April, while the Pentagon purchased $1.5 billion worth of Patriots intended for Qatar, the United Arab Emirates, Taiwan, South Korea and the Saudis just last week, according to Defense One.
Gulf Arab states are eager to purchase US counter-missiles, as embargoes on conventional weapons and missiles against Iran are expected to be lifted in the next five to eight years under the terms of a nuclear deal reached in Vienna on July 14.
"We're going to see more of this," Thomas Karako, a missile defense expert with the Center for Strategic and International Studies (CSIS) in Washington told Defense One.  "So long as the Iranian missile threat exists, GCC and other countries in the region are going to have to invest in counters, offensive and defensive."
The GCC consists of six Persian Gulf nations: Saudi Arabia, Qatar, Kuwait, Oman, Bahrain and the United Arab Emirates.
At a summit with GCC envoys in May, President Barack Obama assured his Arab allies that the US would "stand by our GCC partners against external attacks." A joint statement adopted at the summit committed the US and the GCC to work towards increased security cooperation, particularly "on fast-tracking arms transfers… counter terrorism, maritime security, cybersecurity and ballistic missile defense."
The United Arab Emirates have already acquired a Terminal High Altitude Area Defense (THAAD) system, with a greater reach than the Patriot's. Saudi Arabia and Qatar have also expressed interest in the THAAD, while Qatar is now likely to proceed with the purchase of a missile-tracking radar system.
Jim W. Dean is Managing Editor of Veterans Today involved in operations, development, and writing, plus an active schedule of TV and radio interviews.
ATTENTION READERS
Due to the nature of independent content, VT cannot guarantee content validity.
We ask you to
Read Our Content Policy
so a clear comprehension of VT's independent non-censored media is understood and given its proper place in the world of news, opinion and media.
All content is owned by author exclusively. Expressed opinions are NOT necessarily the views of VT, other authors, affiliates, advertisers, sponsors, partners or technicians. Some content may be satirical in nature. All images within are full responsibility of author and NOT VT.
About VT
-
Read Full Policy Notice
-
Comment Policy