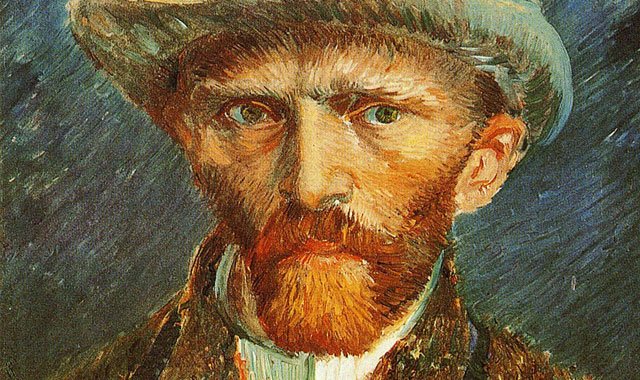 'You know what I often think about – what I said to you once, that, even if I wasn't successful, I still believed that what I'd worked on would be continued.'
… by  Vincent van Gogh (1853-1890),   …with   Jim W. Dean, VT Editor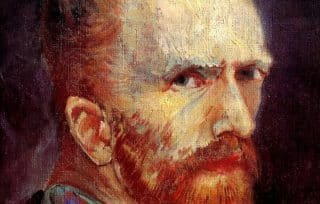 Ah, the 29th slipped by me on Wednesday, and I just bumped into some of the post-125th Vincent celebration on Friday when we were still in the middle of a hectic week, so I promised I would do this for the weekend.
Impressionism was my first doorway into the art world. All the other genres came after. The colors captured me when I decorated my first apartment as a young man and softened the engineering semi-geeky image with some art.
I did not know then that an an interest in art is a long road to travel, with all of its many forms. But one always remembers their first art love, right up there with the first teenage love. Fortunately with art you can have many, and without all the legal bills and property settlements.
The hot link on his name will take you to the Van Gogh museum. I remember clear as a bell my excitement at visiting it in Amsterdam in the mid-80s. I had been staying on the canal north of town in Zaandam, where Peter the Great hung out with this shipbuilder crew trying to learn all they could to build themselves a Russian fleet when they returned home after their historic yellow brick road trip through Europe's capitals.
But I was shocked when I first walked into the Van Gogh museum because they had arranged the entire collection in chronological order, and the first room was filled with what seemed these dreary sad charcoal etchings of peasants in their daily life settings.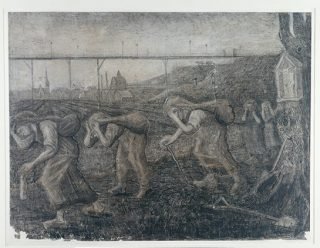 Frankly they were depressing, and I had never seen or even heard of his early work before. But later I learned many were draft sketches, done while he was honing his skills. I could see no greatness in them.
After a while it sank in that we all have to start somewhere, and this is where he began. Making his transformation into the explosion of color talent, he took even more of a great leap.
Later, I was to see a few originals in the US, but to have a huge collection, several rooms of them surrounding you, was indescribable. I think my face muscles got sore from the frozen smile on my face.
Besides his work which is so well known, usually only art aficionados are aware of the treasure trove of letters between Vincent and his art dealer brother, who supported him all the years that he painted and never sold a canvas. He became the symbol of all artists ahead of their time who were not recognized until after they died. I picked up the quote above on the front page of the museum site, as it was a perfect starting point for my little retrospective.
Most of Vincent's 800 letters went to his younger brother Theodore, who followed him to the grave in 1891. I end this below with a lovely photo of their side by side graves, where their bond remains unbroken. We should all be so lucky to have such a familial bond, and this one survived some tough times.
I will not repeat the whole Vincent story as the museum site has it all. If you Google "Van Gogh, 125th" and click on images, you will find fields of his paintings to build a keepsake folder with. So I will make my minor artistic contribution, in a way like he painted… by doing something spontaneous and going with the flow in my ode to Vincent.
_______________________
Dear Vincent, dear Vincent please forgive me,
For your 125th I did not see.
And we hold you close here at VT
Because we feel you suffered from PTSD.
___
An artistic mind can make you one of a kind
But living the life can be one hell of a grind.
I saw your early charcoal sketches in Amsterdam
And got an idea from where you came.
___
But you escaped from that to rainbow land,
Where rivers of color flowed through you hand.
But in that process came demons to fear,
Which ended up costing  you an ear.
___
You had a good brother who held your work dear,
Which is why so much of it is still here.
Your colors still delight us after all these years
And in that regard you have no peers.
___
Your prediction came true, as you had good foresight,
Because you knew deep inside that you had gotten it right.
So rest in peace knowing how much your work means,
And enjoy what must certainly be some colorful dreams.
___
_________________________________
Author Details
Jim W. Dean is Managing Editor of Veterans Today involved in operations, development, and writing, plus an active schedule of TV and radio interviews. He broke into television work doing Atlanta Public TV programs for variety of American heritage, historical,military, veterans and Intel topics and organizations since 2000. Jim's only film appearance was in the PBS Looking for Lincoln documentary with Prof. Henry Lewis Gates, and he has guest lectured at the Army Command and General Staff School at Fort Gordon, GA.
He is working to find time now to database his extensive video archive of Americana and interviews filmed during his public TV days so individual topic segments can be key word searched to quickly use in future multi-media projects.
Read Full Complete Bio >>>
Jim's Latest Posts
ATTENTION READERS
Due to the nature of independent content, VT cannot guarantee content validity.
We ask you to
Read Our Content Policy
so a clear comprehension of VT's independent non-censored media is understood and given its proper place in the world of news, opinion and media.
All content is owned by author exclusively. Expressed opinions are NOT necessarily the views of VT, other authors, affiliates, advertisers, sponsors, partners or technicians. Some content may be satirical in nature. All images within are full responsibility of author and NOT VT.
About VT
-
Read Full Policy Notice
-
Comment Policy