The Roots of Swift Boating: Daisy-Chained
___
"The Medium is the Message" — Marshall McLuhan
[ Editor's note: Mike Hughes' piece offers a perspective on the political contributions of Senator Barry Goldwater to today's libertarian outlook, which decades ago was called conservative, but now conservative means something entirely different. In the run up to the 2016 election, the American public will once again be assaulted by fear-mongering ads that have been tested on focus groups for effectiveness… Jim W. Dean and Erica P. Wissinger ]
_____________________________________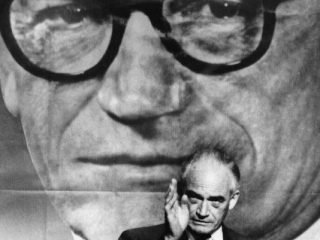 Back in the early 1960s, one very conservative politician stood tall as a man of principles and conviction. He authored a book, The Conscience of a Conservative, which profoundly affected the Conservative movement and influenced political theory on both sides of the debate, as well as influencing the Libertarian movement.
That man was Barry M. Goldwater, the 1964 Republican Candidate for the Presidency of the United States and five-time Senator from Arizona.
In 1949 Goldwater, who flew countless missions as a reservist in WWII," was elected to the Phoenix City Council as a part of a nonpartisan team of candidates who promised to clean up gambling and prostitution."
He won his Senate seat in 1952 as a Republican in heavily Democratic Arizona. Known affectionately as Mr. Conservative, he continued to hold his seat until his Presidential run against sitting President Lyndon Baines Johnson.
Four years after his landslide defeat, he returned to the Senate for added terms. Despite his personal wealth as the owner of a popular Phoenix department store and his stellar career as a senator, Goldwater continued to be active in the USAF Reserve, rising to the rank of Brigadier General.
Although being painted as an extreme right winger, a retrospective examination of his political career and public positions leads me to conclude that he was more of a pragmatist with Conservative ideals.
My own opposition to Goldwater stemmed from his seemingly anti-union stance. As the son of a union steelworker and myself the member of the building trades, my loyalties placed me as a staunch Labor Democrat. However, that did not blind me to many corrupt union practices, nor prevent me from admiration of Goldwater's principles.
Goldwater's position on States Rights and limited government attracted a racist following and tarnished his image, but a deeper inspection of the record indicates quite the opposite was true.
"In the segregated city of Phoenix in the 1950's, he quietly supported civil rights for blacks, would not let his name be used". Like George Corley Wallace learned the hard way, you had to pick your fights.
It was Goldwater's positions on war and peace that provided the Democrats with ammunition to set the precedent for negative advertising which would lead to the 'Swift Boating' of John Kerry in 2004.
Goldwater supported the use of nuclear weapons on the battlefield at the discretion of field commanders and said of North Vietnam that he would reduce it to a mud puddle. Statements such as these alarmed many, even certified "Cold warriors".
The Democrats devised and ran the infamous Daisy political ad which implied that, if elected, Goldwater would lead us into a nuclear war and mutually-assured destruction.
In the ad, a young girl is filmed in a meadow playing with daisies. You hear the sound of birds singing. She plucks the petals and childishly miscounts, as she reaches an unspoken ten, the narration switches to a southern male voice counting down to a nuclear explosion. The ad ends with President Johnson's appeal, "These are the stakes; to make a world in which all of God's children can live or to go into the dark. We must either love each other or we must die." This is followed by a message to "vote for President Johnson on November 3rd. The stakes are too high for you to stay home."
___
___
The images of this quiet commercial effectively alarmed voters. Goldwater's boat was sunk just as surely as John Kerry's thirty years later. The Wikipedia article on "Daisy" claims that the ad was only run once and withdrawn, but somehow it was often shown.
My personal memories are of the ad saturating the airwaves; but memory plays certain tricks. Either way it was the complicity of an already corrupted media that spread the message.
Looking back from the vantage of a lifetime, my sympathies drift toward "The Grand Old Man of the Republican Party" and the nation's most respected exponent of conservatism.
Perhaps the mere threat of Goldwater's unflinching position may have achieved a successful negotiation with Uncle Ho. If the threats were turned to action, Vietnam would have been crushed under overwhelming force and perhaps countless Americans would have been spared the pains of a protracted, unwinnable, and inhumane war. We will never know. But we do know that the war devastated Vietnam and sorely divided the United States as a country.
The Vietnam war had already turned me into a pacifist by the campaigns of 1964. Easily performed research done while forming a Current Affairs club at my small Catholic college provided evidence of United States duplicity and outright foolishness. But I was just a kid untainted by the Cold War attitude of WWII and Korean generations. Within the context of his peers, Goldwater was part of a group of hardliners who had a true fear of the spread and influence of Communism. He was a plain spoken and honest man — maybe too honest for his time.
Here are some selected quotes:
If everybody in this town connected with politics had to leave because of chasing women and drinking, you would have no government.
I will offer a choice, not an echo.
I think every good Christian ought to kick Falwell in the ass.
I would not trust Nixon from here to that phone.
… You just gotta' love the guy.
__________________________
Body of text taken from memory and Wikipedia.
Quotes borrowed from Brainy Quotes, an online service.
____________________________________________
ATTENTION READERS
We See The World From All Sides and Want YOU To Be Fully Informed
In fact, intentional disinformation is a disgraceful scourge in media today. So to assuage any possible errant incorrect information posted herein, we strongly encourage you to seek corroboration from other non-VT sources before forming an educated opinion.
About VT
-
Policies & Disclosures
-
Comment Policy
Due to the nature of uncensored content posted by VT's fully independent international writers, VT cannot guarantee absolute validity. All content is owned by the author exclusively. Expressed opinions are NOT necessarily the views of VT, other authors, affiliates, advertisers, sponsors, partners, or technicians. Some content may be satirical in nature. All images are the full responsibility of the article author and NOT VT.