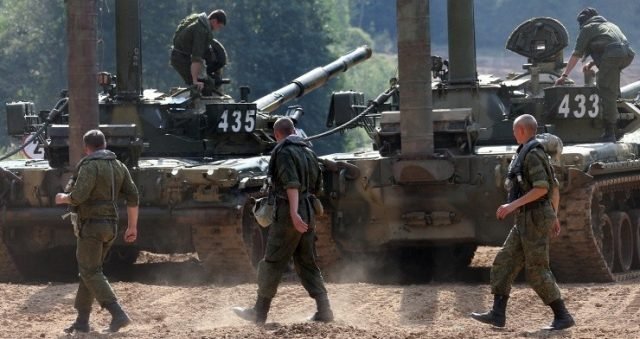 … from  TASS,  Moscow
 Russia's 20th combined army in the Western Military District will be complemented with more units and troops from other military districts
[ Editor's Note:  Putin had calmly said that he would respond "accordingly" to increased NATO maneuvers on Russia's borders.
As expected, NATO has elected to use the Baltic States as bullet magnet cannon fodder on the northern flank, and the Ukrainian army as cannon fodder on the Western front — the old "war on the cheap using surrogate forces." And with Ukrainian conscripts making $65 a month, that is pretty cheap.
So instead of those areas being more secure, they will end up being less so. All I can think of for a benefit is their leadership is anticipating large western investments in their countries, which I am not so sure of. Baltic dairy farmers are on the verge of bankruptcy and demanding the EU taxpayers pay 45 euros to ease that pain. But what about the pain of the EU farmers?
Most of the Baltic States get 100% of their energy from Russia, which would not last long in a shooting war. And Russia would have to eliminate all of their military bases in the first day to clear their northern flank.
For the life of me I cannot see why the Baltic people went along with being put into this risky position, where they suffer economically now to maybe get it back later, and a little more, when that is a suckers' game. One would think Europeans would be wiser… Jim W. Dean ]
_________________________
–  First published  …  August 13,  0215  –
Russia's Defense Ministry is reinforcing the 20th combined army in the Western Military District. As a source at the General Staff told TASS, the army being reformatted will be complemented with more units and troops from other military districts.
"The General Staff and the Western Military District's command have been working tightly on determining and specifying the personnel and hardware of the 20th combined army," the source said. "In particular, questions are being decided of complementing the army with units from other military districts and forming more mechanized infantry, armour, artillery, missile, reconnaissance and other brigades," he said.
"The amount of work to be accomplished is vast, indeed," he said, adding that the 20th army should be recreated anew by December 1. "The army's command center is based on the premises of the former 1st command of the Air Force and Air Defense (the current 6th Air Force and Air Defense Army) before it was moved to St. Petersburg."
Earlier, a source at the General Staff told TASS that the current 20th army would in fact be formed anew, because most of its units were being transferred to a newly-created 1st tank army. As at the end of July the 20th army incorporated the 9th tank brigade from Nizhny Novgorod.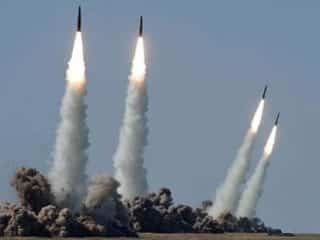 In the Western Military District (created in 2010 on the basis of the Moscow and Leningrad military districts and the Northern and Baltic Fleets with headquarters in St. Petersburg) there has been created the 6th Leningrad Air Force and Air Defense Army.
Its area of responsibility includes 2 million square kilometers of airspace and 3,000 kilometers of the state border. It is armed with Sukhoi Su-34, Su-35S and Su-30MS jets, Kamov Ka-52, Mil Mi-28N, Mi-35, and Mi-MTV5 helicopters, and S-300, S-400 and Pantsir-S air defense systems.
Also, the Western Military District has formed the 14th Air Force and Air Defense Army, with its area of responsibility consisting of 29 territories of Russia and more than 3,000 kilometers of the state border.
It is armed with MiG-31BM interceptor fighters, Sukhoi Su-24M frontline bombers, Mil Mi-8AMTSH, Mi-24 and Mi-26 helicopters and S-300 PS air defense systems. As assistant to the district's commander, Yaroslav Roshchupkin, told TASS earlier, "the army includes units of the 2nd Air Force and Air Defence Command stationed in the Volga River area, the Urals and Siberia.
In the Western Military District the Defense Ministry plans to create a new tank army by December 1. The 1st Tank Army will incorporate the Tamanskaya Mechanized Infantry Division and the Kantemirovskaya Tank Division, as well as the 27th Sevastopolskaya Mechanized Infantry Brigade and the 6th Tank Brigade.
Another tank army will be formed near Moscow by December.
Earlier, Airborne Troops Commander Vladimir Shamanov said that on the basis of Russia's paratroops a rapid reaction force was to be created. The force would have a dual capability of operating on its own or in combination with ground troops. A source at the General Staff told TASS the strength of airborne troops would grow from 45,000 officers and men to 60,000.
____________________________
Author Details
Jim W. Dean is Managing Editor of Veterans Today involved in operations, development, and writing, plus an active schedule of TV and radio interviews. He broke into television work doing Atlanta Public TV programs for variety of American heritage, historical,military, veterans and Intel topics and organizations since 2000. Jim's only film appearance was in the PBS Looking for Lincoln documentary with Prof. Henry Lewis Gates, and he has guest lectured at the Army Command and General Staff School at Fort Gordon, GA.
He is working to find time now to database his extensive video archive of Americana and interviews filmed during his public TV days so individual topic segments can be key word searched to quickly use in future multi-media projects.
Read Full Complete Bio >>>
Jim's Latest Posts
ATTENTION READERS
Due to the nature of independent content, VT cannot guarantee content validity.
We ask you to
Read Our Content Policy
so a clear comprehension of VT's independent non-censored media is understood and given its proper place in the world of news, opinion and media.
All content is owned by author exclusively. Expressed opinions are NOT necessarily the views of VT, other authors, affiliates, advertisers, sponsors, partners or technicians. Some content may be satirical in nature. All images within are full responsibility of author and NOT VT.
About VT
-
Read Full Policy Notice
-
Comment Policy