… from  Press TV, Tehran
[ Editor's Note: The Saudi Royal family is a bit bigger than the British one. When the old King went around visiting his realm it was customary for his host to donate a maiden for him to bed down. He would leave a prince or a princess as a nine-month deferred payment tip so to speak, to bind the community to the Saud family.
They are estimated at 15,000 now. The old King must have traveled a lot. Only 2000 hold the wealth and power. They live lavishly of course, but so does the country. Income taxes are unknown, as are tuition and medical bills, and no one commits suicide over money problems.
Despite the hemorrhaging of red ink due to the low price of oil, running a huge welfare state where everybody gets some, the new King Salman continues to spend more on weapons than can ever be used. Some are used, not on the despised Iranians, on poor little Yemen for its fledgling democratic heresy.
The Arab League shamed itself by jumping on-board the coalition of the unwilling to attack the poorest country among them. I think the threat of cutting off funding had a bit to do with it. But countries like Egypt just signed on for show. And when the Pakistanis were called upon for some non-Arab cannon fodder fighters, they were a no show.
But I must say, reading a story about Saudi cash flow problems, I had to blink a few times to make sure I was not dreaming. The Saudis are still doing better than the US shale oil people, who could start going bankrupt by the end of the year. The shale people are producing more, desperately trying to keep from defaulting on their loans, but time is not on their side. We will see if those loan losses have a banking ripple effect. You remember that don't you?
America continues to "defend its interests" by leaving carnage in many places, including a bit here at home, where many Americans are having to get accustomed to a new normal, and some a bitter taste of Third World living.
WWII saved Roosevelt. Maybe the next president will reach under the table to play that card. Our Founding Fathers would say, "You should have paid more attention to no foreign entanglements."… Jim W. Dean ]
_________________________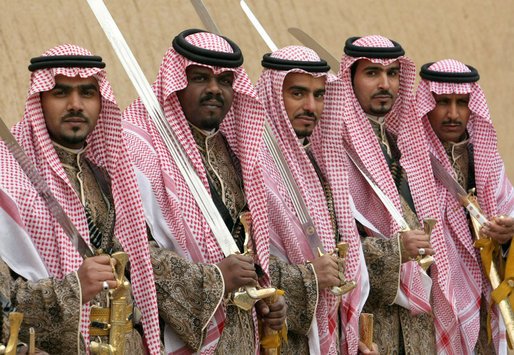 Saudi Arabia is burning through its foreign reserves at an alarming pace in the wake of the oil price slump and a sharp rise in military spending. To maintain its lavish spending, the royal family has used up $60 billion of foreign assets in the first six months of the year and borrowed $4 billion from local banks.
According to the IMF, Saudi Arabia's fiscal deficit could rise to around $140 billion by this year-end or 20% of GDP. By Saudi measures, this size of deficit is hugely massive for a country which is accustomed to running hefty surpluses.
Government revenues, meanwhile, are set to fall by $82 billion in 2015 or 8% of GDP in a country where oil income accounts for 90% of the state spending. Standard and Poor's cut its credit outlook for Saudi Arabia in February to negative from stable, saying it viewed the country's economy "as undiversified and vulnerable to a steep and sustained decline in oil prices".
The gloomy situation is down to the oil price slump from $107 a barrel about a year ago to below $50 at present. This is ominously bad for a rulership which needs a break-even point of $106 a barrel to fund its lavish welfare state.
But Riyadh cannot blame anyone but itself for the situation. Since last year, the country has been producing oil at full-throttle, leading to a glut in the market and a price crash.
With record production of 10.564 million barrels per day, the kingdom is refusing to cut output under the illusion that the policy would drive US shale producers out of business and force Russia and Iran to drop support for the Syrian government.
By all accounts, the regime has miscalculated, given that US shale oil production has risen to a 43-year high of 9.6 million barrels per day. According to the Saudi central bank's shocking acknowledgement, "It is becoming apparent that non-OPEC producers are not as responsive to low oil prices as had been thought."
At the same time, the new Saudi ruler, King Salman, has been following an adventurist policy since coming to power in January. He and his son, the defense minister and second-in-line to the throne, have launched a costly war in Yemen and carrying out airstrikes in Syria.
Thanks to the new king, Saudi Arabia is also engaged in a massive military buildup that will catapult the kingdom to the fifth place in the world ranking for military spending.
According to the governor of the Saudi Arabian Monetary Agency Fahad al-Mubarak, the country will see increased borrowing in the coming months.
Economists say the kingdom will have to issue around $5 billion of bonds per month through the end of 2015, including to foreign investors, to cover the budget deficit.
Populist spending is the glue which keeps the Saudi community together and dissent in check at a time of boiling unrest in the oil-rich Eastern Province. King Salman splurged $32 billion in his coronation as bonuses to all workers and pensioners.
Huge subsidies on fuel, electricity and food and charging no taxes on income and interest have stripped the regime of a vital tool to diversify revenue sources.
Moreover, the kingdom is saddled with exorbitant costs of a patronage system which has expanded as it tries to smother dissent since the Islamic Awakening hit the Arab world.
Saudi Arabia, however, is sleeping on the laurels of its huge foreign reserves peaking $737 billion in August 2014. Those reserves dropped to $672 billion in May and are falling by at least $12 billion a month at current levels.
The Saudi regime, hence, seems trapped in the economic and political wars of its own making. It appears headed for a steep cut in investment spending in the short term but ultimately it has to face a draconian austerity and an inevitable bankruptcy.
Author Details
Jim W. Dean is Managing Editor of Veterans Today involved in operations, development, and writing, plus an active schedule of TV and radio interviews. He broke into television work doing Atlanta Public TV programs for variety of American heritage, historical,military, veterans and Intel topics and organizations since 2000. Jim's only film appearance was in the PBS Looking for Lincoln documentary with Prof. Henry Lewis Gates, and he has guest lectured at the Army Command and General Staff School at Fort Gordon, GA.
He is working to find time now to database his extensive video archive of Americana and interviews filmed during his public TV days so individual topic segments can be key word searched to quickly use in future multi-media projects.
Read Full Complete Bio >>>
Jim's Latest Posts
ATTENTION READERS
Due to the nature of independent content, VT cannot guarantee content validity.
We ask you to
Read Our Content Policy
so a clear comprehension of VT's independent non-censored media is understood and given its proper place in the world of news, opinion and media.
All content is owned by author exclusively. Expressed opinions are NOT necessarily the views of VT, other authors, affiliates, advertisers, sponsors, partners or technicians. Some content may be satirical in nature. All images within are full responsibility of author and NOT VT.
About VT
-
Read Full Policy Notice
-
Comment Policy