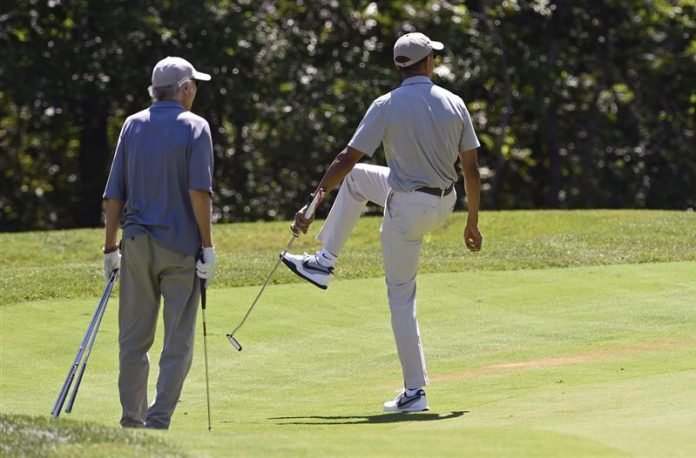 LOS ANGELES – Two years ago while speaking before the national convention of Disabled American Veterans in Florida, President Barack Obama made a heartfelt promise: "We're not going to rest until every Veteran who has fought for America has a home in America."
Well, it appears that Mr. Obama has delivered on his promise because right now he's resting comfortably in a luxurious multi-million dollar estate at Martha's Vineyard as he leisurely vacations with his family and wealthy friends.
To further celebrate his "mission accomplished" charade of ending Veteran homelessness with every Veteran now having a home in America, Mr. Obama's Secretary of the VA, Robert A. McDonald, and one of the VA's top attorneys, Cameron Gore (not a Veteran), along with VA "homeless expert" Vincent Kane (not a Veteran), are all working restlessly behind closed doors to divvy up the land and facilities at the Los Angeles VA to reward the neighboring wealth and power because this National Veterans Home will no longer be necessary to house and care for America's war-injured and impoverished homeless Veterans.
Shamelessly, Messrs. McDonald, Gore and Kane have ignored their only responsibility, which is to end Veteran homelessness in Los Angeles and protect Veterans deeded land from unlawful use.
Collectively they have not reduced the homeless population one iota in our nation's capital for homeless Veterans, nor have they protected Veterans land from the robber barons.
Collectively they have failed to honor their entrusted duties ever since "Don't call me Mr. Secretary call me Bob" finagled a conspiratorial settlement agreement that conveniently vacated a Federal Judgment comprising of nine illegal VA real estate deals that benefit and profit the neighboring rich and famous at the expense of disabled and destitute homeless Veterans.
Collectively, these VA bureaucrats have aided and abetted in allowing the LA Marathon's nearly 30,000 runners to stampede through these sacred grounds, they lied about privately opening the front VA gates to the general public including for a non-veteran fundraiser with 5,000 attendees, as well as allowing a commercial auto dealership to illegally store more than 100 brand new Mazda, Dodge and Jeep cars on Federal VA property.
It gets worse!

Secretly, this renegade operative gave unilateral control of the revered Governor's Manson, a Victorian Chapel and three other historic properties to Mrs. George Barrie IV, aka Carolina Winston Barrie, who is a member and top donor of a wealthy and powerful neighboring homeowner group that operates under the ruse of a Veterans organization — Veterans Park Conservancy (VPC).
In 2007, this self-serving gang of neighboring Aristocrats manipulated one of the nine illegal real estate deals when the VA gave them a billion-dollar parcel of Veterans land to build a public park "rent free."
Now, in collusion with Secretary McDonald's good friend Mrs. Barrie being their front-person, this rogue homeowner group pulled off another "back-room bargaining deal" and will have camouflaged control of five major historic facilities and federal land valued at billions of dollars – all "rent free."
What a bunch of conniving and self-serving ingrates! And what a spineless, immoral and traitorous hooligan Robert A. McDonald has proven to be.
Meanwhile, tens of thousands of disabled and homeless Veterans have been dispossessed and exiled from their legally deeded property and forced to live homeless and hungry on Skid Row and back-alley squalor.
Unquestionably and undeniably, the lives of thousands upon thousands of disabled, disadvantaged and destitute homeless Veterans and hundreds and hundreds of acres of their sacred property are in extreme danger.
Maybe it's time to again comply with the U.S. Flag Code that states "The U.S. Flag should never be displayed with the union (the starred blue union in the Canton) down, except as a signal of dire distress in instances of extreme danger to life or property."
Clearly the current status of homeless Veterans and their property are a serious measure of dire distress, (state of emergency) as the current situation is not about life "or" property, but encompasses the lives of homeless Veterans "and" their deeded property, which puts both in extreme danger.
American Legionnaire Rees Lloyd holding a flipped American Flag in protest of the VA's misappropriation of land and the mistreatment of homeless Veterans
In 2009, Rees Lloyd, a Past Commander of District 21 of the California American Legion, stood defiantly outside the Los Angeles VA waving the American Flag upside down in distress.
Mr. Lloyd, who is a Constitutional attorney, was protesting against the wealthy and powerful VPC homeowner group's public park scam.
Fast-forward to today where matters are far worse than when Mr. Lloyd was in serious opposition to the VA's malfeasance and VPC's illegal rent-free public park arrangement.
Like so many flip-flopping turncoats who weakly bend with wind, Mr. Lloyd is now a loyal collaborator of the wealthy VPC cabal.
Moreover, Mr. Lloyd's close friend, Lawrence (Larry) Van Kuran, the new State Commander of the California American Legion, doesn't support the overwhelming majority of the citizenry of Los Angeles who have declared our nation's capital to be in a "state of emergency" for homeless Veterans.
Incredulously, Mr. Van Kuran disregards the 96-member Los Angeles Neighborhood Council Coalition that passed a unanimous Motion declaring Los Angeles to be in a "state of emergency" for homeless Veterans.
The Motion vote was preceded by Rafer Johnson, America's legendary Olympic Decathlon Champion and Civil / Human Rights icon, who gave a moving and compassionate speech declaring Los Angeles to be in a "state of emergency" for homeless Veterans and further calling for the establishment of humanitarian relief housing and care on the VA grounds.
Mr. Van Kuran's irreverence of refusing to endorse the LA city-at-large and an American Civil / Human Rights giant doesn't stop there, as he refuses to support Dick Southern, the Region 9 Director of Vietnam Veterans of America (California, Arizona, Nevada, New Mexico, Utah, Colorado, Hawaii, Guam and the Philippines) and his formal written request to the VA to Host an emergency humanitarian relief center on the VA property, with an emphasis of housing and caring for Vietnam War Veterans.
Nationwide, there are more homeless Vietnam War Veterans today than were killed during the War that ended forty years ago.
Underscoring Mr. Van Kuran's contempt for the sanctity and exclusive use of this Veterans land to house and care for needy Veterans, he's on record declaring: "Regardless of any master plan efforts, these available property resources far exceed the needs of any homeless or other Veterans needs in the area."
That is as cold and calloused as anyone could possibly be toward "any homeless or other Veterans needs in the area."
Unspeakably, the California American Legion under Mr. Van Kuran's "leadership" has distanced itself from its respectful days of yore, as today the Legion shamefully abandons the plight of our homeless Veterans in Los Angeles, particularly our homeless Vietnam War Veterans, while reinforcing the affluent and influential non-Veteran entities that have illegally leased and occupy Veterans land for non-Veteran use.
Instead of this land being used exclusively as deeded for the housing and care of war-injured and homeless Veterans, Mr. Van Kuran is more interested and focused on "dealings at the bargaining table at the National level" and "how the WLA property is managed and lease money spent."
Never mind that these bargain lease deals Mr. Van Kuran supports are illegal and rent free.
And we wonder why Los Angeles is our nation's capital for homeless Veterans and the Los Angeles VA is the most corrupt in the nation.
Given the same facts that Mr. Van Kuran has about this overall matter, a small child will tell you that Los Angeles is unequivocally in a "state of emergency" for homeless Veterans, and that same small child would seriously disagree with Mr. Van Kuran that the VA property resources far exceed the needs of any homeless or other Veterans needs in the area.

Mr. Van Kuran has the same cold-hearted disregard for the multitude of homeless Veterans as does VA Secretary McDonald and his bureaucrat cronies who flat-out deny that there's a crisis or "state of emergency" for homeless Veterans in Los Angeles.
And speaking of flat-out denial, it's been rumored that these same "anti-state-of-emergency" misfits are also lifetime members of the "flat earth society."
Enough!!
President Obama, the time has come to awaken from your pampered rest and honor your promise.
The masses of homeless Veterans in Los Angeles are of Biblical proportion and it is your duty and responsibility as commander-in-chief to rise to the occasion and lower the homeless Veteran count, not your golf score.
After all, it was you who made the promise to end Veteran homelessness – originally by the end of 2014, then 2015, now it's pushed off to 2016. Wagers are now being made that the end of Veteran homelessness will never happen during your term in office, if ever at all because there's no sense of urgency, compassion or sincerity.
During the Civil Rights Movement Dr. Martin Luther King, Jr., expounded on the urgency of his noble cause by passionately declaring: "Tomorrow is today."
Likewise, ending Veteran homelessness cannot wait for tomorrow. Even today can be too late for many homeless Veterans who need emergency healthcare and treatment, particularly our aging and health-declining Vietnam War Veterans.
The Old Veterans Guard has always followed Dr. King's peaceful and non-violent model for our cause to "Save Our Veterans Land" and to "Bring Our Homeless Veterans HOME," while also approaching it with his same fervor of commitment as "A fierce urgency of now!"
Mr. President, let's cut to the chase: There are tens of thousands of homeless Veterans who already have a home in America and it's called the Los Angeles National Veterans Home.
Yet, while you rest in opulent luxury amongst the rich and famous on the East Coast, your VA bureaucrats are giving away the Los Angeles Veterans Home to your wealthy and powerful cronies here on the West Coast.
Make no mistake: This is the biggest and most corrupt land-fraud scandal in American history and now it has your Administration's name written all over it.
This scandal is not only blatantly illegal, it is grossly immoral, inhumane and represents some of the most flagrant and violent human rights violations ever committed on American soil – against war-injured and impoverished homeless Veterans.
Mr. President, stop lecturing Cuba, North Korea and other Communist countries about human rights violations when
your own regime is the perpetrator of some of the cruelest, most torturous crimes against humanity in American history — against innocent disabled and destitute homeless Veterans who have selflessly defended America and much of our world's safety and freedom.
Mr. President, lay down your golf clubs and pick up your Executive Order pen, then come to Los Angeles posthaste and get busy — very busy – and put an end to the most horrific of wrongdoings ever imagined against America's homeless Veterans.
Until there's an end to the rampant crime, corruption and cronyism at the Los Angeles VA that is governed by a neighboring oligarchy, it will be impossible to bring an end to Veteran homelessness in our nation's capital for homeless Veterans.
Dr. Laurence Tribe, your Harvard Law School Professor and mentor was one of the chief co-counsels for the homeless Veteran Plaintiffs in the ACLU lawsuit filed against the VA for a multitude of misconduct and malfeasance charges including the misuse of VA land and the mistreatment of disabled and homeless Veterans. Incredulously, your own Department of Justice and U.S. attorneys vigorously fought against the lawsuit.
Shameful Mr. President — simply shameful! ,
Nevertheless Mr. President, you can vindicate yourself by picking up your pen and signing an Executive Order declaring Los Angeles to be in a "state of emergency" for homeless Veterans, including the immediate implementation of humanitarian relief housing on the sacred grounds of the Los Angeles VA.
Keep your pen out Mr. President and nullify the so-called "settlement agreement" that VA Secretary McDonald manipulated behind closed doors with his two close personal friends (both wealthy attorneys and neither are Veterans).
What Robert A. McDonald did under the pretense of Secretary of the VA is an unprecedented and unparalleled breach of public trust in addition to fabricating one of the most fraudulent and destructive documents our government has ever entered into, with the least fortunate of our fellow Veterans being the greatest victim.
Don't put the pen away yet Mr. President as you also need to invalidate the so-called "master plan" fiasco that is costing the American taxpayers $1.5 million for a couple months of "surveys" while creating havoc and turmoil with the non-Veterans having a greater say than Military Veterans on how this land will be used.
We already have a "Master Plan" and it's called the Deed of 1888 and it states no less than six times that this land is to be permanently maintained as a National Home for Disabled Veterans, not a public entertainment center for the rich and powerful.
Mr. President, the main pledge Veterans are asking of you and your Administration is to honor the Congressional Act of 1887 and the legal Deed of 1888, and that calls for you to use your pen to authorize at least $2.5 billion to build a completely new and modern Los Angeles National Veterans Home for Veterans use only.
Mr. President, on behalf of all disabled and homeless Veterans, this is a "Demand Notice" that you immediately terminate your distrustful and polarizing VA Secretary and his team of feckless VA bureaucrats, and then bring in honest and caring individuals (preferably all Veterans) to honor and serve our nation's Military Veterans.
Lastly, do not appoint another West Point graduate as Secretary of the VA because your last two choices have been national disgraces and undeserving of this revered Military Institution.
Veterans need an honorable and trusting VA Secretary, not one who is ashamed of his title and prefers to be called by his first name and lies about his Military service.
Veterans need a sincere and honest VA Secretary who is a stand-up leader always working for the greater good of our fellow Veterans and their "needs," not a puppet who bows down and serves the whims and "wants" of his rich and powerful friends.
America's Military Veterans gave their best for our Country, now it's time to return the favor.
God Bless America and the Veterans Revolution!
U.S. Army, 1965-67, Schofield Barracks, Hqs., U.S Army, Hawaii. Director, The Veterans Revolution, Captain, the Old Veterans Guard, and Director, We the Veterans.
ATTENTION READERS
Due to the nature of independent content, VT cannot guarantee content validity.
We ask you to
Read Our Content Policy
so a clear comprehension of VT's independent non-censored media is understood and given its proper place in the world of news, opinion and media.
All content is owned by author exclusively. Expressed opinions are NOT necessarily the views of VT, other authors, affiliates, advertisers, sponsors, partners or technicians. Some content may be satirical in nature. All images within are full responsibility of author and NOT VT.
About VT
-
Read Full Policy Notice
-
Comment Policy