…by  Vladimir Platov,    with New Eastern Outlook,  Moscow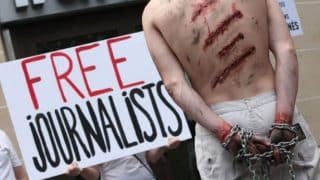 [ Editor's note:  The average American is clueless about the tax dollars that are spent on subverting foreign governments that question anything about the Western, and especially, US hegemony.
And you will never see a resolution passed at any US media convention against what the US does to trash any concept of a foreign free press, unless it follows the US line. It's like the ghost of Pravda is channeling them all, "You cannot challenge the party line, You cannot challenge…"
Meanwhile, back here in the good old USA, foreign media is selectively blocked from having access to American audiences on regulated media. When Press TV began making a big push to get its story out, we saw it being taking off the EU satellite distributors, even though media was not under sanctions. Someone pressed a button and said "do it", and that was all that it took.
The long time operators of these behind the scenes "media terrorist ops" are a who's who of the shadow government — long time players who maintain their slots in a batch of organizations like the Foundation for Democracy CIA front, even when Washington administrations change. 
What was done on Cold War-certified, no-holds barred opposition, the exact same tactics are being used during peace time with our Congress funding it and lying to us continually about what it is really for, and for whom. Certainly it is not for the American people.
I don't remember voting on a resolution to "subjugate Russia and China". Or, was I away that week, maybe? I don't even remember a debate about it.
The paper trail on the shadow government operations are simmered in a myriad of think tanks that provide cover for Congressional committees to imply that what they have done was expertly investigated, analyzed and approved. But this is just another special interests undercover operation on the taxpayers' dime.
We have all been here before. So the question is, are we going to let all the political candidates control what the issues will be in the next elections, and which ones are taboo?
So far, we are losing that battle miserably, due in large part to how much on board our corporate media is for being the Free World's PRAVDA and KGB at the same time.
Where is the resistance to this? You almost have to hire a detective to find any resistance — a strong hint that the sheeple phenomenon is a fait accompli… Jim W. Dean ]
_______________________________
First published  …  August 19, 2015
In order to limit the growing influence of Russia and China, and at the same time slow Eurasian integration down, Washington has noticeably intensified its efforts to strengthen its positions in post-Soviet states, especially in Central Asia.
To achieve this goal, the White House chose propaganda as its weapon of choice, aiming at creating a certain perception of the world in those states, which would allow Washington to successfully achieve its agenda of conquering the region and hinder the growing influence of other players.
In this context, it's of great importance for Washington to create a DIGIM media team based on the Czech office of Radio Free Europe / Radio Liberty (it's hardly a secret to anyone that Radio Liberty is funded by the US federal budget). The DIGIM will hire experts on social networks "to oppose Russian influence through various social platforms" (e.g. Facebook, Twitter and Russia's own VKontakte and Classmates).
The creation of such a cyber office in Prague is laid out in a detailed application by the American government organization known as the Broadcasting Board of Governors (BBG) for the next fiscal year, which begins on October 1, 2015. The application was filed last month on behalf of the US President to Congress, and its fulfillment requires some 15.6 million dollars to be spent.
BBG describes this project as a top priority on par with the ideological confrontation against ISIL, but the latter aspect is somewhat cheaper – it requires just 6.1 million dollars. In total for 2016 fiscal year, BBG has requested a whooping budget of $751 million. So far, all of BBG's applications were fulfilled, so there's little doubt that this organization has any reason to be concerned. It's safe to say the budget of RFE / RL will rise by 13% in 2016 to reach 116 million dollars, while the number of employees in this organization would increase by 10% – reaching 720 people.
To date BBG has been supervising Radio Free Europe/ Radio Liberty (RFE / RL), Voice of America (VOA) and other government-controlled media channels. The sole purpose of BBG's existence is to spread "independent news" in countries where there is an alleged "serious lack of free media."
The cyber team that is being created by Washington will wage information and psychological warfare under the slogans of "promoting democracy".
Its activities in social media will be aimed at changing governments undesirable to the West and replacing them with obedient proxies. To attain this goal, the White House has been allocating billions of dollars annually to the "National Endowment for Democracy" (the organization responsible for countless coups around the globe), USAID, the CIA, along with numerous private foundations.
______________________________
Timing of Propaganda Efforts is Revealing
It's curious that all those instruments are being used against countries as soon as they start voicing criticism of the Western world and its deeds. BBG has been desperate to push America's position on television screens across Russia and in CIS countries, while advocating cooperation with opposition TV stations and news sites.
Curiously enough, Washington is particularly active today in assaulting those governments that may decide to prosecute their agents, even if the latter have the most dubious reputation.
This statement can be exemplified by the recent Washington propaganda campaign "in defense of independent journalists" in Turkmenistan that was provoked by the arrest of freelance journalist Saparmamed Nepeskuliev, who was employed by the local radio station Azatlyk, which is the Turkmen branch of Radio Liberty.
Even the US State Department got involved – expressing its "concern over Turkmenistan government applying pressure against journalists." As it was stated by US Assistant Secretary of State for Central and South Asia Nisha Biswal, independent journalists are "imperative for the creation of a strong and stable civil society."
However, it must be noted that the arrest of Saparmamed Nepeskuliev was in no way connected to his opposition to the authorities of Turkmenistan, but on suspicions of him possessing drugs, as it was reported by Turkmen human rights activists. In this regard, the aggressive position of Washington's officials is, putting it mildly, surprising.
In this context it's all the more surprising that Washington and the US State Department remained silent when in March Radio Liberty's journalist Andrei Babitsky was fired when he showed the world a video with civilian corpses with signs of torture being excavated in the areas that were occupied by pro-Kiev forces in eastern Ukraine.
This video was deleted from Radio Liberty's website almost immediately after being published, and it so happened that Babitsky was the one who published it. Is there any better example of Washington's double standards? Evidence that shows the pro-American Kiev junta in a bad light are completely ignored, especially by alleged pro-freedom organizations that are being funded directly by the US federal budget.
There's little chance that the US State Department will demonstrate any "impartiality" towards the investigation into the deaths of Russian journalists: RTR employees Anton Voloshin and Igor Korneliuk, who were killed by mortar shells in Ukraine in June 2014. It couldn't care less about the murder of Anatoly Klyan who was a cameraman for the First Channel and the death of RT's photographer Andrew Stenin who lost their lives in September 2014.
Where were the representatives of the State Department when a popular blogger and the author of a book on the revival of fascism in Ukraine Vitaly Skorohodov fell the victim of political repression? It was nowhere to be found when Kiev's forces murdered the prominent Ukrainian journalist and opposition activist Oles Buzin. How can those facts be ignored. especially after the US Assistant Secretary of State Nisha Biswal called for maximum efforts "to ensure the safety of journalists in the world"?
Apparently, these last examples do not fit in the paradigm of information and psychological warfare the White House has been waging against Russia recently. So is there any wonder why the popularity and prestige of US media is facing a steady decline, once double standards and falsifications have become the main instrument of their "coverage"?
Vladimir Platov, an expert on the Middle East, exclusively for the online magazine "New Eastern Outlook"

Editing: Erica P. Wissinger
______________________________
Author Details
Jim W. Dean is Managing Editor of Veterans Today involved in operations, development, and writing, plus an active schedule of TV and radio interviews. He broke into television work doing Atlanta Public TV programs for variety of American heritage, historical,military, veterans and Intel topics and organizations since 2000. Jim's only film appearance was in the PBS Looking for Lincoln documentary with Prof. Henry Lewis Gates, and he has guest lectured at the Army Command and General Staff School at Fort Gordon, GA.
He is working to find time now to database his extensive video archive of Americana and interviews filmed during his public TV days so individual topic segments can be key word searched to quickly use in future multi-media projects.
Read Full Complete Bio >>>
Jim's Latest Posts
ATTENTION READERS
Due to the nature of independent content, VT cannot guarantee content validity.
We ask you to
Read Our Content Policy
so a clear comprehension of VT's independent non-censored media is understood and given its proper place in the world of news, opinion and media.
All content is owned by author exclusively. Expressed opinions are NOT necessarily the views of VT, other authors, affiliates, advertisers, sponsors, partners or technicians. Some content may be satirical in nature. All images within are full responsibility of author and NOT VT.
About VT
-
Read Full Policy Notice
-
Comment Policy