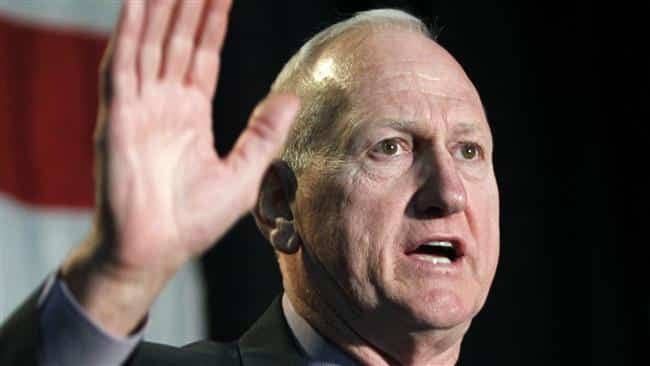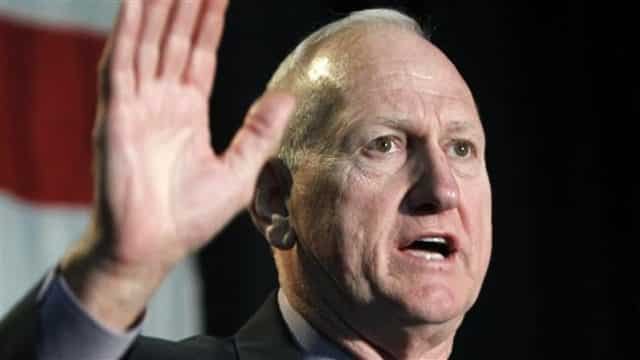 …from  Press TV, Tehran
[ Editor's Note: Colonel James Hanke, Veterans Today Military Affairs Editor, has known Jerry Boykin for years. Boykin was an excellent officer, until he went totally stark raving mad. One day he broke down, started praying and couldn't stop. Since that time, we have simply hoped that the almighty savior, Jesus H. Christ, would bring Jerry to his side, and they could continue their collective mischief and leave the rest of us alone.
I have been expecting the Zionists to put their US military wing on display so we could have a fresh list of names. Whereas, I would have been happy to have 100, they offered up 200 names instead, for which I am most grateful. We will now be able to start crossing-checking to some other lists we have.
The letter itself contains the expected talking points to be used more for the public than Congress, as there was nothing new in it, whatsoever. Bibi Netanyahu might have written the damned thing himself for all we know, as he does so love to be the center of attention.
These officers are stating that, after all of these negotiations, where not one shred of proof had been put on the table proving that Iran had a nuclear weapons program, Iran's seized assets should basically be held in perpetuity anyway. Many of these officers had been cheerleaders for the former hoax. 
They go on to support the other Netanyahu concern that Iran should not have its civilian nuclear program either, turning that into a new hocus-pocus threat. Most of these officers know that having the ability to produce some enriched uranium is a long way off being a nuclear threat. So this letter is an open deception on their part, and we are thrilled to see all of their names on it.
Of course, no country would ever agree to any such agreement. These officers are the "no agreement" gang, in which the only option would be the military solution, which the world has rejected, and would put our military forces in harm's way for no justifiable reason. They have had too much of that done to them over the last 15 years.
These officers have betrayed their oath of office, as far as I am concerned, and I might add, they have some secret loyalties that lie somewhere else, not America. We will see if any of these men would agree to be interviewed on their threat-perception abilities by some people well-versed on the topic… Jim W. Dean ]
______________________________

– First published  …  August  27,  2015 –
A group of nearly 200 retired US military generals and admirals have sent a letter to Congress, urging lawmakers to reject the Iran nuclear accord.
The letter was sent to Congress on Wednesday by retired generals and flag officers from every branch of the US armed forces, including military officers who served in the White House, under Democratic and Republican administrations.
Retired Lt. Gen. Jerry Boykin, who was deputy undersecretary of defense under George W. Bush, is among the signatories of the letter. The letter described the agreement as a threat to US national security as well as to Washington's interests and allies in the Middle East.
"The agreement will enable Iran to become far more dangerous, render the Mideast still more unstable and introduce new threats to American interests as well as our allies," the letter states.
It is the latest petition that called on American lawmakers to support or reject the nuclear deal.
Letters have already come from rabbis, nuclear scientists, arms-control and nuclear nonproliferation experts and retired generals who support the deal.
Earlier this month, 36 retired generals and admirals published an open letter in the Washington Post in support of the agreement.
US President Barack Obama says he is confident that the agreement between Iran and the world powers will go forward despite opposition from Republican lawmakers in Congress.
Despite the opposition, however, political analysts do not believe there will be enough votes to override Obama's veto of a congressional resolution against the deal.
Congress will vote on the July accord, known as the Joint Comprehensive Plan of Action, in September.
__________________
Author Details
Jim W. Dean is Managing Editor of Veterans Today involved in operations, development, and writing, plus an active schedule of TV and radio interviews. He broke into television work doing Atlanta Public TV programs for variety of American heritage, historical,military, veterans and Intel topics and organizations since 2000. Jim's only film appearance was in the PBS Looking for Lincoln documentary with Prof. Henry Lewis Gates, and he has guest lectured at the Army Command and General Staff School at Fort Gordon, GA.
He is working to find time now to database his extensive video archive of Americana and interviews filmed during his public TV days so individual topic segments can be key word searched to quickly use in future multi-media projects.
Read Full Complete Bio >>>
Jim's Latest Posts
ATTENTION READERS
Due to the nature of independent content, VT cannot guarantee content validity.
We ask you to
Read Our Content Policy
so a clear comprehension of VT's independent non-censored media is understood and given its proper place in the world of news, opinion and media.
All content is owned by author exclusively. Expressed opinions are NOT necessarily the views of VT, other authors, affiliates, advertisers, sponsors, partners or technicians. Some content may be satirical in nature. All images within are full responsibility of author and NOT VT.
About VT
-
Read Full Policy Notice
-
Comment Policy