…by  Gordon Duff,  Senior Editor
Today, the Congress for the 17000 Victims of Iranian Terror begins in Tehran.  VT, a co-sponsor, will not be attending.   I will not be attending, though slated to give the keynote address.  There are reasons, oh so many reasons.
Then today, friends in Iran notified us that a well known Israeli agent showed up as an attendee.  This individual has, for over 3 decades, "shopped" to hostile intelligence services a bevy of unsuspecting political activists.
Since the first note of his presence, a Libyan "Anti-Imperialism Conference" in 1986, those around him have been suicided, accidented and poisoned.  Iran knew all of this, they got a dossier from both Syrian and Russian intelligence.  They invited him anyway.
Our issue with Iran involved their intelligence services, if you can call them that.  In order to watch conference attendees, they issue visas for only conference days, sending them to attendees via Federal Express (or similar) on the day of their flights out.  Problem is, they aren't very smart.
My visa was scheduled to arrive by the time I was two hours over the Atlantic.  It was set to expire during post conference meetings set up months ago by, this is so good, senior members of the Iranian government.  What Iran is so upset about is that there was to be a presentation on a terror group called MEK, the first time four decades of detailed information, once highly classified, would be presented anywhere.
You see, MEK killed 12,000 of the 17,000 Iranian terror victims.  This was the only reason for a conference, to cover this material.  Did someone in Iran not want that done perhaps?
____________________________
Background
We could go into MEK, the Iranian communist group created by the Mossad that, in 1979 seized the US embassy in Tehran.  MEK had been assassinating Americans in Iran for years.  They are now backed by not just the entire GOP in America but Hillary Clinton, Howard Dean and other top Dem's as well.
For the next few years, MEK killed political leaders across Iran before fleeing to Iraq to work for Saddam.
There, they became his personal army, handling gas attacks on, you guessed it, Iran during the decade long Iraq-Iran War.  It was MEK in 1993 that killed 30,000 Kurds using poisoned gas.  They are still killing Kurds, leading ISIS and aiding Turkey in their air campaign against everyone but ISIS.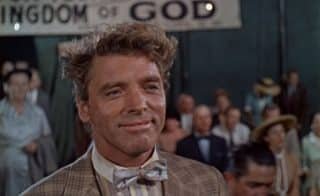 There is a huge story here but no one to tell it to.  Learn what you can about MEK and then know that what you read isn't even remotely related to the truth.  MEK is Scientology on steroids.
What we can begin with is Iran's misconceptions about pretty much everything.  You see, Iran loves religion, not just their own but any religion.  Thus, when dealing with the US, Iran looks to religious individuals, dominionists, apocalypse cult members, the followers of John Hagee, the snake handlers and such.
Iran assumes religious people, all religious people, are righteous, are peace loving and incorruptable.  Perhaps I should send them a copy of the film, Elmer Gantry.
A night or two of American television, watched only in private in Iran, would have given them enough to know that America's "big haired preachers" are malevolent pissants and war mongers.
Oh, there is just so much Iran doesn't know about American culture and politics.  First of all, the religious in America, the evangelicals who make up 80% of American worshipers, are a warlike cult 100% behind Israel.  There are the people who continually advocate nuclear bombing of Iran.  All Americans know this, they are our biggest embarrassment.  However, Iran loves "these people" as peace loving liberal intellectuals as opposed to bigots, extremists and total idiots.
Then we have Iran's love of all things that hate the United States.  There is a problem with this as well, though it isn't difficult to see why Iran would hate the US.  There is much history here with the US clearly the author of decades of Iranian suffering.
Again, as with the evangelicals, Iran fails to note that the majority of American activists are from the right, with most of those strong backers of Israel against Iran.  Yet, Iran invites these people to Tehran, pays them generous stipends, publishes their rambling diatribes and hoists them onto a pedestal.
Where Iran and, frankly, too many others are "had" is in the cookie cutter "pro-Palestinian" and "anti-Zionist" movement people.  The individuals and the websites involved, many mysteriously financed by "think tanks" or endless anonymous donations are clearly fronts for Israeli intelligence who pickup up on Lenin's remarks long ago:
"If you want to control the opposition, be the opposition."
Thus, the anti-Israel crowd is, primarily "the Israel crowd".  In many cases young people are recruited on visits to Israel where some receive advanced training in espionage and assassination while others are simply recruited to become trolls and bloggers, hovering around Tehran like flies to sugar.
Former Israeli intelligence chief and ambassador to the United States, Michael Oren is one such individual.  We have identified others, some dead, some still active publishing endless wild conspiracy theories while attacking Israel.  To psyop experts, this is a carefully crafted for of dilution of message and misdirection.
It isn't just Iran that is fooled here. One of the classic ploys used, one VT Managing Editor Jim W. Dean catches over and over and over and over is the "one man band."
All you need is a name, such as "The Greater Boston Anti-Imperialist Coalition," they do so love "coalitions," that and a t-shirt, permed hair and granny glasses and voila, you have a one man "popular front" for or against something that will dominate Press TV. Each organization has one man, or sometimes two "brothers."  All appear to be remnants of 1970's campus radicals who were a joke even then.
___________________________
Worst Case
VT alone has reported the real story behind the AIPAC nuclear spying scandal of the Bush (41) years including an eyewitness account of Condi Rice participating in the hand off of vital nuclear secrets to an Israeli agent.
Rice had a Mossad handler working directly with her.  That person is the young Jared Cohen, now with a CIA black ops contractor deeply involved in supporting ISIS.
That company is Google Idea Groups, assassinations, Sarin gas and more, operating from headquarters in Reyhanli, Hatay, Turkey and Baku, Azerbaijan, where they manage destabilization efforts against Syria and Iran.
Anyway, several years ago, Cohen was assigned to do "research" in Iran and Syria.  Cohen didn't get a 5 day visa nor was he watched, despite his background, Israeli citizenship, neocon and a 5 star Israeli spy.  Cohen was allowed to roam Iran for months. Our sources have him traveling Iran and, upon his departure, the assassinations of nuclear scientists goes into high gear.  This is no coincidence.
Not so much to let Iran off the hook, but he "got" Syria as well, recruiting army officers to joint he FSA, wielding millions in payoffs. This guy is a modern day Lawrence of Arabia in reverse. What Iran saw was someone who had been high in government, mind you for no reason whatsoever, and Iran chose to ask no questions and paid a very high price.
Lighter Stuff
Nothing can be done about this now.  The mistake is too great and Iran and Syria can't admit to this kind of horrific blunder or even correct it.  Governments are like this.
A year ago or so, Syria paid a group to do research about stolen antiquities.  Now key officials in Syria believe that the people hired, in actuality, helped pick out places for ISIS to hit while photographing archaeological sites, not to preserve them, but to create photos for auction house offerings.
As Jim W. Dean so often says, "You just can't make this 'stuff' up."
One key mistake, Iran is the worst offender, but Russia and others do the same, is to look for support from people who are hated in their own countries.  Little does Iran realize that when they publish attacks on America by people that Americans despise, they are shooting themselves in the foot.
VT's forte is its military affiliations.  VT staffers are typically well liked, respected and in many cases, popular and compelling figures.  This isn't entirely accidental.
When you look to those invited to Tehran, you get two groups, first being those sent there by Israel and secondly, those "trolling for a buck."  Being poor is no sin.  Standing up against tyranny, oddly and especially in America, can cost an academic position and guarantee no job in the media.
What the real shame is, Iran needs a strong voice in the US and affiliations with Americans of standing and consequence.  Instead, in most cases, they get quite the opposite and accept what is available.
As a result of this, Iran has learned to disrespect foreign visitors who can be buffaloed and bullied.  This leads to a cascade effect which has gotten Iran to where it is today.  Now that Iran needs a voice in America, it has none even though it is being supported by President Obama, a man Iran has mistakenly trashed for years.
Ah, this is another thing, Iran by turning to the American right and the Israel lobby, groups that openly hate the Obama administration, has rather than having embraced anti-Americanism, has actually embraced anti-Iranianism.
Thus, I say it again, you just can't make this stuff up.
I will finish with this classic.  Shane Harris writes on defense topics and occasionally for Iran.  His work is minor, his syntax is tight, he sources non-existent and his material, in defense circles, is ignored.  However, he writes for the Daily Beast.  This publication, the Daily Beast, is more than just rabidly pro-Israel, so much more.  Then again, young Shane Harris, a hack writer for a cheap propaganda blog is hardly a journalist of international standing.
Iran invited him to the terrorism conference, an invitation he trashed openly.  What Iran didn't know, but well should have, is that the Daily Beast, part of the Newsweek group, is owned by Jane Harman, former member of congress who resigned rather than face prosecution for interfering in the AIPAC nuclear spying investigation.
From a 2012 article by Alison Weir:
It is astounding to find that one of the handful of prospects being floated to become CIA director following the fall of General David Petraeus is a person reportedly implicated in a 2005 Israeli spy scandal.
CNN, Politico, and others have all listed former Congresswoman Jane Harman as a potential new CIA head. Oddly, however, none have mentioned reports in 2006 and again in 2009 that an NSA wiretap in 2005 had picked up Harman promising a suspected Israeli agent that she would aid people indicted for espionage on behalf of Israel.
According to reports, Harman allegedly told the Israeli agent that she would lobby the Justice Department to reduce espionage-related charges against two top officials for the powerful Israel lobby organization, the American Israel Public Affairs Committee (AIPAC).
In return, the suspected Israeli agent (who may have been a dual-citizen American) reportedly pledged to help lobby for Harman to become chair of the House Intelligence Committee. Harman was already the ranking Democrat on the committee.
________________________________
We will now finish with Shane Harris' trashing of his Iranian hosts.  Enjoy.
Iran's Spies Tried to Recruit Me
[ Editor's Note:  This is actually kind of funny. The title alone is hilarious.  Iran has young people with English skills that it has working conferences to give them experience who contact a guy like this in what I can only assume would be a search of liberal anti-war media platforms for prospective conference attendees.
And this poster boy shill for the Israelis spins this into a spy recruiting attempt. He does a Daily Beast story to show his handlers that they hired the right guy when it was DB owner Jane Harmon who was an Israeli asset in Congress. You just can't make this stuff up… Jim W. Dean ]
_________________________
Tehran could hardly see my work as flattering—but a group with the Iranian intelligence service's backing still tried to enlist me in a conference against 'Zionist State Terrorism.'
An Iranian activist group, backed by the country's intelligence service, is trying to enlist American journalists and academics in a propaganda campaign meant to criticize the United States and Israel. I speak from experience, because the group recently tried to recruit me.
On May 23, I was contacted via email by a representative of the "International Congress on 17000 Iranian Terror Victims," a self-professed nongovernmental organization that is busy planning its second annual conference, to be held in Tehran in August.
My interlocutor invited me "to submit your creative and scientific paper and gain opportunity to take part in the conference."I'd never heard of this group. But I get a lot of invitations to write papers for organizations and conferences I've never heard of.
And I was curious what a call for papers from Iran would look like, so I checked out the group's website, which is slickly produced and almost entirely in English. Among the themes this year's conference wants to explore are "Zionist State Terrorism against Iran," "Cyber Terrorism against Iran," and "Economic Terrorism against Iran in the Light of Sanctions."
Read more,  at Daily Beast
___________________________
Gordon Duff posted articles on VT from 2008 to 2022. He is a Marine combat veteran of the Vietnam War. A disabled veteran, he worked on veterans and POW issues for decades.
Gordon is an accredited diplomat and is generally accepted as one of the top global intelligence specialists. He manages the world's largest private intelligence organization and regularly consults with governments challenged by security issues.
Duff has traveled extensively, is published around the world, and is a regular guest on TV and radio in more than "several" countries. He is also a trained chef, wine enthusiast, avid motorcyclist, and gunsmith specializing in historical weapons and restoration. Business experience and interests are in energy and defense technology.
ATTENTION READERS
We See The World From All Sides and Want YOU To Be Fully Informed
In fact, intentional disinformation is a disgraceful scourge in media today. So to assuage any possible errant incorrect information posted herein, we strongly encourage you to seek corroboration from other non-VT sources before forming educated opinion. In addition, to get a clear comprehension of VT's independent non-censored media, please read our
Policies and Disclosures
.
Due to the nature of uncensored content posted by VT's fully independent international writers, VT cannot guarantee absolute validity. All content is owned by the author exclusively. Expressed opinions are NOT necessarily the views of VT, other authors, affiliates, advertisers, sponsors, partners, or technicians. Some content may be satirical in nature. All images are the full responsibility of the article author and NOT VT.
About VT
-
Comment Policy