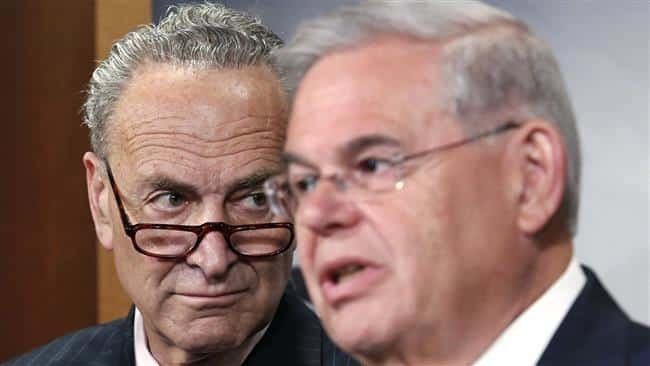 … from  Press TV,  Tehran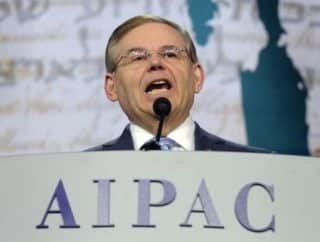 [ Editor's Note:  We have some rain on the Zionist parade and an unusual admission that their torpedo plan for the Iran nuclear agreement is not working according to plan. I think they were overconfident with their strategy, that AIPAC terror would rule enough votes to override a veto.
We have editorialized that AIPAC's overplaying their hand on this issue will make them and their minions' into legitimate targets to go after on their questionable loyalties, when the vote is over.
The public will have to pile on the calls of support to those backing the agreement and against those supporting Israel and the Likuds for wanting to continue using America as their blow up doll.
We are also seeing in action the often out-of-sight ex-Congressman who go to work "formally" for their Zionist handlers… still bought and paid for. I will not claim this it the tipping point to kick off taking them down, but the Iran agreement would be their biggest defeat.
And I specifically mean their not being able to put on display that, no matter what the rest of the P5+1 crowd wants, or the rest of the world, if it does not suit the Zionist and NeoCon handlers, it can be stopped via the compromised Congress they invested so much in subverting.
It will take real anger to get America off its hind end and start tearing the Israeli Lobby down. The goal would be to create a climate where any friend of AIPAC could not be elected dog catcher. Their past attacks on this country deserve much more harsh treatment — as in criminal prosecution for espionage — but we would have to hire the Orkin man to clear out the Justice Dept. to get that rolling… Jim W. Dean  ]
______________________________
– First published  …  August 31,  2015 –
A multimillion-dollar TV ad blitz and intensive lobbying effort by opponents of the Iran nuclear agreement appears to be failing as an increasing number of House and Senate Democrats are coming out in favor of the accord.
The Republican critics of the deal, led by the powerful Israel lobby, hoped that the August congressional recess was their best chance to scuttle the Joint Comprehensive Plan of Action (JCPOA) that was reached on Iran's nuclear program last month, according to a report by POLITICO published on Sunday.
"Conventional wisdom seemed to be as this dragged through August the benefit would accrue to opponents of the deal," said Sen. Chris Murphy (D-Conn). "That has simply not been the case."
In addition to the $30 million ad campaign, opponents also enlisted prominent former lawmakers, such as Democratic Senators Joe Lieberman and Mary Landrieu, and sent well-connected donors and lobbyists to personally meet with undecided Democrats.
"Instead, the monthlong break has been a major bust," the report said.
Republicans are baffled that their aggressive campaign has turned only 14 House Democrats and two Senate Democrats to their side.
"Obviously, it's a little frustrating. You look at members: Are they favoring a lame duck president and marching themselves, their party and their country off a cliff?" former Sen. Norm Coleman (R-Minn.) was quoted as saying by POLITICO.
Coleman is a co-founder of American Security Initiative, an anti advocacy organization that has spent $10 million opposing the nuclear deal. A planned September 9 rally against the nuclear accord featuring GOP presidential candidates Donald Trump and Sen. Ted Cruz of Texas is also expected to drive more undecided Democrats into the "yes" side.
The Obama administration, meanwhile, is striving to get enough Democratic support on Capitol Hill to preserve the Iran agreement ahead of a vote on it in mid-September. President Barack Obama needs 34 votes in the Senate, or 146 in the House of Representatives, to sustain his promised veto.
So far, Obama is only 3 votes short in the Senate.
Republicans overwhelmingly oppose the nuclear accord, but they need a two-thirds vote in both chambers of Congress to override a presidential veto, and to reach that threshold, they need Democratic support. Congressional opponents are devising a "Plan B" to increase pressure on Tehran as support continues to gain momentum for the landmark accord.
They are focusing on the 20-year-old Iran Sanctions Act, which expires at the end of 2016. The law bans investments worth over $20 million by US or foreign firms in much of Iran's energy industry, The Wall Street Journal reported on Saturday.
Sens. Mark Kirk (R-Ill.) and Robert Menendez (D-NJ) are introducing a bill to extend the law for another decade.
Other Republicans, including Sen. Marco Rubio (R-Fla.), a presidential candidate, are also pushing for legislation to impose additional sanctions on the Islamic Revolution Guards Corps (IRGC).
___________________________
Jim Davis is the son of USMC MGySgt. Lesley Davis (Ret.) who passed away on April 24, 2006, from ALS caused by Agent Orange. His dad's mission before he passed on was to ensure all veterans, spouses, children, and widows all received the benefits, medical care and attention, and proper facilities from the VA.
Because of the promise made to his dad to carry on the mission, in May 2006 Davis began as a one-man show sending out 535 letters every single week to all members of Congress requesting and politely demanding the fulfill their promises made over the past decades to care for life those who wore the uniform and their families.
Veterans-For-Change was born in August 2006 with a very small membership of 25 people composed of veterans, spouses, widows, family members, and friends and to date continues to grow.
ATTENTION READERS
We See The World From All Sides and Want YOU To Be Fully Informed
In fact, intentional disinformation is a disgraceful scourge in media today. So to assuage any possible errant incorrect information posted herein, we strongly encourage you to seek corroboration from other non-VT sources before forming educated opinion. In addition, to get a clear comprehension of VT's independent non-censored media, please read our
Policies and Disclosures
.
Due to the nature of uncensored content posted by VT's fully independent international writers, VT cannot guarantee absolute validity. All content is owned by the author exclusively. Expressed opinions are NOT necessarily the views of VT, other authors, affiliates, advertisers, sponsors, partners, or technicians. Some content may be satirical in nature. All images are the full responsibility of the article author and NOT VT.
About VT
-
Comment Policy