First published September 8, 2015, LA Daily Post
… by Roger Snodgrass, Los Alamos Daily Post
An independent arms control group in Los Alamos, New Mexico, strongly endorsed a recommendation in favor of the recently negotiated weapons reduction agreement with Iran.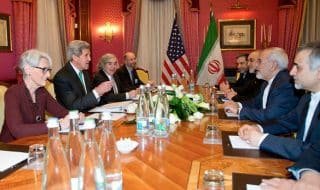 In a public meeting Friday, members of the Los Alamos Committee on Arms Control and Security (LACACIS) voted overwhelmingly to adopt a policy statement supporting the recently negotiated Joint Comprehensive Plan of Action with Iran (JCPOA).
"If Iran is held to full compliance with the JCPOA by strict verification and enforcement, the agreement will reduce the risk of a nuclear arms race in the Middle East, and reduce the likelihood of military conflict over Iran's nuclear program," the recommendation stated.
"Though imperfect and subject to many possible pitfalls, we believe this agreement represents the best realistic prospect for insuring that Iran's nuclear activities remain peaceful, while a vigilant eye is maintained on Iran's continuing actions."
Pete Sheehey, president of LACACIS, who also is a Los Alamos County Councilor, walked the attendees through a point by point review of the history and the main provisions of the agreement. He touched on many of the most controversial issues that have been raised in the highly partisan discussion.
Since the deal was signed on July 14 in Vienna after 20 months of talks, the agreement's supporters by the end of last week claimed to have enough committed Democrats in the Senate, 35 so far, to uphold a veto of an unfavorable bill.
In the final analysis, Sheehey said, the 18 months of negotiations had been most remarkable because the agreement on such a complicated and comprehensive plan had actually been reached between Iran and the six parties, including Russia and China, who have many diverging interests among them.
"Getting them all back to the table to get something better is a long shot," Sheehey said. "Does it satisfy nobody? Perhaps … but is it better than nothing?"
The answer to that is a provisional yes, but with the added vigilance of the International Atomic Energy Agency and a suite of non-proliferation tools and practices, the supporters believe the risks can be contained and that Iran will be induced to cooperate in order to have the economic sanctions permanently lifted.
In some ways, the division between those who support the agreement and those opposed comes down to tolerance – tolerance of the uncertainties and mutual tolerance of former antagonists. As steering committee member George Chapman said, "This is not intended to solve every problem that could arise with Iran."
Despite the work that remains to be done, "the Iran nuclear deal was hard-won and is better than any other reasonably achievable alternative," Former LANL director and senior fellow of the Center for International Security and Cooperation Siegfried S. Hecker wrote in the Bulletin of Atomic Scientists on the day the agreement was signed.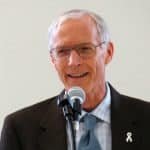 Among the positive outcomes, Sheehey said, was "a degree of verification" that seemed impossible before the negotiations. "I was stunned at how much they actually agreed to," Sheehey said. "This buys time."
Iran also agreed to a substantial reduction in the amount of near-weapons grade materials kept in inventory while the number of centrifuges for enriching uranium will also be greatly decreased, thus pushing up the time it might take to produce a nuclear weapon from the current two-to-three months to something close to one year for the first 10 years of the agreement.
The recommendation concludes with a reminder that Congressional support will be needed for success. Along with vigilance and strict enforcement, the statement concludes, "Congress should properly fund all such monitoring and sanctioning programs, and maintain our intelligence and national technical means to supplement international monitoring programs.
An independent, non-governmental organization active in Los Alamos since 1986 and composed of a number of former laboratory employees, LACACIS has specialized in reviewing arms control treaties and agreements, including the two START treaties, the Non-Proliferation Treaty and the Comprehensive Test Ban Treaty.
Editing: Erica P. Wissinger
_______________________
ATTENTION READERS
Due to the nature of independent content, VT cannot guarantee content validity.
We ask you to
Read Our Content Policy
so a clear comprehension of VT's independent non-censored media is understood and given its proper place in the world of news, opinion and media.
All content is owned by author exclusively. Expressed opinions are NOT necessarily the views of VT, other authors, affiliates, advertisers, sponsors, partners or technicians. Some content may be satirical in nature. All images within are full responsibility of author and NOT VT.
About VT
-
Read Full Policy Notice
-
Comment Policy