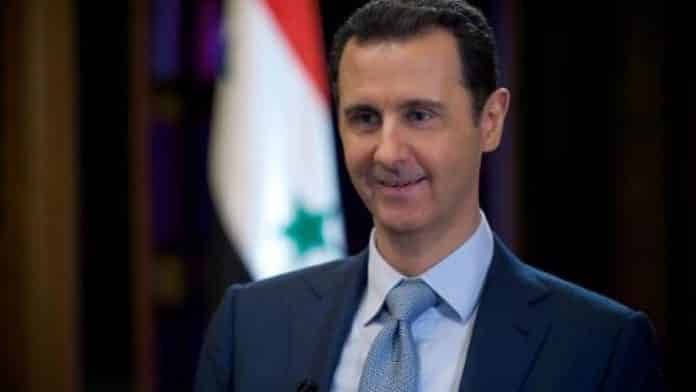 President Assad has recently sent NWO agents in America and elsewhere a challenge. He said:
"We can arrive at a consensus but we won't be able to carry anything out for as long as we don't defeat terrorism in Syria."[1]
By terrorism, Assad is talking about both the Syrian rebels/terrorists and ISIS, which sometimes are indistinguishable[2] and which NWO agents in America and Israel have supported for years.[3] And we know that those terrorists have committed brutal acts of violence, including cutting the heart of a dead body and taking a bite:
https://www.youtube.com/watch?v=UXhEiZUBBrQ
Moreover, if you don't think that ISIS and NWO agents are not accomplices in the Syrian refugee crisis, then listen to the following excerpts from the Daily Mail. Those excerpts were published last February, long before the refugee crisis:
"ISIS has threatened to flood Europe with half a million migrants from Libya in a 'psychological' attack against the West, it was claimed today.
"Transcripts of telephone intercepts published in Italy claim to provide evidence that ISIS is threatening to send 500,000 migrants simultaneously out to sea in hundreds of boats in a 'psychological weapon' against Europe if there is military intervention against them in Libya.
"Many would be at risk of drowning with rescue services unable to cope. But authorities fear that if numbers on this scale arrived, European cities could witness riots."[4]
In a similar vein, the Independent reported last May:
"Isis militants are posing as refugees and being smuggled into Europe across the Mediterranean… Islamic State fighters are taking advantage of the current migrant crisis in the Mediterranean by joining overfilled boats leaving northern Africa for Europe…
"Militants were profiting from the dangerous journey across the sea by demanding half of people smugglers' incomes in exchange for allowing them to keep operating – and to take fighters with them.
"In an interview broadcast on Sunday, [government advisor Basit] Haroun said that the boats were used 'for their people who they want to send to Europe, as the European police don't know who is from IS and who is a normal refugee or not. The boat owners have a list of who to take but some people come suddenly and they're told, 'take them with you.' They sit down separately, and in the boat they are not scared at all.'"[5]
Haround continued to say:
"They are for IS – 100 per cent. I think they do something for planning in future, not for today or tomorrow."[6]
So, shouldn't Assad receive two thumbs up for putting NWO agents in their own coffins and nailing them?
What we are seeing here is that Assad is not an irrational person, as NWO agents and mass media would like us to believe. He has recently conducted an interview with Russia Today and declared that he is still willing to dialogue with the opposition.[7] (Putin has also said that he would honor dialogue with the U.S. with respect to the Syrian conflict.[8])
Moreover, and as we have pointed out in the past, Assad rightly argued that the core issue surrounding the so-called Syrian refugee crisis in Europe and elsewhere is that NWO agents have supported them for years—and the only way to stop the refugee tsunami is for NWO agents to stop supporting terrorism in Syria:
So, NWO agents, according Assad's reasoning, is to be blamed for the refugee crisis in Europe and elsewhere. Other countries such as Turkey and Saudi Arabia, says Assad, are also accomplices. "As long as they follow this propaganda," Assad said of the West, "they will have more refugees."[9] If you think that Assad is wrong here, then answer this question: How does Saudi Arabia respond to the growing number of people fleeing Syria and elsewhere?
Let me help here. Saudi Arabia offers "to build 200 mosques in Germany…Saudi Arabia would build one mosque for every 100 refugees who entered Germany in extraordinary numbers…"[10]
We have already seen how Netanyahu responded to the crisis, saying that Israel is way too small for those refugees.[11] But the simple fact is that this lying liar was calling upon Jews of Europe to migrate en mass to Israel a few months ago![12] Last February, the Israeli newspaper Haaretz declared, "Israel Approves $46 Million Plan to Absorb Jewish Immigration."[13]
So, is Netanyahu being serious here? Who is he really fooling? Obviously Angela Merkel, who still hasn't been able to wake up from her dogmatic slumber, needs to pay attention to this gangster from Tel Aviv. She certainly will have blood on her hands if she lets that gangster dictate what ought to be done in Germany.
---
So, the true genius here is Assad. He is certainly right in telling NWO agents that he is not going to be removed from power and let them do whatever they want in Syria. And Vladimir Putin strongly backs him up. Putin said:
"We are supporting the government of Syria in the fight against a terrorist aggression, are offering and will continue to offer it necessary military-technical assistance.
"Without an active participation of the Syrian authorities and the military, it would be impossible to expel the terrorists from that country and the region as a whole, and to protect the multi-ethnic and multi-confessional Syrian people from destruction."[14]
Putin is not kidding here at all. Even the National Interest has reported that the Russians have enough sophisticated weapons to counter-attack Assad's enemies.[15] In fact, it has been reported that Russia has militarily been supporting Assad with boots on the ground.[16] USA Today, a newspaper that celebrates the work of NWO agents, ridiculously said that
"Russia has staunchly backed up Assad throughout Syria's devastating civil war that has killed about 250,000 people and turned millions into refugees, shielding him from United Nations sanctions and continuing to provide him with weapons despite Western criticism."[17]
What USA Today is telling us here is that Assad and Putin should take all the blame for the debacle in Syria. The Syrian rebels, NWO agents seem to tell us, are just innocent kids who want to fight for freedom and democracy. If terrorists "shelled three government-held neighborhoods in western Aleppo" and ended up killing 14 children and wounded more than 150 people in the process,[18] Assad and Putin are responsible for that as well.
Perhaps writers at USA Today should listen to NWO agents Harold Wallace Rosenthal, who happened to be a senior aide to Senator Jacob K. Javits (a flaming Zionist). Rosenthal said back in the 1970s:
"We Jews have put issue upon issue to the American people. Then we promote both sides of the issue as confusion reigns. With their eyes fixed on the issues [as they were presented to them], they fail to see who is behind every scene. We Jews toy with the American public as a cat toys with a mouse….
"Modern Christians enter into party politics and in order to win elections they debase themselves by begging for Jewish votes. They even enter into political intrigues with us against the interests of their own nation…Americans have not had a presidential choice since 1932. Roosevelt was our man; every president since Roosevelt has been our man."[19]
According to Rosenthal, the Dreadful Few specifically used the entertainment industry to turn people into literal puppets. "Our rigorous service," he said, "is the opiate of our entertainment industry. By controlling the industry, we have become the task masters and the people the slaves."[20]
Rosenthal continued,
"The television and movie industries furnish the necessary temporary distraction. These programs are carefully designed to appeal to the sensuous emotions, never to the logical thinking mind. Because of this, the people are programmed to respond according to our dictates, not according to reason…Unthinking they will remain."[21]
Just in case you want to refute Rosenthal, think about this for a moment. When thousands upon thousands of precious Greeks were suffering from the debt crisis, Robert Reich of the University of California tells us that Goldman Sachs was the main company profiting from the mess.[22]
But Rosenthal brings up a serious issue here which needs further expansion. He argued that the powers that be were and still are in the process of leading the masses to the world of irrationality, unreasonableness, and what one ought to call metaphysical nothingness. It is no accident, then, that the Dreadful Few hate the West and seeks to destroy it.
E. Michael Jones rightly points out that the West "is traditionally born into a world that is radically reasonable, radically logical, because that world mirrors the mind of God, who behaves in ways that sometimes go beyond what human reason can comprehend but never in ways that contradict that reason."[23]
The West is certainly under attack. The source of those attacks came from what David Irving would have called "the traditional enemies of the truth." Those enemies have already attacked the West culturally, politically, and esthetically. And they will continue to do so until their last breath. Through massive refugees, they tend to destroy much of Europe, which "mirrors the mind of God."
In that sense, those "traditional enemies of the truth" are Satan worshipers who, like Karl Marx, would be happy if much of the world (most specifically Europe) happens to crumble. Those Satan worshipers are not willing to listen to reason and logic but are bent to propagate lies and fabrications in order to seduce the masses.
And isn't it interesting that a small force like Assad (he has protected Christians in Syria last year[24]) is telling them that Syria is not for sale? Satan worshipers spent years destabilizing Syria, but Assad is still alive and well. One person can make a difference after all. God bless Assad.
---
[1] "Assad says political solution possible only after terror defeated: Russian media," Reuters.com, September 15, 2015.
[2] Akbar Shahid Ahmed and Ryan Grim, "ISIS Strikes Deal With Moderate Syrian Rebels: Reports," Huffington Post, September 12, 2014; "ISIS and moderate Syrian rebels strike truce… with Al Qaeda's help – reports," Russia Today, September 13, 2014; Julian Robinson, "ISIS strike deal with moderate Syrian rebels to stop fighting each other as military pressure grows and its oil money starts to dry up," Daily Mail, September 13, 2014.
[3] See for example Raphael Ahren, "Israel acknowledges it is helping Syrian rebel fighters," Times of Israel, June 29, 2015.
[4] Hannah Roberts, "ISIS threatens to send 500,000 migrants to Europe as a 'psychological weapon' in chilling echo of Gaddafi's prophecy that the Mediterranean 'will become a sea of chaos,'" Daily Mail, February 18, 2015; see also "Isis threatens to flood Europe with half a million Libyan migrants," New Zealand Herald, February 19, 2015.
[5] Jessica Ware, "Isis fighters posing as refugees are being smuggled to Europe on migrant boats, report says," The Independent, May 17, 2015.
[6] Ibid.
[7] "'If you are worried about refugees, stop supporting terrorists' – Assad interview," Russia Today, September 15, 2015.
[8] Lesley Wroughton and David Alexander, "Kerry says Russia proposes military talks on Syria," Reuters.com, September 16, 2015.
[9] "Syria's Assad blames West for refugee crisis," Reuters.com, September 16, 2015.
[10] "Saudi Arabia offers Germany 200 mosques – one for every 100 refugees who arrived last weekend," The Independent, September 11, 2015.
[11] Isabel Kershner, "Netanyahu Rejects Calls for Israel to Accept Syrian Refugees," NY Times, September 6, 2015.
[12] Peter Beaumont, "Leaders reject Netanyahu calls for Jewish mass migration to Israel," Guardian, February 16, 2015; Naftali Bendavid, "European Jews Rebuff Netanyahu's Call to Migrate to Israel," Wall Street Journal, February 18, 2015; Justin Jalil and Raphael Ahren, "Netanyahu to French Jews: 'Israel is your home,'" Times of Israel, January 10, 2015.
[13] Judy Maltz, "Israel Approves $46 Million Plan to Absorb Jewish Immigration," Haaretz, February 15, 2015.
[14] "Putin defends Russia's military assistance to Syrian regime," USA Today, September 15, 2015.
[15] Russia's Lethal T-90 Tank vs. ISIS' Captured M1 Abrams: Who Wins?," National Interest, September 15, 2015; for similar reports (though not sure if I would take them seriously), see Conor Gaffey, "Russia Begins Biggest Military Exercises of 2015, Involving 95,000 Troops," Newsweek, September 14, 2015; "U.S. Believes About 200 Russian Forces Are Stationed at Syria Airfield," Newsweek, September 11, 2015.
[16] "Russian troops 'fighting alongside Assad's army against Syrian rebels,'" The Telegraph, September 2, 2015.
[17] "Putin defends Russia's military assistance to Syrian regime," USA Today, September 15, 2015.
[18] At least 38 killed in Syrian insurgent shelling of western Aleppo: monitor," Reuters.com, September 15, 2015.
[19] Quoted in Hugh Akins, Synagogue Rising (Orlando: Catholic Action Resource Center, 2012), 340.
[20] Ibid., 341.
[21] Ibid.
[22] Robert Reich, "How Goldman Sachs Profited From The Greek Crisis," Talk Markets, July 17, 2015.
[23] E. Michael Jones, The Jewish Revolutionary Spirit and Its Impact on World History (South Bend: Fidelity Press, 2008), 14.
[24] "Obama: Assad Protected Christians In Syria," MintPress News, September 12, 2014.
Jonas E. Alexis has degrees in mathematics and philosophy. He studied education at the graduate level. His main interests include U.S. foreign policy, the history of the Israel/Palestine conflict, and the history of ideas. He is the author of the new book Zionism vs. the West: How Talmudic Ideology is Undermining Western Culture. He teaches mathematics in South Korea.
ATTENTION READERS
Due to the nature of independent content, VT cannot guarantee content validity.
We ask you to
Read Our Content Policy
so a clear comprehension of VT's independent non-censored media is understood and given its proper place in the world of news, opinion and media.
All content is owned by author exclusively. Expressed opinions are NOT necessarily the views of VT, other authors, affiliates, advertisers, sponsors, partners or technicians. Some content may be satirical in nature. All images within are full responsibility of author and NOT VT.
About VT
-
Read Full Policy Notice
-
Comment Policy