By Henry Kamens, … with New Eastern Outlook, Moscow
First published September 18, 2015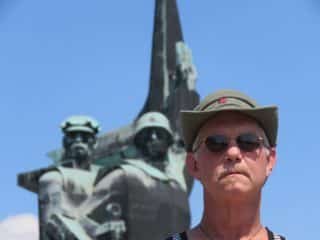 The People's Army of Donbass is fighting the West and Kiev at the front. Americans hear a lot about this conflict from various sources, but most know little about what is in effect a proxy war with Russia because they don't hear from people on the front line.
Well here is one American who's been there and done it, and is still doing it. Russell Bentley has seen enough of what is going on the world to know a good cause when he sees one.
As he says, "The Russian-hating fascistic junta which seized power in Kiev, and is terrorising the people under the command of NATO and criminals it has imported from other countries where it did the same, will not be satisfied until Ukraine is destroyed and much of the region, including Europe, destabilised."
He decided to do something about it, and here is his account of this conflict.
Can you provide some background about why you are in Ukraine?
First, I am not the only American fighting Fascism in Donbass. There are several I know of, and have met, but I am the only one I will be talking about today.

My name is Russell Bentley. I was born in Austin, Texas, in 1960. My call sign in the Novorussian Army is "Texas".
I came to Donetsk on 7th December, 2014, joined the Vostok Battalion on Dec 14th and went to the battlefront on December 31st. I came here to fight Fascism and help the heroic people of Novorussia create a new nation.
I am a Communist and an Anti-Fascist. The US government is truly a fascist government. Mussolini said "Fascism should be called "corporatism", because it is the merger of government power". According to Mussolini"s definition, and the 14 Defining Elements of Fascism by Lawrence Britt, the USA has a fascist government.
It is clear to any reasonable person that the US government fits both definitions given above. It is Fascist, so I fight against it.
What have you been doing since you arrived?
My first day of combat was January 1st, 2015. I served with the Essence of Time combat unit from January to June, at Donetsk Airport and at Spartak. When the unit was transferred from the Vostok Battalion to the Khan Battalion in July, I was made a press officer in their information centre.
I was invited to join DONi News in July and accepted their offer. I am currently the Director of the DONi Press Centre. We do counter-propaganda work and help international journalists and visitors who come to Donetsk see the truth for themselves.
What is life like at the front?
Whatever people imagine, it is different in practice. If you read the accounts of people who have joined the French Foreign Legion these will give you a pretty good idea of what to expect. But things are still different in the real world.
We are a Special Forces unit of a real Army fighting a real war. It is tough and dangerous here. People get killed. We are fighting a ruthless and powerful enemy. But we are winning.
We work a minimum of 12 hours a day, 6 days a week, usually more. As in any army, we are expected to follow orders and do our jobs to the best of our ability. Trust and respect are not given here, they are earned.
The most important thing to do here is LEARN RUSSIAN. There are people here who speak English, Spanish, German and Italian, but the more Russian someone knows, the better. They do not have to be fluent, but how much they know when they get here is a good indication of their abilities and dedication.
Volunteers also have to bring AS MUCH MONEY AS THEY CAN with them. They may or may not be paid, and even if they are it is not be much by Western standards. The people here fight for a just cause, not for money.
Volunteers are provided with food, uniforms and a place to stay. Their needs are met, including medical care, and internet access is available, but no one should expect a luxury hotel or vacation lifestyle here. We ask volunteers to have a MINIMUM of $1,000 with them when they arrive in Donetsk, and 3 times that is recommended. They also need to bring one camouflage uniform and a good pair of boots, along with a few civilian clothes and toiletries.
WE DO NOT ACCEPT PEOPLE WHO COME HERE THROUGH THE UKRAINIAN LINES. THEY MUST COME THROUGH ROSTOV. We do not trust people who come from the Ukrop side, whether 'volunteers', 'journalists' or 'tourists'. We expect people to come from the Russian side with visas containing two entry permits.
The Russian visa process can be daunting and somewhat expensive. You have to pay around $300 or $400 to get your visa expedited. It is not cheap, but it is worth it. A one-way ticket is sufficient to get here, but it would be foolish for someone not to have enough money for a return trip if needed.
Volunteers generally fly to Moscow and then take a train or plane to Rostov-on-Don. From there they get a bus to Donetsk. Crossing the border from Russia into Novorussia is not a problem. We tell people to tell the border guards they are going to Donetsk to visit friends. They know what is meant, and let people through.
What sort of people are joining your army?
Most of our volunteers come from various regions of Russia and from abroad. When they arrive in Rostov they are given contacts, then go to the address they are sent to for identification and wait with others to be able to get to the front as a group.
For every 100 people who say they are coming, maybe one actually does. It may not be easy to get here, but it is actually the easiest part of the process.
If someone cannot figure out how to get here on their own they are probably not qualified to be an XAH soldier. But there are other options – other military units are not as demanding, and some people are accepted there even if they do not qualify for the XAH Battalion. There are also many opportunities to help the DNR and LNR in humanitarian areas.
People become members of our army when they get on our official transport near the border. Volunteers are sent to different parts of the front, depending on combat need assessed by military experts. Movement through all parts of the republics is not always possible, but people can be given rides to some parts and they can still use public transport in some others.
What sort of people do you need right now?
We only accept adult men at the front (we send women from time to time but most are returned). They must have a passport, and a military ticket if they can get one.
We have the most need of BMP tank drivers and other technical specialists. People with medical and media experience are very useful here, as are people with computer and other technical skills.
If you come here, you will be welcomed and appreciated, and we will help you find the best place to contribute to the future of Novorussia. But people should not join if they are trying to avoid national service, are wanted by the police or need to pay off a bank loan. Some people think we can help with these matters, but we can't.
We don't have a full system of military training in place right now. We do not have the facility to offer this in all places. In certain parts of the front at quiet periods we can offer adequate training, but if there is intense fighting volunteers have to rely on civilian level training. That's why we only accept people who we think are ready to fight and can handle it physically, technically and emotionally.
We have a sort of a training centre in St. Petersburg which gives locally recruited volunteers short but intensive training before they can go to Donbass. We accept donations of money for the running of this centre but the training itself is free, paid for by the Donbass command centre.
There is no fixed length of service in our army, but we expect people to stay for at least 3 months and do not accept people who only want to fight in the holidays. Decisions about who leaves and stays are made by the commanders at the front. Going from one group to another and leaving the front without permission are punished.
Many volunteers come to Rostov without any equipment and think they will be given everything at the front, but we do not have enough equipment at the front. We ask all prospective volunteers to bring all they can with them. We are getting more equipment now, but this is mainly going to Donbass-based soldiers who have no money.
We expect Russian and foreign volunteers to buy their own equipment as they have greater opportunity to do so. Many people can't bring armaments, vests and ammunition with them but they should at least have personal items, underwear, camouflage, ankle boots, shirts, spare socks, gloves, a knife, a flask and a helmet. If funds permit, it is desirable to bring a second set of everything: clothes, and especially shoes, wear out quickly. We also expect people to bring their own medical items, such as PPI, water disinfection filters, activated carbon, aspirin, band-aids, chlorhexidine, cold treatments (Teraflu, etc.). Basic medical kits, with medicines, can be obtained from tourist shops catering for people travelling abroad.
Can people provide for their families by joining your army?
If people think that they can make money out of fighting with us they have got the wrong idea. Everyone who is here is fighting for Novorussia at their own expense. You don't make a profit and you can be killed. But we are here to fight Fascism, as most of Europe once did, and that is what matters.
Henry Kamens, columnist, expert on Central Asia and Caucasus, exclusively for the online magazine "New Eastern Outlook".

_____________
ATTENTION READERS
Due to the nature of independent content, VT cannot guarantee content validity.
We ask you to
Read Our Content Policy
so a clear comprehension of VT's independent non-censored media is understood and given its proper place in the world of news, opinion and media.
All content is owned by author exclusively. Expressed opinions are NOT necessarily the views of VT, other authors, affiliates, advertisers, sponsors, partners or technicians. Some content may be satirical in nature. All images within are full responsibility of author and NOT VT.
About VT
-
Read Full Policy Notice
-
Comment Policy