[ Editor's note: London. Odessa. In numerous places across the world, there are noteworthy legal or parliamentary battles playing out. Grassroots groups are trying to bring perceived bad actors to justice. This week, the British Parliament ignored 112,000 signatures and declined to debate the alleged war crimes and possible arrest of Binyamin Netanyahu.
But in a win for humanity, the Odessa administrative court of appeal has upheld the ruling in which journalists may get copies of forensic experts' conclusions on the 'May 2 [2014] case' when the Odessa House of Trade Unions was set on fire, resulting in atrocities and loss of life… Jim W. Dean and Erica P. Wissinger ]
_____________
First published September 15, 2015, TASS, Moscow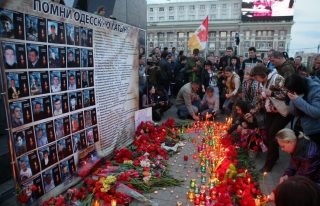 KIEV /TASS/. The Administrative Court of Appeal of the Odessa Region in southern Ukraine has upheld the ruling by the first instance court obligating the authorities to make public the cause of death of some 50 people in last year's massacre in the city's Trade Unions House, local media reported Tuesday.
In May 2015, the Odessa district administrative court, after a months-long legal battle, granted the public's demand that the Ukrainian Interior Ministry and the Bureau of Forensic Medical Examination make the data public. But the ruling was appealed, and the appeal was considered Tuesday.
Journalists of the "May 2 Group" Leonid Shtekel and Sergey Dibrov, conducting an independent investigation of last May's tragedy, asked the court to rule to make public the forensic examination's results.
For a few months, they were trying to get access to data stored in the archives of the Bureau of Forensic Medical Examination and capable of giving an answer to the question what caused people to die in May last year. But investigators have steadfastly refused to provide access to them citing secrecy of investigation.
"The Odessa administrative court of appeal has upheld the ruling of the first instance on the lawsuit of Shtekel and Dibrov, in line with which journalists may get copies of forensic experts' conclusions on the 'May 2 case'," Odessa publication Dumskaya wrote after Tuesday's hearing.
The tragedy at the Odessa House of Trade Unions occurred on May 2, 2014. A sign-up campaign in support of a referendum turned into clashes between nationalist activists of the Right Sector and the Maidan self-defense groups on the one side and federalization supporters on the other side.
The clashes resulted in the local House of Trade Unions being set on fire. More than 200 people were injured in the tragedy while 48 lost their lives.
---
Euromaidan activists stage disturbances in Odessa court examining last May's massacre
First published July 13, 2015, TASS
ODESSA, July 13. /TASS/. Euromaidan activists staged disturbances in an Odessa court examining the case of their associate Sergey Khodiyak accused of killings during the May 2 massacre last year, the local publication Timer reported on Monday.
About a hundred of Euromaidan activists came to support Khodiyak. They were insulting the relatives of the massacre's victims, spitting at them and demanding that "they get away to Russia."
They are claiming the "defendant is not a criminal but a hero who should be awarded for shooting at activists of the Kulikovo field [the anti-Maidan gathering]," the Timer said.
The court's session was adjourned again until July 23 as judge Svetlana Nikitina quit the board examining the case.
The court's previous sessions were delayed for the same reason as well and the court has been unable to examine the case for the fourth consecutive month.
Ukraine's Prosecutor General's Office reported in April 2015 that during last year's riots in Odessa Khodiyak "armed himself with fire arms and a hunting rifle with ammunition and made several targeted shots at a group of people. As a result, he killed one person and wounded a law-enforcer."
A state prosecutor told the court he saw no reason for keeping Khodiyak in custody. However, the same state prosecutor earlier demanded that anti-Maidan activists should be imprisoned, following which they had been kept in custody for more than a year now.
Gunmen from the radical Right Sector organization and the so-called Maidan self-defenсe units who came to Odessa on May 2, 2014, burnt out a tent camp set up by Odessa residents for gathering signatures in support of a referendum on Ukraine's federalization.
After that, they set fire to the Trade Union House where anti-Maidan activists were hiding. This massacre claimed 48 lives while over 200 people were injured.
Overall, 21 people have been put on trial in the May 2 case, of whom 10 are being held in custody. All of the persons against whom criminal charges were brought are anti-Maidan activists only.
____________
Jim Davis is the son of USMC MGySgt. Lesley Davis (Ret.) who passed away on April 24, 2006, from ALS caused by Agent Orange. His dad's mission before he passed on was to ensure all veterans, spouses, children, and widows all received the benefits, medical care and attention, and proper facilities from the VA.
Because of the promise made to his dad to carry on the mission, in May 2006 Davis began as a one-man show sending out 535 letters every single week to all members of Congress requesting and politely demanding the fulfill their promises made over the past decades to care for life those who wore the uniform and their families.
Veterans-For-Change was born in August 2006 with a very small membership of 25 people composed of veterans, spouses, widows, family members, and friends and to date continues to grow.
ATTENTION READERS
Due to the nature of independent content, VT cannot guarantee content validity.
We ask you to
Read Our Content Policy
so a clear comprehension of VT's independent non-censored media is understood and given its proper place in the world of news, opinion and media.
All content is owned by author exclusively. Expressed opinions are NOT necessarily the views of VT, other authors, affiliates, advertisers, sponsors, partners or technicians. Some content may be satirical in nature. All images within are full responsibility of author and NOT VT.
About VT
-
Read Full Policy Notice
-
Comment Policy