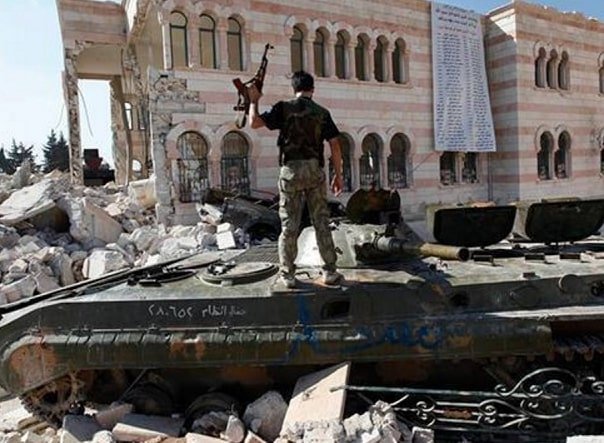 DISCLOSURE: Sourced from Russian government funded media
"There are an estimated 5,000 to 7,000 fighters from Russia and other CIS member states fighting for ISIL," Putin said referring to IS by its former name."We certainly cannot allow them to use the experience they are getting in Syria on home soil."
Putin was speaking to leaders of the CIS, a regional union of a dozen former Soviet republics. He reported details of the Russian bombing campaign in Syria targeting the jihadists and assured that there was significant progress in defeating IS.
He added that Russia stands for the creation of "as big a coalition to fight the extremists and terrorists as possible and is working with major regional and international partners" like Saudi Arabia, the UAE, Egypt, Jordan and Israel. Vladimir Putin also reiterated that Russia is acting in compliance with international law in Syria."
Dr. S.J.Bellamy
"The operation of the Russian Air Forces supported by the ships of the Caspian Fleet are in full compliance with the international law and absolutely legitimate, since we are conducting it at the formal request of [Syrian] President [Bashar] Assad," he said.
The Russian leader said CIS members should be on guard for possible retaliation from the terrorists and ramp up cooperation between their national counterterrorism and border guard agencies.
With the exception of Israel, no other state has more experience countering jihadi terrorists operating in their own territory than Russia. IS poses a direct threat to the Caucasus, with the leader of Russia's Chechen Republic Ramzan Kadyrov, issuing statements reiterating the risk returning fighters pose to his territory.
While the West drags its feet, Russia has already made impressive gains in Syria against ISIS targets. The refugee crisis in Europe, which surely will spill over to the United States at some point has hastened the view that we must cooperate with Russia, to end the refugee crisis by ending the encroachment of Islamic State into Syria and Iraq.

Refugee crisis
While the refugee crisis, a humanitarian disaster caused  partially by our failure to intervene in Syria to stop ISIS at a much earlier stage is worrying, IS manufacturing of crude chemical munitions will be a real wake-up call should such unconventional warfare munitions be used against European targets. Russia, of all countries, has sadly learned by experience, the devastation Islamic terrorism can bring to the field.
Why do some European states hold back from cooperation with Russia when this would clearly be to their benefit? A few European countries feel they are exempt from Islamic terrorism and think they can naively claim some kind of neutrality. They believe if they are not perceived as a primary force against IS, even though they donate their last F16's to the cause and make a spectacle of themselves, they can kind of slide under the radar. Nothing could be farther from the truth.
Their countries are at greater risk because they choose not to cooperate to the extent that is needed, lest they be seen to help President Assad stay in power which might pit them against their UK counterparts. Unfortunately such choices designed purely to be perceived as 'politically correct' are likely to increase the threat IS poses to them and their allies. 
Russia, on the other hand, has consistently offered cooperation, even while being blamed for events they had nothing to do with and threatened with legal procedures. Israel and a handful of other countries, thankfully, understand the practical side of cooperation, beyond trying to be perceived as politically correct or attempting to garner some kind of international attention. They understand fully the consequences of IS over running Syria and Iraq. At the moment Russia is fighting our war for us.
They are literally paying for it and war is expensive. They will suffer possible loss of life in fighting IS, so that Europe can enjoy peace and security from the threat of IS; a far more serious threat than Syria under Assad ever posed. Additionally, they have suffered criticism for bombing civilian areas, without any mention that IS is using civilians and these areas as human shields. They know very well that Russia will be blamed for collateral damage and any loss of civilian life.
Beyond the strategic posturing of some countries, it is time for Europe to take a serious look at the consequences, should IS operatives infiltrate refugee camps and or gain access to European immigration routes. Coordination with Russia is crucial, not only to prevent mishaps between nations currently engaging IS, but to ensure Syria does not fall to possibly the worst terrorist organization we have ever witnessed.
Biological and chemical capabilities
In terms of biological and chemical capabilities, IS has used crude chemical warfare agents against civilians and will likely continue an interest in manufacturing these agents. In August, ISIS is strongly suspected of using mustard agents. See Russian forces, although not yet on the ground, could well face CBW agents if a ground offensive is deemed necessary.
While Russian forces are well prepared for unconventional weapon use, we must still consider that they are placing their forces in harm's way and the results of this will benefit Europe and the West considerably.
*Dr. S.J. Bellamy is a recognized international expert on biological warfare. She has previously developed and run NATO sponsored policy programs on biological terrorism and has published extensively in related fields. Her papers have appeared in the National Review, The Washington Post, The Washington Times, Le Monde, Le Temps and the Jerusalem Post. Over the past twenty five years she has worked in non-proliferation and contributed to UN Expert Meetings for the Biological and Toxin Weapon Convention.  She has developed and run nuclear and biological war games and scenarios supported by European Ministries of Defence.  Currently she advises governments on national strategic stockpiling and force protection.
– See more at: http://english.pravda.ru/opinion/columnists/19-10-2015/132353-syrian_strategy-0/#sthash.7OrLhd6z.dpuf
____________
ATTENTION READERS
Due to the nature of independent content, VT cannot guarantee content validity.
We ask you to
Read Our Content Policy
so a clear comprehension of VT's independent non-censored media is understood and given its proper place in the world of news, opinion and media.
All content is owned by author exclusively. Expressed opinions are NOT necessarily the views of VT, other authors, affiliates, advertisers, sponsors, partners or technicians. Some content may be satirical in nature. All images within are full responsibility of author and NOT VT.
About VT
-
Read Full Policy Notice
-
Comment Policy