By Ted Hayes
LOS ANGELES – Under the apparent orders of top VA officials, VA police issued a deceptive arrest citation and confiscated the American Flags of Veteran whistleblower Bob Rosebrock at the Old Veterans Guard's 397th consecutive Sunday Rally to "Save Our Veterans Land" and to "Bring Our Homeless Veterans HOME."
Every Sunday since Memorial Day, Rosebrock, a 73-year old Vietnam Wartime Veteran, has patriotically hung two of his personal American Flags on the front fence of the Los Angeles VA. He's done this in honor of the men and women who have defended our Nation and its Flag, particularly those who are convalescing at the VA from their war injuries.
However on Sunday, just three minutes after Rosebrock hung his American Flags, and three hours after sending a widespread e-mail addressed to Vincent Kane, VA Secretary McDonald's special assistant, that exposed and challenged extensive VA corruption, a VA police car approached rapidly across the Grand Lawn to the front gates of the VA.
Two armed VA police officers exited their patrol car, one with a camera and the other directing Rosebrock to remove the two Flags or else he would be cited and his Flags confiscated as "evidence."
Rosebrock questioned the VA police officer about this bizarre action and wanted to know what law he was supposedly violating and the officer said it's a federal regulation that prohibits displaying placards or posting materials on VA property.
Rosebrock informed the police officer that the American Flag did not fit that description and that hanging an American Flag on the outside of the VA in honor of our Veterans should never be deemed unlawful.
He questioned the police officer as to why he was falsely harassing a Veteran on the outside instead of dealing with all the illegal land issues on the inside perpetrated by non-Veteran entities.
He further questioned about the illegal construction of a "public amphitheater" on VA property and why the officer didn't demand that it be removed the same way he was demanding his Flags be removed, and he said that was not his job.

The officer then did the job he was obviously sent to do and ordered Rosebrock to remove his two American Flags.
It's important to note that Rosebrock purchased one of the Flags on September 11, 2001 as a proud and patriotic gesture in defiance of the atrocious terrorist attack on American soil. He hangs it on the VA's front fence as a salute in honor of the men and women who have served in the Iraqi and Afghanistan Wars in defense of our Nation's Flag.
False Flag Arrest
Consequently, Rosebrock refused to remove his two American Flags and the VA police officer cited and charged him under "United States District Court Violation Notice" — 38 C.F.R. § 1.218(a) 9) "Displaying of placards or posting of materials on bulleting [sic] boards or elsewhere except as authorized"
A small child will tell you this regulation has absolutely nothing to do with an American Flag.
Nevertheless, the arresting officer informed Rosebrock that he could pay a $75 fine or appear in federal court and challenge it, and Rosebrock assured him that he was not paying any fee for this bogus arrest citation and that he would appear in court. The officer informed Rosebrock that he would receive a court appearance notice in about four or five weeks.

It should come as no surprise that top VA officials would go to great lengths to intimidate, harass and retaliate against Rosebrock over such minutia since he has been the major whistleblower against the VA's far-reaching illegal use of VA property while they ignore, abuse and neglect thousands upon thousands of homeless Veterans in Los Angeles.
As a firsthand witness to Sunday's fiasco, I have a couple basic questions:
Why is the VA demeaning the American Flag as an illegal placard or material on VA property and not as a revered symbol of freedom and justice in honor of Veterans at the VA?
How can federal VA police confiscate two American Flags belonging to an elderly Military Veteran who presents them in honor of war-injured Veterans, and declare them to be "evidence" of an illegal nature?
Are American Military Veterans now being subjected to government "flag control" the same way it tries to exercise "gun control" over America's citizenry?
Does the government no longer respect the American Flag as a symbol of patriotism in honor of those who are rehabilitating from defending it?
It also needs to be noted that six years ago Rosebrock was falsely arrested six times by the VA police for hanging the American Flag in distress on the front gate of the VA, in full accordance with the U.S. Flag Code as he sent forth a legal and public message that Veterans lives and their property were in "extreme danger."
Rosebrock won a Federal Judgment against top VA officials that eventually led to a second lawsuit and another Federal Judgment confirming the validity of his distress message that the lives and property of Veterans were indeed in extreme danger, and they still are.
Now Rosebrock is being retaliated against for his continuous reminding top VA officials of their corruption, cronyism and cover up of illegal use of Veterans property and the VA's failure to end Veteran homelessness as promised..
As a first-hand witness to the VA's unprecedented misconduct and unfair treatment against Rosebrock on Sunday, I am deeply concerned for his safety and well-being with such an out-of-control agenda of obvious VA retaliation.
This is just a preliminary overview of the unwarranted arrest citation and seizure of Rosebrock's American Flags on Sunday, and more will be reported in due time.
Wake up fellow Americans and speak up about this out-of-control corruptness and retaliation at the Los Angeles VA.
Thanks and cheers to GOD for the men and women who defend America and our Nation's Flag.
---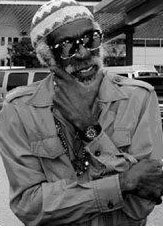 (Bio) Ted Hayes is America's leading Civil Rights activist who is internationally recognized as such for the nation's homeless peoples, as well as US Military Veterans entrapped in homelessness.
Hayes not only has conscientious experience of living years with hard-core, chronic, street-sidewalk dwelling homeless person, but as a result, has devised the only national plan, Marshall-like plan to eradicate it. A true lay expert who is also the founder the legendary, 13 year existent Dome Village in downtown LA. See www.Domevillage.us
ATTENTION READERS
Due to the nature of independent content, VT cannot guarantee content validity.
We ask you to
Read Our Content Policy
so a clear comprehension of VT's independent non-censored media is understood and given its proper place in the world of news, opinion and media.
All content is owned by author exclusively. Expressed opinions are NOT necessarily the views of VT, other authors, affiliates, advertisers, sponsors, partners or technicians. Some content may be satirical in nature. All images within are full responsibility of author and NOT VT.
About VT
-
Read Full Policy Notice
-
Comment Policy