For only $3.95 a month you can listen to shows on-demand before they are broadcast – and also get free downloads and other perks from Kevin! If you are a subscriber, just log in to the members area of TruthJihad.com to get early access to the shows. Help Kevin keep these shows on the air – become a subscriber today!
Guest: Ibrahim Soudy of Architects and Engineers for 9/11 Truth.
Alongside his Ph.D. in Structural Engineering, Ibrahim Soudy holds ten different structural engineering licenses. He has no doubt that the three World Trade Center buildings were destroyed by controlled demolitions. But today, we turn to another topic: The future of Islam and where do Muslims go from here.
Recorded on Ashura, a date on the Muslim calendar that is observed very differently by different groups of Muslims, this show features a lively conversation on the urgent need for intra-Muslim dialogue aimed at finding a basis for unity.
Note: I am posting this show from Morocco, where I will be lecturing on We Are NOT Charlie Hebdo: Free Thinkers Question the French 9/11. (Stay tuned to the TruthJihad.com blog for details.) People here generally follow the Maliki branch of Islamic jurisprudence, and Sufism has had a major presence for more than 1000 years. This is where I learned my Islam and it still feels like a home away from home.
Some readers may be asking: "Maliki? Sufism? How does that relate to Sunni and Shia Islam? And what about Salafis and Wahhabis and Takfiris? How many kinds of Islam are there? And will this be on the test?"
The short answer is that there is no short answer. There are a great many different approaches to Islam.
For a longer answer check out my article: Sunni Shi'a Salafi Sufi Shariah: A guide for the perplexed
But to cut to the chase…The big brouhaha right now is the imperial divide-and-conquer operation aimed at splitting Sunni from Shia. After Shia Hezbollah's success against Israel in 2006 – which was hugely popular with all Muslims, including Sunnis – the Empire pumped billions of dollars into propagandizing Sunnis against Shias.
The Zionist-driven Saudis are pushing shiaphobia and iranophobia as hard as they can. Sunni Muslims are being told that Shia Muslims flagellate themselves on Ashura, and that they insult three of the four Rightly-Guided Caliphs. These are the two major anti-Shia talking points.

In fact, the leading Shia authorities – notably the father of the Islamic Republic of Iran Ayatollah Khomeini, Iran's Supreme Leader Ayatollah Khamenei and Hezbollah's leader Hassan Nasrallah –  have spoken out strongly against both practices. It is only a small minority of traditionalist and/or extremist Shia who do such things.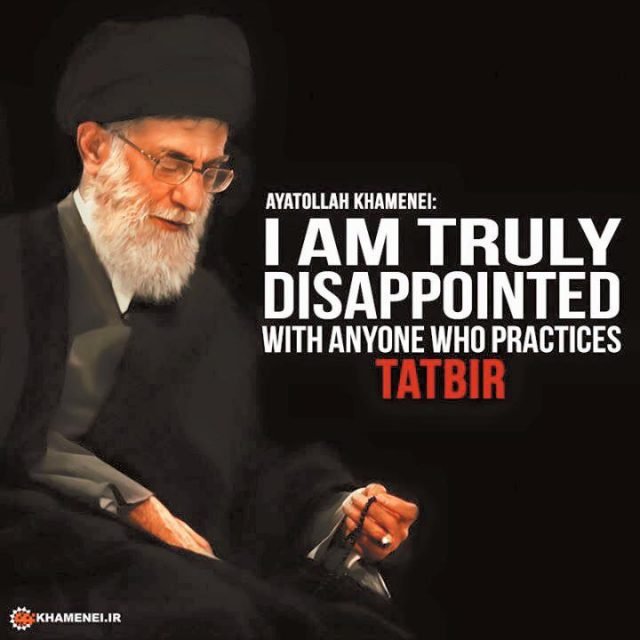 There are also small minorities of Sunni Muslims who engage in dubious practices. But that does not discredit Sunni Islam as a whole. Likewise, Shia Islam should not be judged by the actions of a few. And it wouldn't be – except that the Zionists and their puppet dictators of the Persian Gulf oil sheikdoms have poured such vast sums into poisoning relations between Sunni and Shia by spreading defamation. (Quick, somebody call the Anti-Defamation League!)
The New World Order's biggest nightmare: A resurgent, united Islam rising up to liberate Jerusalem and end usury-currency.
But that can't happen as long as Muslims are plagued by extremism and sectarianism.
No wonder the Zionists created ISIS (Israeli Secret Intelligence Service) as an anti-Islam PR stunt. No wonder they are doing everything they can to stir up strife between Sunni and Shia. Their only hope is to make Islam look bad and keep it divided against itself.
How long will Muslims let themselves be hoodwinked, divided, and conquered?
Dr. Kevin Barrett, a Ph.D. Arabist-Islamologist is one of America's best-known critics of the War on Terror.
He is the host of TRUTH JIHAD RADIO; a hard driving weekly radio show funded by listener donations at Patreon.com and FALSE FLAG WEEKLY NEWS (FFWN); an audio-video show produced by Tony Hall, Allan Reese, and Kevin himself. FFWN is funded through FundRazr.
He also has appeared many times on Fox, CNN, PBS, and other broadcast outlets, and has inspired feature stories and op-eds in the New York Times, the Christian Science Monitor, the Chicago Tribune, and other leading publications.
Dr. Barrett has taught at colleges and universities in San Francisco, Paris, and Wisconsin; where he ran for Congress in 2008. He currently works as a nonprofit organizer, author, and talk radio host.
ATTENTION READERS
Due to the nature of independent content, VT cannot guarantee content validity.
We ask you to
Read Our Content Policy
so a clear comprehension of VT's independent non-censored media is understood and given its proper place in the world of news, opinion and media.
All content is owned by author exclusively. Expressed opinions are NOT necessarily the views of VT, other authors, affiliates, advertisers, sponsors, partners or technicians. Some content may be satirical in nature. All images within are full responsibility of author and NOT VT.
About VT
-
Read Full Policy Notice
-
Comment Policy