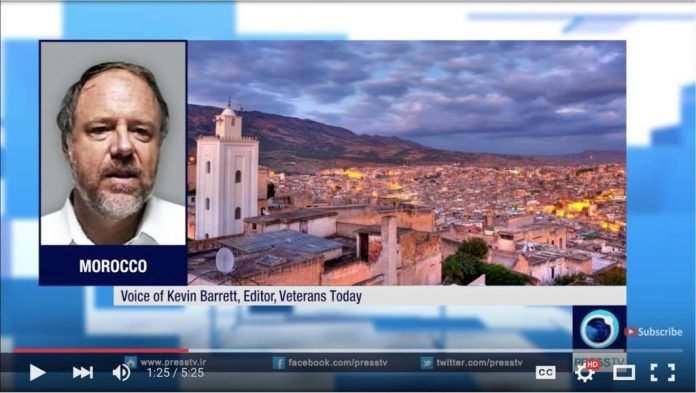 What's up with Saudi Arabia?
The Saudis under their new King Salman and heir apparent Mohammad Bin Salman are lashing out blindly on several fronts, committing atrocities all the while.
They have played a major role in destroying Syria. They have mismanaged the Hajj pilgrimage, and may even have intentionally set off the stampede that killed thousands in order to kidnap high-level Iranian officials. They are prime suspects in the downing of the Russian passenger jet in Egypt – which the airline now says came as the result of an "external influence." That, of course, is a euphemism for "a missile."
And then there is Yemen.
The Saudis (with help from their Israeli friends) have dropped at least one nuclear weapon on Yemen. They have been repeatedly caught using cluster bombs. When is the world going to say, "enough"?
On Press TV yesterday I pointed out that Yemen is becoming Saudi Arabia's Vietnam. The parallels are uncanny:
*The US entered Vietnam in a big way after a regime change (the coup that overthrew JFK). Saudi Arabia entered Yemen big-time after a regime change (the death of King Abdullah and his replacement by King Salman).
*The US dragged a "coalition" of unenthusiastic partners into Vietnam – but the partners hardly did any of the fighting. Saudi Arabia has dragged a similarly unenthusiastic and non-contributing "coalition" into its war on Yemen.
*The US war on Vietnam was led by a criminal psychopath, Kennedy-killer LBJ, then by another criminal psychopath, Nixon. The Saudi war on Yemen is being led by similarly psychopathic individuals, whose crimes include the murder of more than a thousand people in the false flag chemical weapons attack on al-Ghoutha, Syria.
*The extreme psychopathy of LBJ's personal style, which included employing the lifelong services of a personal hitman (Mac Wallace), publicly defecating in front of colleagues in order to humiliate them, and routinely exposing his genitals as a form of psychic assault, is matched by the almost equally mad excesses of the Saudi Royals, whose love of drugs, gambling and sex slaves makes them highly incongruous custodians of Islamic holy places.
*The US war on Vietnam exhausted the American treasury, which could not sustain the military effort alongside outlays on the "Great Society." The Saudi war on Yemen is exhausting the Saudi treasury, which cannot continue its high level of military spending (on such luxuries as Israeli nuclear weapons and Brazilian cluster-bombs) while trying to address youth unemployment and a crisis caused by low oil prices.
*The US war supposedly targeted a resistance organization, the Vietcong, but was actually waged against the Vietnamese people in order to subject them to foreign domination. The Saudi war on Yemen pretends to target a resistance organization, the Ansar Allah fighters (sometimes called Houthis), but is in reality a war against the people of Yemen designed to subject them to foreign (US-Saudi-NWO) domination.
*The US war on Vietnam failed in part because the terrain (jungle) was difficult to access and favored the defenders. The Saudi war on Yemen is failing because the terrain (mountains) is difficult to access and favors the defenders.
*The US war on Vietnam also failed because American soldiers, and the US public, were less than enthusiastic about committing aggression outside their borders. The Saudi war on Yemen is failing for the same reason.
*The US war on Vietnam was driven by fear of a rising rival (global communism). The Saudi war on Yemen is driven by fear of a rising rival (Islamic Iran).
*The US war on Vietnam was notoriously brutal, killing upwards of four million Vietnamese and utilizing such horrific weapons as napalm and Agent Orange. The Saudi war on Yemen is likewise characterized by its extreme brutality and its use of such horrific weapons as mini-nukes and cluster bombs.
But as I remark in the above interview, there has been one major difference between the US disaster in Vietnam and the Saudi disaster in Yemen: The media covered the war in Vietnam. Where are the photographers, the journalists, the TV networks? Why are Saudi war crimes flying so far under the world's radar?
Please help bring this issue to the attention of the world: Spread this article, and others like it, far and wide.
Dr. Kevin Barrett, a Ph.D. Arabist-Islamologist is one of America's best-known critics of the War on Terror.
He is the host of TRUTH JIHAD RADIO; a hard driving weekly radio show funded by listener donations at Patreon.com and FALSE FLAG WEEKLY NEWS (FFWN); an audio-video show produced by Tony Hall, Allan Reese, and Kevin himself. FFWN is funded through FundRazr.
He also has appeared many times on Fox, CNN, PBS, and other broadcast outlets, and has inspired feature stories and op-eds in the New York Times, the Christian Science Monitor, the Chicago Tribune, and other leading publications.
Dr. Barrett has taught at colleges and universities in San Francisco, Paris, and Wisconsin; where he ran for Congress in 2008. He currently works as a nonprofit organizer, author, and talk radio host.
ATTENTION READERS
We See The World From All Sides and Want YOU To Be Fully Informed
In fact, intentional disinformation is a disgraceful scourge in media today. So to assuage any possible errant incorrect information posted herein, we strongly encourage you to seek corroboration from other non-VT sources before forming educated opinion. In addition, to get a clear comprehension of VT's independent non-censored media, please read our
Policies and Disclosures
.
Due to the nature of uncensored content posted by VT's fully independent international writers, VT cannot guarantee absolute validity. All content is owned by the author exclusively. Expressed opinions are NOT necessarily the views of VT, other authors, affiliates, advertisers, sponsors, partners, or technicians. Some content may be satirical in nature. All images are the full responsibility of the article author and NOT VT.
About VT
-
Comment Policy