by  Henry Kamens, … with  New Eastern Outlook, Moscow
[ Editor's note: Both Henry and Jeffrey Silverman are up to their ears in another major political scandal in Georgia, with the usual US political gangsters working once again to use the Georgian people as their geopolitical blow up doll.
And good old US stooge and ex-president Saakashvili is the gift that keeps on giving, just in time for the holiday season with a new scandal and tapes to boot. Why do I keep getting this vision of "the Saak" hanging from a street light somewhere, and I can't make out whether it's Ukraine or Georgia?
I won't spoil the story about the coup being planned below. How long will it be before we see "Coup job fairs" being run in the US to recruit young Americans into this growing industry? Lawrence of Arabia these American low lifes aren't, and the ones mentioned below don't have diplomatic immunity.
When you get done reading this, and you have my favorite line in your head, "You just can't make this stuff fill in the blank up", then you done good… Jim W. Dean ]
_________
– First published  …  November 3, 2015 –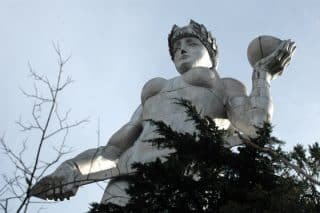 Jeffrey Silverman, Georgian Bureau Chief for Veterans Today, Tbilisi, Georgia, has given some rather direct and hard hitting interviews to the Georgian media in recent days, as the efforts to change the Georgian government have run into a snag.
"It is a very dangerous situation here," he says, "and Georgians would be really concerned if they knew the whole story."
Recent intelligence, and commentary provided by Veterans Today, makes it clear that some dark forces are at work in the shadows trying to overthrow the legally-elected Georgian government. Therefore I have interviewed Silverman in an effort get the full picture of what is going on and its implications for Georgia and the world.
Dark forces working to overthrow the Georgian government
It is a tinderbox. To begin with, various forces opposed to the government—and the fact that it is democratically elected and reflects the people's popular will, … [such forces] are trying to use the traditional mechanism of producing fake NDI, National Democratic Institute, survey results to demonstrate that the government has little support among the people.
These surveys have continually proved wildly inaccurate when put to a test, such as an election, even a blatantly rigged one, but despite their obviously worthless methodology they continue to be produced the same way.
One of the main English language papers here, the Georgian Journal, is funded by the National Endowment for Democracy, NED, a CIA front, which is part of the effort to bring back Saakashvili and his team. Its main source of revenue, interestingly enough, is Chinese massage parlours, themselves fronts for prostitution, very probably run by the same people.
However, that is only the start. There are also a number of NGOs here working to discredit the current political system. You must keep in mind that a policy decision has already been made. The US and its NATO partners are willing to use any means necessary, including blackmail and blood, to destabilise the situation for their own purposes.
This project includes a media component. It is well known in the intelligence community that the Managing Editor of the Georgian Journal, Will Cathcart, is on the payroll of Saakashvili and the US government, employed as a media spin doctor.
Georgian intelligence is now investigating all his links, including those to higher ups in the US military, some of whom hold university and other academic connections here in Georgia. Both these people and their connections are directly involved in this plan to overthrow the Georgian government, as are a number of nebulous funding sources which stand behind some of Georgia's media outlets.
Research some of Cathcart's articles and draw your own conclusions as to the agenda being pursued. You can also find out who stands behind the Charleston, South Carolina newspaper which sent him here in the first place. "Who did what and to whom" in the Georgian political game is not important at this point.
There is little time left for Georgia to decide its own fate. Georgian territory is needed for larger projects within the "Great Game", and this means that things have got to go back to how they were before, when Saakashvili was in power.
One of the persons involved in the planned coup is James Flatley, who purports to be a U.S. Navy Rear Admiral (Retired). He has been working in Georgia for a number of years. He is just one of many foreign nationals involved however, as some very powerful people are behind these efforts to destabilise Georgia, and this time it is not the Russians who are responsible.
Such people hate nothing more than the spotlight shining on them from the wrong direction, and when they are not expecting it. But finding the right flashlight to shine in their faces is not difficult. For example, Flatley is not even a real admiral, he is a State of South Carolina "make believe" admiral, he has never served in such a position in real life. He was however a captain in the Navy. Various sources indicate that he may have been, or be claiming to be, Cathcart's guru.
One source wrote to me recently,
"Go ahead and name Maybank Industries, as the person who attacked you, Will Carthcart's, "interests" can be found there… they will dirty their pants; we have found them and now Veterans Today and the Georgian Government can smoke them out."
Cathcart once threw a brick at Silverman's head for investigating a dirty US activity that he and others wants to keep secret, but of course he wasn't prosecuted, as he should have been for a felony attack.
________
Oil and Revolutions
What is now under investigation is the exact mechanism being used to transport the oil stolen from Iraq by ISIL, which is then sold via Odessa and via Saakashvili. This stolen oil is being used to establish a war chest to fund this effort to change the Georgian government.
Here you will find the information about our admiral. What many may miss at first impression, as is confirmed by an interview with a native of South Carolina, is that these guys are fabricated people … look how many honorary BS positions this so called "admiral" has had.
These people, and the CIA pigeon Will Cathcart, have criminal connections which go back a long way. Carthcart was a fellow of New Westminster college. Cathcart's father would not approve of some of these shady "school connections," if he is the man we perceive him to be; he won't want to have his son connected via the press with known criminals etc, such as those linked with Maybank International, a Charleston, South Carolina-based marine company alleged to be involved with smuggling stolen Iraqi oil.
You can see in Cathcart's journal the agenda being followed by the US government and United National Movement, which is supported by NDI, Transparency International, etc. You can read for yourself, in English, the "planted articles" that showcase the agenda for bringing back the old government.
What is supposed to be one of the biggest deposits of natural gas on earth was discovered off the coast of Georgia earlier this week. However, this may be a ploy. It would not be the first time that we have read fake news reports such as this, followed by a stock manipulation by CIA-linked companies which want to jack up the price of stock for political gain.
The reason this is important is that all roads in this region lead to Georgia, as it a centre for gas exploration, transportation, the new Cold War isolation of Russia etc. …. these spooks are here to insure that Russia is cut out of the game. One source from Charleston SC claims that some of these "creeps" are from right where I grew up, on Mt. Pleasant, they are preppie sellout stooges.
To prevent any further disclosure of their true nature a revolution is being planned, which will be financed with stolen Iraqi oil sold via Odessa by Saakashvili. Foreign intelligence services are already training and equipping a private army to take control of Georgia. Veterans Today has recently investigated weapons transfers via Georgia to terrorists in Syria, and can confirm that these are another income source for this proxy army.
But first they will try to take control through rigged elections. Georgia has a long history of such coups and ballot rigging; a wide range experienced people are available to make them happen, provided the right backing is provided.
_________
Connections can also be found with groups arriving here for the purpose of investigating how best to kill Bidzina Ivanishvili. These groups are receiving orders from some influential politicians active abroad. The Georgian Legion in Ukraine is being trained to fight Georgians.
Mamuka Mamulashvili, the head of the Georgian Legion, is telling people he needs money. He recently posted his bank account details on social media and asked people to transfer money to him. However this is a ploy to make people think he is not already well funded.
What more can you say about the mechanism involved that money to pay for various interventions and what is the link to the recent media war in Georgia?
Frontera – are they still here? How many times have they cried wolf over Georgia's O&G reserves? I dig the line from their CEO in a recent Georgia Today article.
"Our ongoing investments in Georgia have continued to reveal the emergence of what we believe to be a world class gas play..." – sounds a bit speculative – trying to make something out of nothing. The authors of some of the PR realistic on this find are not trying to paint a totally perfect picture, saying that whatever the size of the deposit that there are a lot of factors to consider when a company tries to extract a meaningful amount from there.
There are oil & gas deposits all over the world but the cost of retrieving those resources depends on whether they can process and sell it at a high enough price to make it all financially viable, and the cost of doing that depends on the geological conditions (not forgetting any environmental impacts which need to be considered).
You'd think there'd be at least some mention in the news release made by Kakha Kaladze (Georgia's Energy Minister) about Georgia's impending "energy independence" to deflect some of the flak he's receiving from the Saakashvili's United National Movement (UNM) Gang over recent discussions with Gazprom to try and get a better deal for commercial gas supplies. No-one seems to mind that Tbilisi is powered by Russian electricity.
I've noticed that Ivanishvili has stepped right back into the spotlight to help the government deflect some of the more damaging aspects of Saakashvili's campaign to destroy Georgia.
It's also noticeable that both Kaladze and PM Garibashvili seem to be echoing Ivanishvili's more calm approach to calling the UNM out over their claims – i.e. that no-one is trying to stifle the media as – however the ownership issue is decided in the court – Rustavi2 will continue to broadcast as usual.
If the UNM want to open a TV Station broadcasting whatever they like, then they can open one within 10 days, thanks to the democratic reforms put in place by the current government – something which was impossible during Saakashvili's regime.
Now sit back and watch the fight, as if Rustavi2 is fully investigated all kinds of things will surface, including who actually stands behind it, which will be one of the biggest surprises of all.
Much more is involved in this than a lawsuit by the three former owners, who have brought it in an attempt to get back what the UNM stole to use as their media mouthpiece.
Tapes released by Ukraine media in which Saakashvili calls for violent uprising in Georgia confirmed by one of the people he was talking to. Even in light of this Saakashvili has blamed RUSSIA for fabricating the tape.
Rustavi 2 TV Director confirms authenticity of audio tape of conversations. 
Georgian Justice Ministry launches procedures in order to deprive Mikheil Saakashvili of Georgian citizenship, while President of Georgia states that foreign official must not interfere with Georgia's internal politics.
Henry Kamens, columnist, expert on Central Asia and Caucasus, exclusively for the online magazine "New Eastern Outlook".

_________
Author Details
Jim W. Dean is Managing Editor of Veterans Today involved in operations, development, and writing, plus an active schedule of TV and radio interviews. He broke into television work doing Atlanta Public TV programs for variety of American heritage, historical,military, veterans and Intel topics and organizations since 2000. Jim's only film appearance was in the PBS Looking for Lincoln documentary with Prof. Henry Lewis Gates, and he has guest lectured at the Army Command and General Staff School at Fort Gordon, GA.
He is working to find time now to database his extensive video archive of Americana and interviews filmed during his public TV days so individual topic segments can be key word searched to quickly use in future multi-media projects.
Read Full Complete Bio >>>
Jim's Latest Posts
ATTENTION READERS
Due to the nature of independent content, VT cannot guarantee content validity.
We ask you to
Read Our Content Policy
so a clear comprehension of VT's independent non-censored media is understood and given its proper place in the world of news, opinion and media.
All content is owned by author exclusively. Expressed opinions are NOT necessarily the views of VT, other authors, affiliates, advertisers, sponsors, partners or technicians. Some content may be satirical in nature. All images within are full responsibility of author and NOT VT.
About VT
-
Read Full Policy Notice
-
Comment Policy