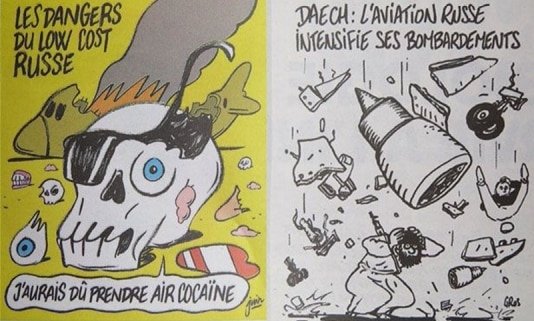 As Kevin Barrett and his coauthors pointed out in "We are not Charlie…," the January 7, 2015 staged street theatre in Paris, turning obnoxious victimizers and ghoulish trolls into "victims of oppression" just to put war criminal Netanyahu into the public eye, could only be done in France.
Veterans Today has a strong presence in France, both a strong following and is deeply involved in both political and cultural life in France.  Many of us have lived in France and have a deep and abiding respect for the French people.
We also know the flaws, the utter piggish ignorance of millions of French, the ignorance and bitterness and the love of being wrong.  If the French knew how American, Canadian or British they really are at heart, they would be ashamed.
Charlie Hebdo, the extremist tool of Israeli intelligence that pollutes the French psyche, is perhaps the "worst of France," and certainly the sign of a disease of the soul.
The killings of earlier this year including the murder of the chief investigator who was ready to expose the role of the Mossad in staging the "Charlie" false flag attack were staged to raise "victimization consciousness" among the French and to help cement the French people with Israel.
You see, after the Gaza mass murders by Israel in 2014, anti-semitism in France had been growing by leaps and bounds.  Netanyahu and his Mossadniks thought the answer to this was to do something that would make the French hate Muslims, after all, there are many more Muslims visible in France, and getting people to hate what they see is fairly easy.  There aren't so many Jews in France, World War II was not so kind to French Jews and normal French hatred for anyone "different" had pushed Jews from France to other parts of the world by the droves.
The Jewish community of Paris is the weakest of Western Europe, disorganized and always keeping its head down to avoid being targeted.
The Hebdo attacks were not an attack on the Jewish community, not directly, though the Mossad has been working to push Jews out of France and onto West Bank settlements by doing everything possible to make Jews feel hated in France.  Anyone who is unaware of this needs to find a new publication, perhaps something by "Marvel."
Today, the pigs at Hebdo found humor in the killing of over 2 dozen Russian children. This is more than the usual tastelessness, always staged by Hebdo to prove the cultural inferiority of the French people.  After all, nobody hates France like the phony lefties at "Charlie," closet Nazi's to the end.
You see, there is a trail of blood leading to the media, one that begins with intelligence agencies, certainly Saudi, but since Saudi does nothing without Israeli approval, as they admit continually now, we have to add "Charlie" and their Mossad roots to the mix.
Thus, when "Charlie" pushes Russia to "clean out the Parisian nest of pigs," which we hope Russia will resist, we see the root of the terror bombing of the A321 and consider "Charlie" as complicit in the same way Al Jazeera was when they put out phony stories to let the video teams and bombers return to Jordan and on to Saudi Arabia or that other unnamed country in the Middle East with all those nuclear weapons.
I can't help but think of the world leaders, if you want to call them that, "leaders," that now have to wear the brutishness and sickness of "Hebdo" as they earned through their funereal parade of self aggrandizement.
I also add to this the many tens of thousands who should feel shame for standing against decency in their "We are Charlie" march.  France is far from alone in its sickness, let's be honest.
Let the 250,000 "We are Charlie" pigs hit the streets today, each with the blood of a child, Russian, Palestinian or the endless victims of ISIS, dripping from their hands.
____________
ATTENTION READERS
Due to the nature of independent content, VT cannot guarantee content validity.
We ask you to
Read Our Content Policy
so a clear comprehension of VT's independent non-censored media is understood and given its proper place in the world of news, opinion and media.
All content is owned by author exclusively. Expressed opinions are NOT necessarily the views of VT, other authors, affiliates, advertisers, sponsors, partners or technicians. Some content may be satirical in nature. All images within are full responsibility of author and NOT VT.
About VT
-
Read Full Policy Notice
-
Comment Policy