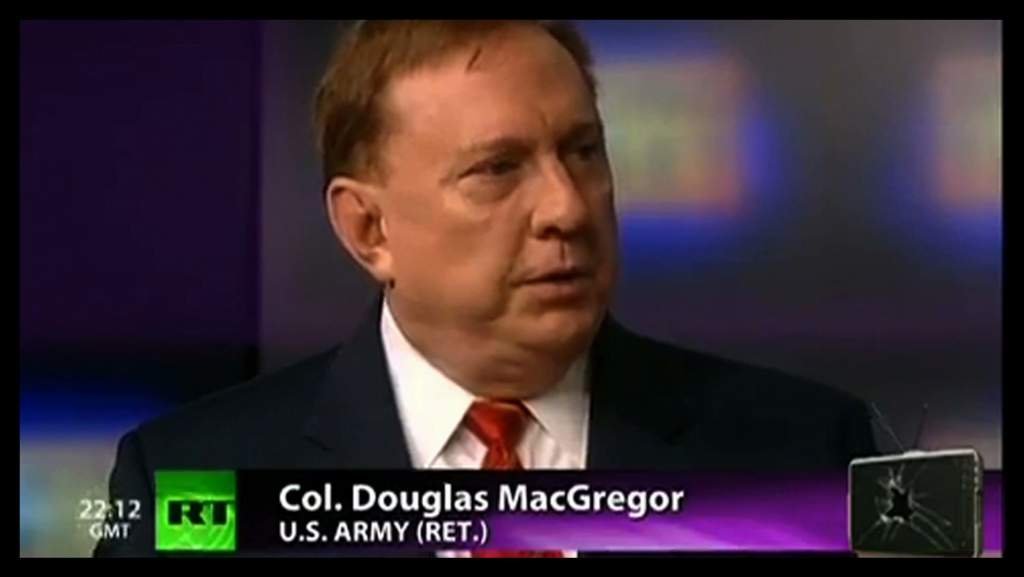 Retired US Army Colonel Douglas Macgregor has recently made a stunning remark which obviously sent shockwaves across the political spectrum: Russia is more powerful than we think. Politico has reported that Putin
"escalated an intense debate inside the Pentagon over the appropriate response to the Kremlin's new, not-so-friendly global profile—and over the future of the U.S. Army. And now the debate has spread to Capitol Hill: later this week the Senate Armed Services Committee will hold a hearing addressing the same issue."[1]
Macgregor declared that the Russian army, though smaller than the U.S. army, can "annihilate" U.S. soldiers. For Macgregor, the situation isn't good at all:
"Even if you increased the Army to 600,000 in its current form… it would still fail. That's the problem and, by the way, the Army knows it."
Macgregor continued to say that U.S. "Stryker" armored fighting vehicles in the Czech Republic in late September "won't fool anyone in Moscow."[2] Weapons in the U.S. army, Macgregor added, is "'obsolescent,' its senior leaders as 'self-interested,' and its spending as 'wasteful.'"[3]
Keep in mind that Macgregor is not some kind of crock-pot theorist out there who has no clue of what he is saying. He got a Ph.D. from West Point in international relations and has been described as "a brilliant man."[4] Macgregor, Politico tells us,
"led the 2nd Cav's 'Cougar Squadron' in the best-known battle of Operation Desert Storm in February 1991. In 23 minutes, Macgregor's force destroyed an entire Iraqi Armored Brigade (including nearly 70 Iraqi armored vehicles), while suffering a single American casualty…
"In the wake of the battle, however, Macgregor calculated that if his unit had fought a highly trained and better armed enemy, like the Russians, the outcome would have been different."[5]

If the U.S. happens to go into a head-to-head confrontation with the Russians, said Macgregor, the U.S. would be the victim. "Defeated isn't the right word," he added. "The right word is annihilated."[6]
The situation certainly cannot be good for New World Order agents because they have already said yes to death and no to life in Syria and elsewhere. They have supported terrorist groups such as the Syrian rebels, ISIS, Al-Nusra, and even more.
Now, here is the shocking news: to train one single Syrian rebel costs $2 million![7] So, let us suppose that we have 800,000 Syrian rebels/terrorists in Syria dancing around like chickens for israel. Grab your calculator and do some simple math here. Once you are done, ask yourself this question: Who is going to pay the bill?
---
It gets worse. USA Today has recently admitted that training the Syrian terrorists "produced dismal results…"[8] So, all the taxpayer money got flushed down the political toilet because New World Order agents dictate what America ought to do. That's not all: "U.S., Allies to Boost Aid to Syria Rebels."[9]
Do you see why decent Americans ought to give Putin some credit putting the fear in God in the New World Order? Do you see why we all need to reject NWO agents, who never cease to blame Putin for the disasters they have started in the first place?[10]
Do you see why politicians such as Susanne Winter of Austria are beginning to recognize that NWO agents indeed create "a global problem"?[11] Do you see why Americans ought to dethrone political pinheads like Jeb Bush who lied about these issues?[12] Do you see why Republicans, as E. Michael Jones has recently put it,
"had covered themselves with shame by becoming a fully owned subsidiary of the Israel Lobby, which had allocated $150 million to overturn the Obama administration's Iran deal"?[13]
Thank God that there are some people who are talking about the current disaster. Though those people are not completely right about everything, we should welcome the dialogue that they are providing. In fact, I particularly have enjoyed watching how Ken O'Keefe is catching Jewish Neocons like Daniel Pipes with their pants down. In a heated debate, O'Keefe said that Pipes suffers
"from the same disease that apparently pervades Western society, which imparts great value to Israeli life and which imparts virtually no value to Palestinian or Arab or Muslim life. It is a disgusting reality. It is a perverse reality of Western so-called civilization and it shames all of us."
By smuggling words such as "disease" or "perverse" into the political equation, O'Keefe implicitly brings back the moral question, which is always at the heart of the Israel/Palestine conflict. If morality says yes, NWO agents like Pipes says no.
O'Keefe may not know that this "disease" is also embedded in a religious text called the Talmud, which people like Pipes have absorbed either consciously or unconsciously over the centuries. This religious text ended up providing the political and ideological foundations for the nation of Israel, and which Netanyahu has recently adopted in his political ideology and "legal system."[14]
This ideological text compelled rabbis such as Ovadiah Yosef to say that the Goyim are donkeys. As Civilta Cattolica pointed out back in 1890, the Talmud elevates people like Pipes above and beyond the moral law and political order:
"The Jew who rapes and kills a non-Jewish woman must be absolved in court, because he has done evil to 'a mare.' Maimonides, who is considered infallible in the ghettos, states in his treatise on homicide that the Israelite who kills a goy or a non-Jewish man cannot be punished."[15]
So, when people like Pipes walks to a podium and starts talking about "Israeli massacre," you know where he got his inspiration from.
---
[1] Mark Perry, "Inside the Pentagon's Fight Over Russia: How the victors of one of America's most celebrated battles are facing off on the future of the Army," Politico, November 2, 2015.
[2] Ibid.
[3] Ibid.
[4] Ibid.
[5] Ibid.
[6] Ibid.
[7] Tom Vanden Brook, "Pentagon's failed Syria program cost $2 million per trainee," USA Today, November 5, 2015.
[8] Ibid.
[9] Adam Entous, "U.S., Allies to Boost Aid to Syria Rebels," Wall Street Journal, November 4, 2015.
[10] See for example Alexander Motyl, "Peace in Ukraine Depends on Putin's Whim," Newsweek, November 6, 2015.
[11] Maud Swinnem, "ADL condemns anti-Semitic remarks by Austrian MP," European Jewish Press, November 2, 2015.
[12] Daniel Larison, "Bush's Lies About the Nuclear Deal," American Conservative, November 2, 2015.
[13] E. Michael Jones, "The Pope and the Police State," Culture Wars, November 2015.
[14] Marissa Newman, "Netanyahu reported to say legal system based on Talmud," Times of Israel, May 8, 2014.
[15] Quoted in E. Michael Jones, Barren Metal: A History of Capitalism as the Conflict Between Labor and Usury (South Bend: Fidelity Press, 2014), 1175.
Jonas E. Alexis has degrees in mathematics and philosophy. He studied education at the graduate level. His main interests include U.S. foreign policy, the history of the Israel/Palestine conflict, and the history of ideas. He is the author of the new book Zionism vs. the West: How Talmudic Ideology is Undermining Western Culture. He teaches mathematics in South Korea.
ATTENTION READERS
Due to the nature of independent content, VT cannot guarantee content validity.
We ask you to
Read Our Content Policy
so a clear comprehension of VT's independent non-censored media is understood and given its proper place in the world of news, opinion and media.
All content is owned by author exclusively. Expressed opinions are NOT necessarily the views of VT, other authors, affiliates, advertisers, sponsors, partners or technicians. Some content may be satirical in nature. All images within are full responsibility of author and NOT VT.
About VT
-
Read Full Policy Notice
-
Comment Policy