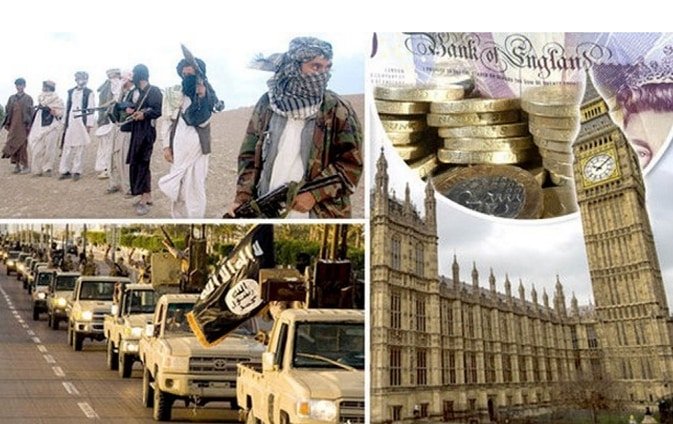 ISIS terrorists are being funding by millions of pounds of cash straight from pockets of Britons in a sickening exploitation of our goodwill.
Would-be terrorists and those sympathetic to ISIS fighters are posing as charity street collectors, bogus students and using fake identities to obtain government and bank loans of up to £15,000 a time.
Rather than the fake students using the cash to attend university or college, the money is diverted to ISIS militants peddling hatred and preaching death to the West in Syria, Iraq, Libya and Somalia.
And British families, believing they are helping those in need, are generously flipping coins into the collection buckets unaware their cash will pay for the meals, drinks and clothing of terrorist fighters.
The shocking revelations are contained within a Home Office report compiled by the UK's National Crime Agency (NCA) which is tasked with cutting off the British funding supply for terrorists.
The document highlights the devious methods used by home-grown supporters anxious to fund ISIS, Al-Qaeda and Al-Shabaab in Somalia, of which Samantha Lewthwaite, of Aylesbury, Buckinghamshire, who is also known as the White Widow, is a key member.
At a time when the NHS and police forces have been forced to slash budgets in a desperate bid to make ends meet following stringent Government cuts, unscrupulous sympathisers are using fake identities to obtain student loans – funded by the taxpayer – to gain as much cash as possible to send abroad.
The money is being smuggled out of the UK by courier straight into the hands of terrorists eager to exploit the lack of banking facilities in the regions they have destroyed.
The report said cash couriering is the "favoured" method of taking terrorist funds out of the UK and cited the conviction of London-born Amal El-Wahabi, in 2014, for coercing a friend into carrying £15,800 to Turkey in an attempt to fund her husband's jihad for ISIS in Syria.
Experts also say people are travelling from the UK, withdrawing funds from cash points in Turkey and hopping across the border into Syria to deliver the cash personally.
The report admits there are "knowledge gaps" about the exact nature of the funding stream for terrorists but the amount generated for this purpose in the UK alone is "millions of pounds".
The report said: "Terrorists ultimately want to make, move and use money to commit terrorist acts and unlike criminal gangs, disparate individuals come together through a shared motivation and ideology.
"Intelligence suggests terrorists have used fraudulent identities to open bank accounts and corrupt bank employees have facilitated fraudulent loan applications.
"In one case, a number of fraudulent loan applications were made, with one single application totaling £15,000.
"The use of the banking sector by terrorists remains a threat, in particular in the context of Syria."
"Individuals can use cash machines/ATMs to withdraw funds in neighboring countries where there is a formal banking sector and then carry funds into Syria."
"This is a significant issue given the threat posed by foreign fighters travelling to Syria to engage in fighting and returning to their country of citizenship/residence."
Financial experts are also concerned about the amount of cash moved abroad via the money service business (MSB) sector where money is "wired" abroad.
They say transferring amounts under 1,000 euros requires little proof of identity but enables people to use multiple transfer schemes to wire cash to the same account.
The report said: "Most recently, police investigations have shown that MSBs are being used to send funds to Turkey and Egypt, eventually reaching foreign fighters in Syria."
In one case, a number of fraudulent loan applications were made, with one single application totaling £15,000.
– See more at: http://en.alalam.ir/news/1759876#sthash.nAf3DksP.dpuf
ATTENTION READERS
Due to the nature of independent content, VT cannot guarantee content validity.
We ask you to
Read Our Content Policy
so a clear comprehension of VT's independent non-censored media is understood and given its proper place in the world of news, opinion and media.
All content is owned by author exclusively. Expressed opinions are NOT necessarily the views of VT, other authors, affiliates, advertisers, sponsors, partners or technicians. Some content may be satirical in nature. All images within are full responsibility of author and NOT VT.
About VT
-
Read Full Policy Notice
-
Comment Policy