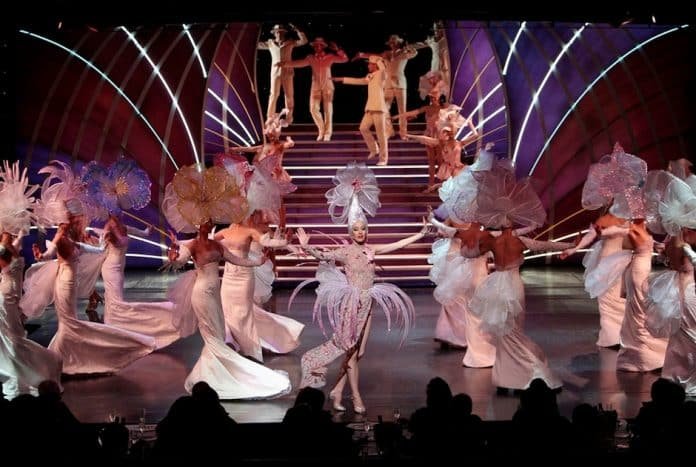 On Tuesday, November 17 the organizers of Innovation Tour Paris Le G20 de la Nuit held a press conference at the 5 star Hotel du Collectionneur near the Parc Monceau in Paris.
First they expressed their condolences to the families and friends of the victims killed and those hurt in the attacks on November  13.
For the Innovation Tour Paris Le G 20 de la Nuit  2015 , one hundred leaders of establishments are invited for 48 hours to visit 10 establishments and see several suppliers in the field of night entertainment.
The 100 professionals were chosen to attend this event of which there is not another like it in France. The event culminates with a gala dinner and the Trophies de la Nuit (trophies of the night).
I learned about the G20 de la Nuit from a magazine called Paris Nuit and was interested to learn about the night scene that could interest VT readers planning to visit Paris or who have friends living or visiting Paris.
The night scene in France consists of about 13,000 establishments of which there are  2,500 discotheques, and more than 10,000 bars and restaurants. It generates more than 2 million Euros.The purpose is to bring together the 100 professionals who can discuss their problems amongst themselves and the suppliers.
During the press conference, I learned that the "afterwork" is an innovative concept to encourage people not to go home after work but to have a drink after 7 p.m. For many this life outside of their home is indispensibe to relax from their daily life. They enjoy having a drink with friends or new aquaintainces , dining in restaurants and dancing.
The professionals have adapted to new concepts: live concerts, theme parties, discotheques and restaurants featuring dancing

The L'UMIH and Sneg& Co, unions, are looking for developments for the night scene. In France there is a lack of promotion of night tourism. Of course there are organized tours but they are looking for new ideas for their members.
The program starts on Monday, November 23 with a welcoming reception at Hotel du Collectionneur , with a "Art Deco" design from the 30s. It is part of the chain Preferred Hotels & Resorts ( with almost 650 hotels worldwide.
The program is as follows:
14h- 17 h Welcoming and the Opportunity to Network  with other professionals and the service providers.
17 h Visit to Les Bains with a cocktail party
In the 1980s les Bains Douches was a well known night club. In 2010, it was closed and reopenes as a deluxe hotel in 2015 inspired by the hotel  Château Marmont in Los Angeles. It has a luxurious penthouse which  is 80 square meters.
18 30 h Visit to La Mezcaleria a cocktail bar and a cocktail party
At the end of the hotel-restaurant bar is he Mezcaleria a special Mexican ambiance; It is entered by a special route not known . You need a guide to find the way. This underground bar offers cocktails prepared with Mezcal, traditional drink of the pesants d'Oaxaca and a muscial ambiance of South American music.
20 00 H Visit to the Comptioir Général with a cocktail party
This establishment located near Canal St. Martin in the 10th arrondissement is 650 square meters is open until 2 am. It offers various cultural events like today the "Ghetto Museum". It features muscians, DJs, magicians and photographers. They feature urban cuisine including Caribbean, African and Mediterranean specialties.
21 30 h Diner at Bermuda Onion
Located at the last floor of the Centre Beaugrenelle a shopping center, the restaurant the former Bermuda Onion of Patrick Derderian from 1983-2004 , has 1000 r meters with 2 rooms inspired by the 50s. It is near the Eiffel Tour and offers bay windows looking out on the Seine and a copy of the Statue of Liberty. The chefValentin Néraudeau is on the TV show "Top Chef"and offers a menu of creative homemade specialities which feature fresh ingredients.
Tuesday November 24
10 30 h Visit to the Brasserie Barbès with coffee and pastries
This brasserie opened in April and is one of the successes of the year.
It is situated in the 18th arrondisselent near an aerian subway. It has 850 square meters on 4 levels and is open all the days of the week from 8h to 2h for lunch, dinner and dancing. The ground floor and first floor are for dining The patio on the 2nd floor has a retractrable roof.
1200 h Visit to Le Très Honoré
This brasserie place du Marché St. Honoré offers a contemporary decor with an atmosphere of an enchanted gartin. The restaurant offers traditional French cooking. A special private room has an Alice in Wonderland atmosphere. The bar THB offers cocktails named "Bijou( Jewel) Cachemire and "Bisou Bisou".
13 15 H Lunch at Le Restaurant de l'Opéra
Opened in 2007 this restaurant has an orginal decoration like the prestigeous Palais Garnier the famous opera in Paris. The chef, Stéphane Bidi offers a menu with classic and modern dishes according to the fresh products of the season.
A very special terrace enclosed by a garden offers tranqirty. Friday and Saturday nights in the summer there is music.
1500 H Visit to Le VIP Room
It is one of the more luxurious places for night entertainment in Paris featuring a new design and new decoration; Jean-Roch designed this club with electric ceiling lights – elegant and impressive. Le VIP offer an atmosphererich in colors and warm ambiance. It is a great place where diners can have dinner after midnight and then stay to dance.
16 30 H Return to Hotel du Collectionneur to relax
19 00 h Ceremony of Trophies of the Night
Gala Dinner
22 30 New Show at the Lido
"Paris Merveilles" This spectacular show featuring the special dancers "Bluebell Girls" and their costumes is presented in a special room with a giant LED screen  and is decorated in marvelous colors .. The Lido is well known worldwide. It features:
200 kg of feathers

300 projectors

35 chefs

300,000 bottles of champagne

500,000 visitors per year
Midnight
Mojito Habana /Soirée at L'Arc
Mojito Habana is a Cuban bar-restaurant located near the Arc de Triomphe.
It is one of the best places in Paris to have a mojito. The menu is traditional French cuisine.
Each night a different musical group plays. Amateurs and professional musicians go there for a good time while enjoying a mojito.
This nightclub reopened in 2014. Originally there was a restaurant in the same location "Victoria 1836 "the year of the creation of the Arc de Triomphe. The club offers a great luxurious ambiance from the white marble stones from the floor to the ceiling to the white and black marble "Marquina" for the dance floor.
Several providers will be there to provide information about their product/services.
DOMAINE SIEGES a company that provides 100% made in France seating for nightclubs and restaurants
ELIT by Stolichanaya a prestige Russian vodka
ERA-SAIH insurance for nightclubs, bars, bowling alleys and discotheques.
For 2016 the company created "Night'assur" the insurance for night establishments. After filling out a questionnaire the establishment can receive a quote in 48 hours;
GRANINI
Two new beverages
Planteur et Cosmo in 1 liter PET bottles designed for bartenders that saves them time because of the larger size.
HALLOWEEN AGENCY
PUMPKIN AGENCY
These companies accompany the night establishments in their projects and strategies and also in the digital and social networks.
HEINEKEN
Desperados Black with accents of Aged Tequilla
a premium drink for night establishments;.
LA ESPLENDIDA
This company is composed of a group of entertainers who perform special shows.
MY MUSICOM
This company provides automatic custom designed playlists.
PEPPIDA
The company gives various products for the fidelity of clients such as VIP cards and special offers through  e marketing.
PERNOD
Ballentine"s Brazil
Caipiballsao with Ballentine's Brazil
Two new premium drinks for the night establishments.
RED BULL
Red Bull presents TSD Cooler for bars to keep Red Bull at the right temperature.
RICARD
Their new innovation is Malibu Island Spiced& Cie
a new rum based beverage
and a new bottle for Clan Campbelle and also Absolut limited edition.
SCHWEPPES
Schweppes Heritage Tonic Orginal

Schweppes Heritage Tonic Ginger Cardamon

SchweppesHeritage Tonic Pink Pepper
TAXI G7
A special price for those 15-25 years old

Night Cab 20% discount for use with the application

Less waiting in line and

VIP places in certain night clubs for those with the applications on their mobile telephones;
TRANSGOURMET
This company transports meats, vegetables, fruits and dairy products
UMIT
UMIT and le Sneg & Col are unions for the night establishments.
3DB
This company specialities for noise control .
This unique concept of Le G20 de la Nuit is very beneficial for the night scene establishments to become more knowledgeable.
Jane Rosenstein is a U.S. citizen living in Paris, France. She is a professional translator/interpreter. She is the owner of The International Connection which does international marketing consultation including sales of wine, interpretation, and translation.
She enjoys the cultural life that living in Paris offers and has talents in organizing events. She speaks English, French, and Spanish. She has a B.S. degree in mathematics from the University of Pittsburgh and an M.B.A. degree from Georgia State University in Atlanta, GA.
ATTENTION READERS
Due to the nature of independent content, VT cannot guarantee content validity.
We ask you to
Read Our Content Policy
so a clear comprehension of VT's independent non-censored media is understood and given its proper place in the world of news, opinion and media.
All content is owned by author exclusively. Expressed opinions are NOT necessarily the views of VT, other authors, affiliates, advertisers, sponsors, partners or technicians. Some content may be satirical in nature. All images within are full responsibility of author and NOT VT.
About VT
-
Read Full Policy Notice
-
Comment Policy