Last month, a Turkish lady by the name of Fide Korkmazer Erkensent sent me a message in which she insisted that Turkey never got involved in terrorist activities. When I presented some evidence and asked her to examine them, she said explicitly that she will not do so.
What she ended up saying was that she had already made up her mind, and she wanted to make sure that Jonas E. Alexis understood that her beloved president, Recep Tayyip Erdoğan, never got involved into covert operations.
I wonder what Ms. Erkensent would say to Turkey's recent terrorist crime. That woman could never understand that Turkey, as Daniel McAdams has recently pointed out, is
"a super-hotbed for ISIS and other jihadists… We have pretty good evidence that ISIS and other extremists have been resupplied infinitely, possibly with weapons from Libya, another great US success story – and they have been striking inside Syria with that."[1]
McAdams also raises the point that Turkey could not have acted alone in shooting down the Russian jet. The U.S. is an accomplice:
"One question is would Erdogan do this without US permission, without US support… Even if this Russian jet wandered into Syrian airspace…how is it that the Turkish F-16s scrambled, met their target and [took] out their target in a matter of seconds, and how is it that the Russian plane crashed in Syria itself?"[2]
Even the Guardian has pointed out a few days ago:

"In the wake of the murderous attacks in Paris, we can expect western heads of state to do what they always do in such circumstances: declare total and unremitting war on those who brought it about. They don't actually mean it. They've had the means to uproot and destroy Islamic State within their hands for over a year now.
"They've simply refused to make use of it. In fact, as the world watched leaders making statements of implacable resolve at the G20 summit in Antalaya, these same leaders are hobnobbing with Turkey's president Recep Tayyip Erdoğan, a man whose tacit political, economic, and even military support contributed to Isis's ability to perpetrate the atrocities in Paris, not to mention an endless stream of atrocities inside the Middle East.
"How could Isis be eliminated? In the region, everyone knows. All it would really take would be to unleash the largely Kurdish forces of the YPG (Democratic Union party) in Syria, and PKK (Kurdistan "Workers' party) guerillas in Iraq and Turkey. These are, currently, the main forces actually fighting Isis on the ground. They have proved extraordinarily militarily effective and oppose every aspect of Isis's reactionary ideology.
"But instead, YPG-controlled territory in Syria finds itself placed under a total embargo by Turkey, and PKK forces are under continual bombardment by the Turkish air force. Not only has Erdoğan done almost everything he can to cripple the forces actually fighting Isis; there is considerable evidence that his government has been at least tacitly aiding Isis itself.
"It might seem outrageous to suggest that a Nato member like Turkey would in any way support an organisation that murders western civilians in cold blood. That would be like a Nato member supporting al-Qaida.
"But in fact there is reason to believe that Erdoğan's government does support the Syrian branch of al-Qaida (Jabhat al-Nusra) too, along with any number of other rebel groups that share its conservative Islamist ideology. The Institute for the Study of Human Rights at Columbia University has compiled a long list of evidence of Turkish support for Isis in Syria."[3]
It has been pointed out by others that the Turkish government has funded ISIS. Russia Today quoted Russian PM Dmitry Medvedev saying,
"Turkey's actions are de facto protection of Islamic State. This is no surprise, considering the information we have about direct financial interest of some Turkish officials relating to the supply of oil products refined by plants controlled by ISIS.
"The reckless and criminal actions of the Turkish authorities… have caused a dangerous escalation of relations between Russia and NATO, which cannot be justified by any interest, including protection of state borders."[4]
---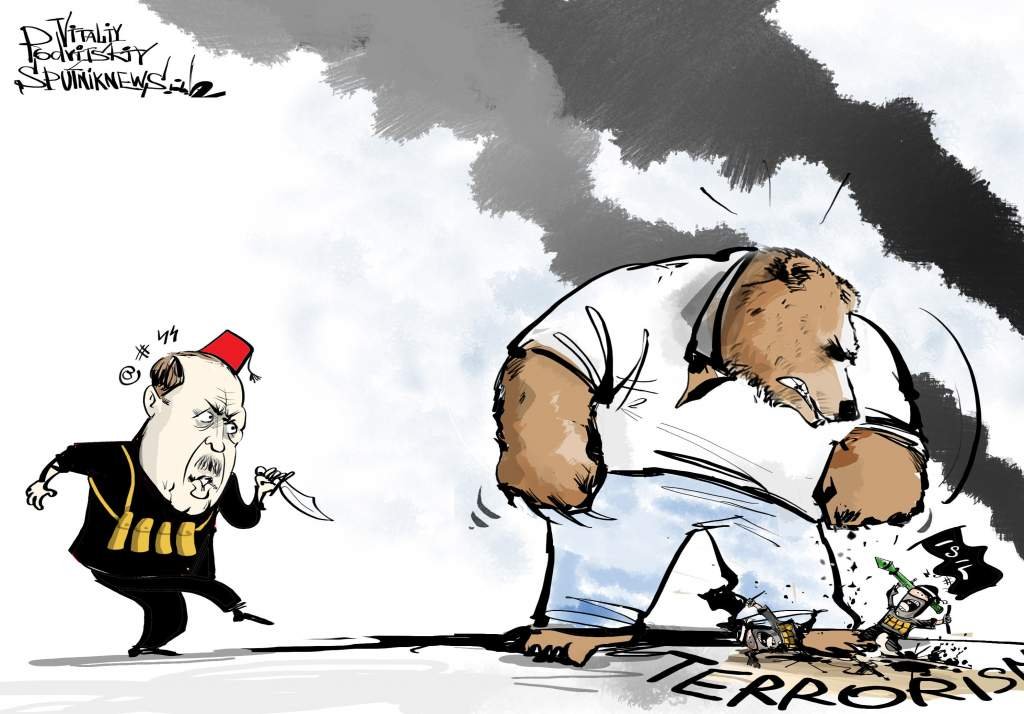 In any event, New World Order agents continue to amaze us all with their double standards. Imagine if Putin shot down a Turkish fighter plane? Wouldn't the Zionist media again be shouting, "Down with Russian terrorism"? Wouldn't they start propagating one big lie after another virtually every single day?
Didn't they propagate the stupid idea that Russia invaded Crimea, leaving viewers with the impression that Crimea has never been part of Russia? Did they tell their viewers that Ukrainians supported Russia?
So, it is no surprise that no one has ever come up and said that we need to attack Turkey. On the contrary, we have Lindsey Graham, who seems to go crazy virtually every week and who ought to be in a padded cell, saying that he would have shot down the Russian planes. The United States' response was even more appalling:
"Russian jet was 'at the border.'" Obama himself said: "Turkey, like every country, has a right to defend its territory and its airspace."[5]
Now get this—and this is from Obama again:
"I think it's very important right now for us to make sure that both the Russians and the Turks are talking to each other to find out exactly what happened."[6]
The Guardian tells us that "Both NATO and the United Nations have called for calm as Vladimir Putin rattles his sabres over the shooting down of a Russian fighter jet by Turkish aircraft. UK national newspapers agree."[7] The Daily Mail says that "David Cameron urges 'communication' after Turkish fighter downs Russian warplane."[8]
Can someone tell these people to just shut up and stop insulting people's intelligence? They cooperated with Turkey to get the terrorist act done, but now they want to make sure that this does not escalate? Why didn't they make sure that Russians and the Turks talk to each other before the act? Why don't they ask Turkey to stop blowing up Russian fighter jets? How stupid do these people really think we Americans and the rest of the world are? Aren't Moscow protesters right in saying that Turkey is a terrorist ally?[9]
NATO even supported the act. "As we have repeatedly made clear," said NATO Secretary General Jens Stoltenberg, "we stand in solidarity with Turkey and support the territorial integrity of our NATO Ally, Turkey." Former C.I.A. officer Philip Giraldi has written that the prevailing narrative simply does not make sense whatsoever:
"Turkey has produced a map indicating where the violation of airspace allegedly took place. If the map is accurate, it was over a finger of land two miles wide that juts into Syria. The map and Turkish commentary relating to it suggest that the incursion occurred when the Russian plane crossed the border, but there is perhaps inevitably a problem with that account.
"A fighter traveling at even subsonic speed would have passed over the Turkish territory in roughly twelve seconds, which rather suggests that there would not have been time for any 'repeated warnings.'
"Then there is the problem with where the plane actually came down. Admittedly the aircraft would not necessarily plummet straight down to mark the spot where it was hit, but the remains appear to have wound up comfortably inside Syria. A video of the plane's downing also seems to show it being hit and then going directly down."[10]
Let us hear from the rescued co-pilot of the downed Russian Su-24 himself:
"There were no warnings. Not via the radio, not visually. There was no contact whatsoever. That's why we were keeping our combat course as usual. You have to understand what the cruising speed of a bomber is compared to an F-16.
"If they wanted to warn us, they could have shown themselves by heading on a parallel course. But there was nothing. And the rocket hit our tail completely unexpectedly. We didn't even see it in time to take evasive maneuvers."[11]
In response to Turkey's terrorist act, Jewish writer Leonid Bershidsky of Bloomberg declares that Putin has declared war "on far too many fronts."[12] Bershidsky said nothing about America's war on "far too many fronts" over the past twenty-five years or so.
Nothing was said about Iraq, Afghanistan, Libya, Grenada, Panama, Pakistan, Mali, the Virgin Islands, Somalia, Kuwait, Bosnia, etc. As a matter of fact, the United States has invaded 70 countries since 1776. But Putin's plan to exterminate ISIS on Syria? Oh, no. That's not logical.
For Bloomberg writers like Marc Champion, it is Putin, not Recep Tayyip Erdogan, who "misjudged" the whole issue.[13]
Well, the ideology that New World Order agents continue to propound is really getting boring. What they do not seem to realize is that Putin is like an unmovable object when it comes to fighting terrorism. NWO agents simply cannot bend him. Turkey's terrorist act, Putin said, is a "stab in the back by the terrorists' accomplices," and those responsible will face "significant consequences." He continued to say:
"We will never tolerate such atrocities as happened today and we hope that the international community will find the strength to join forces and fight this evil."
Putin once again isn't kidding. He plans to send thousands of soldiers to "wipe out" the "evil Islamic State."[14] And former French diplomat Simond de Galbert, who is now a visiting fellow at the Center for Strategic and International Studies, supports him.
"Whatever you think of the Russians," said Galbert, "the fact is that they are the only ones able and willing to commit significant assets to the fight."[15]
NWO agents finally realize that Vladimir Putin continues to make them look really bad in the entire world.
"The western media seems no longer interested in continuing to label President Putin a non-handshakable leader; instead, it has made a sharp U-turn and now calls the Russian leader a "powerbroker", seemingly with the results of the G20 meeting in Antalya in mind."[16]
Thanks to Putin, Syrian forces "continue to take key regions" like Latakia.[17] So, NWO agents had to cooperate with Turkey in order to bring down the Russian jet. In an indirect way, they are doing Israel's job, which had direct ties with members of ISIS.[18]
---
[1] "Would Turkey Act Without US Permission? – Daniel McAdams," Sputnik News, November 25, 2015.
[2] Ibid.
[3] David Graeber, "Turkey could cut off Islamic State's supply lines. So why doesn't it?," Guardian, November 18, 2015.
[4] "Ankara defends ISIS, Turkish officials have financial interest in oil trade with group – PM Medvedev," Russia Today, November 25, 2015.
[5] "Turkey Has Right to Defend Its Territory, Airspace – Obama," Sputnik News, November 24, 2015.
[6] Ibid.
[7] Roy Greenslade, "UK newspapers call on Vladimir Putin to keep calm over downed jet," Guardian, November 25, 2015.
[8] "David Cameron urges 'communication' after Turkish fighter downs Russian warplane," Daily Mail, November 24, 2015.
[9] "'Turkey is a Terrorists' Ally': Protests in Moscow After Downing of Su-24," Sputnik News, November 25, 2015.
[10] Philip Giraldi, "Why Did Turkey Attack a Russian Plane?," American Conservative, November 24, 2015.
[11] "Rescued Su-24 Co-Pilot Rules Out Turkish Space Violation 'Even for Second,'" Sputnik News, November 25, 2015.
[12] Leonid Bershidsky, "Putin's War on Far Too Many Fronts," Bloomberg, November 24, 2015.
[13] Marc Champion, "Putin Has Misjudged Turkey's Erdogan," Bloomberg, November 24, 2015.
[14] Scott Campbell, "End of ISIS? Putin 'sending 150,000 soldiers to Syria to WIPE OUT evil Islamic State,'" Express, November 24, 2015.
[15] Dave Majumdar, "The Islamic State's Worst Nightmare: Russia and France Joining Forces," National Interest, November 23, 2015.
[16] "Russia's Star Rising: West Now Wants to Buddy Up With Putin," Sputnik News, November 22, 2015.
[17] "Syrian Government Forces Take Key Regions in Latakia Province," Sputnik News, November 25, 2015.
[18] Johnlee Varghese, "UN Report: Israel in Regular Contact with Syrian Rebels including ISIS," International Business Times, December 7, 2014.
Jonas E. Alexis has degrees in mathematics and philosophy. He studied education at the graduate level. His main interests include U.S. foreign policy, the history of the Israel/Palestine conflict, and the history of ideas. He is the author of the new book Zionism vs. the West: How Talmudic Ideology is Undermining Western Culture. He teaches mathematics in South Korea.
ATTENTION READERS
Due to the nature of independent content, VT cannot guarantee content validity.
We ask you to
Read Our Content Policy
so a clear comprehension of VT's independent non-censored media is understood and given its proper place in the world of news, opinion and media.
All content is owned by author exclusively. Expressed opinions are NOT necessarily the views of VT, other authors, affiliates, advertisers, sponsors, partners or technicians. Some content may be satirical in nature. All images within are full responsibility of author and NOT VT.
About VT
-
Read Full Policy Notice
-
Comment Policy