… by Henry Kamens, … with New Eastern Outlook, Moscow
[ Editor's note: Henry takes us back to long suffering Georgia, which the US has chosen to turn into a den of international intrigue where players are abundant and the costs are low. As an added bonus it is a far away little known place where things can be done that are never know about back home where no one cares.
The NGO arena has turned into an international sewer of sorts, with castaways and wanabes circling that toilet for a chance to jump in if someone throws in a few hundred bucks. In Georgia, $20 could do the trick.
But the perversity of the scale of these outside entities corrupting various elements of these economically-distressed countries leaves a dark stain on the "spreading democracy" flag, that now lies in tatters from the devastation in the wake of the last 15 years of US anti-social experimentation.
We have come a long way from the Peace Corps days of JFK, and it seems those are gone forever. The young idyllic college grads have been replaced by hard core cruds, on the make to carve out names for themselves in the NGO Gangsta arena.
Georgia never deserved what has been done to it. Sure, in the post-Soviet Union days there was a lot of corruption, with many mouths hungering for too few crumbs. But that was no reason for the West to go in and replace that situation with their own version of exploitation.
The Bush regime bums bear a lot of blame for the NGO neo-colonialism of these countries and regions, which was done in our name. We got pillaged ourselves during that same time by the same crowd. Did anybody learn anything? …Jim W. Dean ]
___________
– First published  …  November 23, 2015 –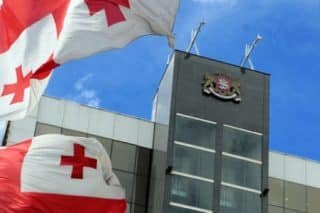 Notwithstanding the failed coup plot in Georgia, the real news here these days is a story that will probably slip under the radar: a new NGO is in the making. The one thing Georgia doesn't need is another NGO – especially one funded by the same people who fund the others.
We are told that this new organisation will be led by Andro Barnovi. Where have we heard that name before? He is associated with a group of reactionaries who are dead set, according to locals, on destroying the country and ruining the lives of many ordinary people.
The first targets are likely to be those wise and unfortunate persons who know why the provocateurs and bought-and-paid-for media arrived in their villages, close to the dividing line between Georgia proper and South Ossetia, last summer.
The wise and unfortunate villagers have a number of nice names for Barnovi, so nice they can't be published anywhere but in a pornographic magazine of D.H. Lawrence novel. They say that his new organisation, the Free Zone "NGO", is nothing more than another coagulation of slimy Saakashvili foot soldiers taking every opportunity to cause trouble.
They often get exactly the result they are looking for (which is to give Andro "The Snake" Barnovi a few more vile seconds of fame) by being either Grade 1 "useful idiots" or outright liars.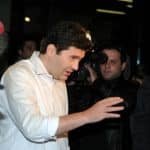 Andro Barnovi was a member of United National Movement, but he still stays as a UNM member (secretly). He is also connected with Bacho Akhalaia, a former Minister of Defense and bag man and weapons dealer for the former United National Movement.
He has both friends and foes, and is in conflict with some current member of the Georgian government, David Sergeenko, current Minister of Health, among others.
Among his birds of feather, include such well known "henchmen" and friends such as Nika Rurua and various young writers (Lasha Bughadze, Rati Amaghlobeli, and Basa Janikashvili). Georgians do not trust him as the hue of his skin is not typical for Georgians; they claim "he can't be real Georgian, as his skin color is kind of different.
Lies, big lies and NGOs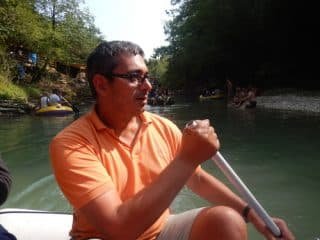 The current situation in Georgia can be summed up by the recent video of one of the typical fist fights in the Georgian parliament, which quickly went viral on YouTube. The video itself is a mock-up, as the fight in question happened quite a while ago.
However the point of interest is the appearance of film star John Travolta, who is shown standing looking around with a confused and bewildered expression.
Travolta may not have actually witnessed the fist fight, but he would not be the first Westerner to come here on the basis of what he had been told, or could find out from the most accessible sources, who found such a vast difference between propaganda and reality that he began to question the value of any news story about anything.
The first reaction of such people is to dismiss this as an aberration and concentrate on other things, which is the real reason why Georgia's food and wine, excellent though it is, is given such focus in the West. But then they realise Georgia's strategic location. Then they understand who the players in this deception are, and realise they are intimately connected to all that is going on.
That is why they start to pay attention to incidents, such as where Andro Barnovi has decided to leave Saakashvili's former ruling United National Party (UNM) about one month ago and set up an NGO.
Until now, he has been Chairman of the Board of the Saakashvili Presidential Library, which is mostly a gathering place for coup plotters and student agitators, as few people want to read the president's books or see the heavily sanitised papers released to the public.
He is also Founder and Leader of the Movement for Independence and EU Integration, a means of silencing opposition to the previous government by saying that if you questioned any aspect of the official attempts to join the EU you were against Georgia's independence and a traitor to the country.
Lots of other interesting things can be inferred about Barnovi from his Facebook page and media reports. One of these things is that his friendships depend on which side he thinks his bread is buttered.
His beloved Misha, who sponsored his torture campaigns in Western Georgia before putting him in charge of his books, is now discredited in Georgia and on the run from its police.
Now Andro needs to look after his own financial interests and find a better job which he thinks will distance him from his mentor, as if the Presidential Library and his role in all its works never existed.
Barnovi's newest NGO is as yet unnamed – Free Zone is an existing one, a sort of militia which the UNM uses as muscle at various opportunities.
So what does his new NGO do?
Free Zone's main activity is trying to stir up protests over election results which do not favour the former ruling party. It does this by quoting bought-and-paid-for surveys from people like the NDI, which are not worth the paper they're printed on.
Georgians tell "opinion pollsters" whatever they think they want them to hear, and know what happens to those who cross Saakashvili's gang.
Far from being the "democracy promotion" exercises Free Zone purports them to be, such activities are designed to undermine democracy, as they imply that as a result should only be valid as long as a certain unelected, unaccountable body is happy with it.
When that body has strong and undeniable connections with a group of people recently caught plotting to overthrow the elected government by force, people like Travolta might well ask – "how can this fantasy world be kept going or so long, when it does not bear even a slight relation to reality?"
Birds of a dirty feather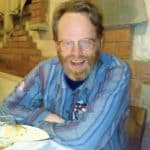 Rumwold Leigh, another international journalist who has lived and worked in Georgia, has also spent over thirty years working for charities in different parts of the world. He has the following take on the NGO sector in general:
"NGOs are like charities. Whenever one of them starts achieving things, people of a different view set up another to cut across it and promote a different group of individuals as the "voices of their community", treating their clients as a commodity in this self-promotion exercise. They receive their funding in the same way: their donors want a stable of organisations on their books to show how important they are, regardless of what the effect of supporting those organisations is on the communities they claim to be serving.
Should a charity acts wrongly or just exploit the system cynically, the donor is happier to see that happen than admit it made a mistake in funding them. It will refuse to listen to complaints and defend the indefensible, time and again, to try and defend itself, again showing no interest in the people their funded organisation is supposed to serve.
When you are dealing with NGOs, this situation becomes very sinister. [NGOs] are the dumping grounds of the embarrassing, who front a power struggle between foreign governments and their chosen domestic factions. When you see so many people who work for Georgian NGOs campaigning for the UNM, when their neighbours know they really have no time for that party, you see what pressures they are under and who these NGOs are really designed to serve."
____________
Heaven is a place of damnation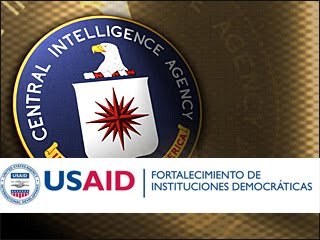 US-backed NGOs in Georgia have long been associated with criminal activities, money-laundering, arms dealing etcetera. USAID in particular has several times been exposed as a front for such work. Partly to counter this and partly to disguise it, other countries have also sent their NGOs to Georgia or sponsored new domestic ones.
Consequently Georgia has become seen as an NGO heaven. The good these NGOs are doing can be seen by any Westerner who goes to any part of Georgia and compares the conditions there to those in his homeland. But the gravy train, and opportunities for abusing the citizens, continues unabated because Georgia has plenty of victims.
The worse conditions you keep your clients in, the bigger the problem is and the more money you get to resolve it, that's how the system works. There is no incentive to actually help people, but plenty of poster boys whose troubles can be used for the NGO sponsors' own purposes.
Barnovi is using a disabled man called Omar in his advertising, claiming that he is leaving the UNM and becoming "impartial" to help people like him. The funny thing about needy people is that they support whoever resolves their problems. Omar isn't interested in using his disability to bring down the Georgian government.
He just wants a tolerable life, and making election petitions and objecting to the government signing an EU Association Agreement when you say you want the same thing are nothing to do with giving him that, whatever promises might have been made.
Too many cooks and no broth
Georgia does have an NGO Commission, which can refuse to register NGOs which are run by dubious people. But this never happens. If it did, there would have to be so many investigations into the registered ones that the whole system would collapse, and plenty of people equally guilty would ensure that it did in order to destroy the Commission and replace with a new body, subservient to their wishes.
It is common in many countries for the political class to be drawn from people working within NGOs, and for former politicians to join NGOs after they lose power. Therefore it is impossible to completely disconnect NGOs from politics.
But it is possible to put mechanisms in place to oblige them to serve the people they claim they will serve, and meet measurable criteria of improvement in those people's circumstances.
If Georgia was a truly independent country, its Commission would be able to do this. But even if that began to happen now, Georgians themselves would never accept it. They have seen too much of the work of NGOs which have left them worse off than before while at the same time committing and supporting crimes no Georgian would vote for.
Genuinely supportive charities are all tarred with the same brush in the public mind: "who is behind you and what do you really want from us?" is the only question asked of an NGO in Georgia. So consequently no welfare is delivered or accepted – leaving those who have the least interest in helping people to rise to the top, as those who really want to cannot build a constituency of their own, their good intentions never being accepted for fear of letting another bad guy abuse the population.
With the coup now apparently a dead duck, Barnovi will have to find another use for his NGO. But the parade of crooked NGOs Georgia has seen so far has left him unable to do any good even if he wanted to, while the possibilities for further destabilisation are endless, given the vested interests in preserving this criminality.
Henry Kamens, columnist, expert on Central Asia and Caucasus, exclusively for the online magazine "New Eastern Outlook"

___________
Jim W. Dean was an active editor on VT from 2010-2022.  He was involved in operations, development, and writing, plus an active schedule of TV and radio interviews.
ATTENTION READERS
We See The World From All Sides and Want YOU To Be Fully Informed
In fact, intentional disinformation is a disgraceful scourge in media today. So to assuage any possible errant incorrect information posted herein, we strongly encourage you to seek corroboration from other non-VT sources before forming an educated opinion.
About VT
-
Policies & Disclosures
-
Comment Policy
Due to the nature of uncensored content posted by VT's fully independent international writers, VT cannot guarantee absolute validity. All content is owned by the author exclusively. Expressed opinions are NOT necessarily the views of VT, other authors, affiliates, advertisers, sponsors, partners, or technicians. Some content may be satirical in nature. All images are the full responsibility of the article author and NOT VT.