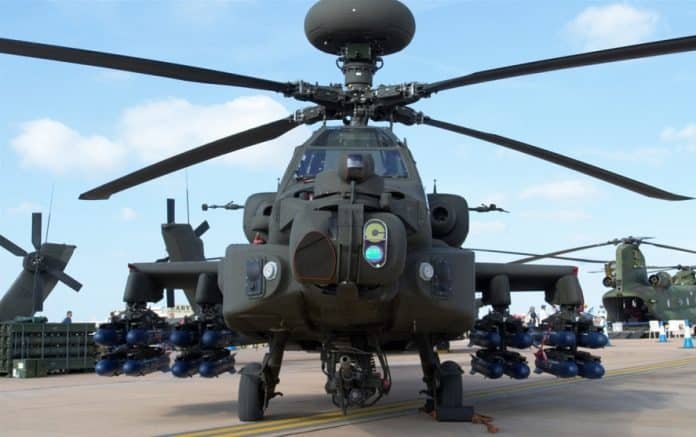 Lying in the middle of Iraq, only 75 miles west of Baghdad, the city of Ramadi has been in the hands of Daesh, also known as ISIL/the Islamic State, since May. Residents living within have been subjected to strictest interpretations of Sharia law, and are prevented from leaving by a web of bombs surrounding the city.
These explosives are also hampering the Iraqi government's efforts to retake the city. While the Iraqi Army succeeded in retaking parts of the city on Wednesday, but much remains to be done. To assist in liberating the city, the United States may soon be delivering attack helicopters to the Iraqi Army.
"The United States is prepared to assist the Iraqi Army with additional unique capabilities to help them finish the job, including attack helicopters and accompanying advisers, if circumstances dictate and if requested by Prime Minister Abadi," US Defense Secretary Ash Carter said before the Senate Armed Services Committee on Wednesday.
According to an American military advisor speaking on condition of anonymity to the New York Times, the helicopter offer has already been offered to Iraqi Prime Minister Haider al-Abadi, though, even if accepted, a delivery would not be made until the army is ready to make a concrete push to retake Ramadi.
White House spokesman Josh Earnest has also stressed that President Obama has not yet approved such a deployment.
"The president has not decided to approve the use of attack helicopters in an operation like this," Earnest said during a press briefing on Wednesday.
Still, the plan runs the risk of drawing Washington — once more — even further into Iraq, a country the US was meant to have officially withdrawn from in 2011.
The Pentagon already has an estimated 3,500 troops in Iraq. While these ostensibly serve in only an advisory capacity, a number of reports have suggested that these forces are actually conducting anti-terror raids alongside the Iraqi Army.
"The joke going around here is there are no boots on the ground because they're all wearing sneakers," one Peshmerga volunteer, speaking on condition of anonymity, told the Guardian.
The Pentagon also came under fire last month when Master Sergeant Joshua Wheeler was killed during the raid of a Daesh compound. His death forced military officials to admit that the US was, essentially, still conducting combat operations in Iraq.
"We're in combat, I mean, of course, this is a combat zone," Pentagon spokesman Steve Warren told reporters at the time.
Sending additional flight advisors along with a helicopter package would exacerbate these fears.
There may also be legitimate concerns over where those attack aircraft will end up. A report released by Amnesty International on Tuesday shows that a significant portion of the weapons used by Daesh originated from the United States.
"During the invasion and its aftermath, the US-led coalition's decision to disband the Iraqi army, estimated at around 400,000 personnel, meant that many tens of thousands of individuals returned home or went into hiding with their weapons," the report reads.
In June, the Iraqi government also admitted it had lost an enormous stockpile of US-supplied Humvees to the terrorist group.
"We lost 2,300 HMMWVs in Mosul alone," Prime Minister Haider al-Abadi told Iraqi state television. "Besides, we are still losing HMMWVs because of the continuation of the fighting."
Daesh currently has no air power. If the terrorist group manages to get its hands on a fleet of American Apaches, it could be even more difficult to defeat.
ATTENTION READERS
Due to the nature of independent content, VT cannot guarantee content validity.
We ask you to
Read Our Content Policy
so a clear comprehension of VT's independent non-censored media is understood and given its proper place in the world of news, opinion and media.
All content is owned by author exclusively. Expressed opinions are NOT necessarily the views of VT, other authors, affiliates, advertisers, sponsors, partners or technicians. Some content may be satirical in nature. All images within are full responsibility of author and NOT VT.
About VT
-
Read Full Policy Notice
-
Comment Policy