by  Gordon Duff, VT Sr. Editor,    … with SputnikNews, Moscow
[ Editor's Note:  Not only did the SU-24 shootdown not slow NATO counter moves to undermine the Russian coalition's successful anti-terrorism campaign, it is pushing a new terror supportive front in Iraq. Sure, Turkey has not flown any airstrike missions in Syria since the shoot down, but it has been busy with Plan B.
It appears that NATO is stepping in to help cover the losses from the oil convoy bombings by helping Turkey replace them with Kurdish-Iraqi sources without the courtesy of asking Baghdad, a serious affront to its sovereignty.
Anbar province will now become the "rear area" training and supply base for a long war against both Syria and Iraq, with an endless supply of jihadis, Gulf state money, and the phony democracy gang. The Turkish moves on Mosul will assure its supply lines, critical to keep the from being cut off completely before any major campaign to recapture it.
This move is also bait to bring both Russia and Iran into a multi-front war to destabilize the region more, in case ISIL is mostly driven out of Syria. I fear terror attacks will be going on there forever, either by ISIL or any number of Arab, Western Intel agencies or Israel.
This overt aggression support by NATO for Turkey, a loose cannon if there ever was one, calls for a relook at Turkey's role in flooding the EU with the refugees, and which countries were targeted victims, and which ones were on board destabilizing the EU…and why. A long shadow has already be cast over 2016 by "the spreaders of democracy"… Jim W. Dean ]
____________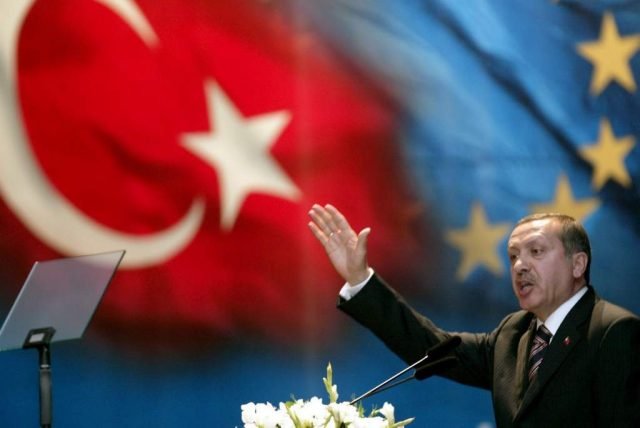 – First published  …  December 08,  2015 –
Although Turkish President Erdogan insists that he never smuggled oil from Syria, it does not sound convincing, security consultant and Veteran's Today senior editor Gordon Duff notes, adding that Erdogan's illicit oil trade with Daesh (IS/ISIL) is just the tip of the iceberg.
"While Erdogan talks only of oil, there are other issues to note as well. First of all, let's talk about arms shipments that cross Turkey and move into Syria and Iraq. By Erdogan's claim of total innocence, we must assume that ISIS (Daesh), al-Qaeda and the other openly terrorist groups that make up 95% of those fighting against Iraq and Syria are operating without any outside supplies," Gordon Duff writes in his recent article for New Eastern Outlook. Duff is a US Marine combat veteran who served during the Vietnam War and is senior editor of VT.
To some extent this was true, the expert notes, referring to the fact that back in 2012, Daesh obtained hundreds of American Humvees and Abrams tanks, not to mention a few Syrian Air Force planes.
"In fact, much of the best of this equipment, including dozens of updated Soviet-era T-72 tanks, are in wait inside Turkey, protected by Erdogan for that 'drive on Damascus' that seems more and more unlikely as time goes on," Duff remarks.
The military expert points out that much of the fighting is for control of roads in and out Turkey. These roads are used for carrying oil from Daesh-controlled regions to Turkey and for transporting arms and supplies from Turkey to Islamist militants.
Duff contends that when Erdogan claims that nothing of the kind is going on in Turkey, it sounds ridiculous: Russia's surveillance photos clearly show that thousands of oil trucks are moving from the Daesh-held territory to Turkey and crossing the Syrian-Turkish border.
"They don't go anyplace else, there is no place else," the expert stresses.
And that is not all, Duff continues. Syrian Minister of Justice Dr. Najm Hamad al-Ahmad has repeatedly called attention to the Turkish organized crime in Syria and Iraq: some Turkish groups have been engaged in the systematic looting of oil, antiquities and, in a word, "everything that wasn't nailed down," the veteran narrates.
However, Turkey's most glaring misdeed — the theft of an entire Syrian automobile assembly plant from the suburbs of Aleppo — remains largely neglected, he adds.
The expert wonders why the Turkish-Syrian border remained unsealed for almost four years. There is a lot of talk about the necessity to close the border, to stop the continuous trafficking of oil, arms and fighters in and out of Turkey, and thus cut off Daesh's lifeline. But there is a little if any action on the part of Ankara and Western leaders.
"Every aspect of this cross-border traffic involves the government and military of Turkey and its complicity in support of terrorism, five minutes with a map will tell anyone this," Duff stresses.
"Why are ISIS (Daesh) and al-Nusra [Front] so dependent on the Turkish border, why do they fight so hard to keep the roads to Turkey open? Why is this lifeline [there] if Turkey is, in no way as Erdogan asserts, involved in support of terrorism?" the veteran asks.
It is unlikely that Recep Erdogan would ever recognize his role in oil smuggling. Instead, he demands the detention of journalists, military officers and judicial officials who try "to stop Ankara's and Erdogan's full and absolute complicity in terrorism," Duff underscores.
____________
Jim W. Dean was an active editor on VT from 2010-2022.  He was involved in operations, development, and writing, plus an active schedule of TV and radio interviews.
ATTENTION READERS
Due to the nature of independent content, VT cannot guarantee content validity.
We ask you to
Read Our Content Policy
so a clear comprehension of VT's independent non-censored media is understood and given its proper place in the world of news, opinion and media.
All content is owned by author exclusively. Expressed opinions are NOT necessarily the views of VT, other authors, affiliates, advertisers, sponsors, partners or technicians. Some content may be satirical in nature. All images within are full responsibility of author and NOT VT.
About VT
-
Read Full Policy Notice
-
Comment Policy