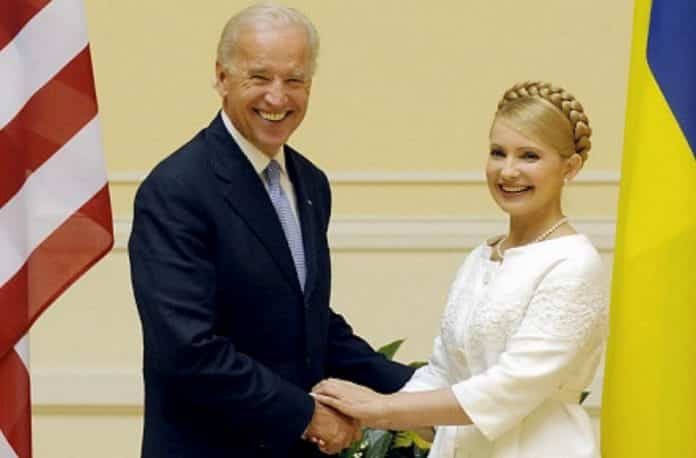 Editor's note:  The article below tends to be confusing and contradictory, thus beware.
During his visit to Kiev last weekend, Joe Biden publicly warned President Poroshenko that "the country is on the cusp" of being completely ruined by rampant corruption.
But instead of encouraging the war on corruption, Biden's intervention seems to have given a new impetus to a war between various oligarchic and political clans in Ukraine.
The first to throw the gauntlet was Mikheil Saakashvili, the former President of Georgia, who is now Governor of the Ukrainian region of Odessa. He immediately stepped up his campaign against Prime Minister Arseniy Yatsenyuk, accusing him and his government of not only covering up corruption, but of also being directly involved in it.
Mikheil Saakashvili, governor of Ukraine's Odessa region
In a number of TV interviews this week, Saakashvili claimed that Yatsenyuk has been putting pressure on deputy Prosecutor General and chief prosecutor of the Odessa Region, David Sakvarelidze, to stop investigating high-level embezzlement at the Port of Odessa.
Saakashvili claims the state budget lost US$93 million on a gas supply contract and assets worth US$170 million were unlawfully privatized.
Speaking at an anti-corruption forum in Odessa, Saakashvili said Ukraine was losing US$5 billion a year through graft. At this rate the US$3 billion of US help, promised by Biden during his visit, would only last for half a year.
Mr Sakvarelidze, who promises arrests of high officials "very soon", happens to be Mr Saakashvili's longtime associate. He was first deputy Prosecutor General of Georgia when Saakashvili was president. Their methods of fighting corruption in Georgia were likened to those of the KGB. Now the pair is trying to run the Odessa region just like they used to run Georgia.
Saakashvili has dismissed public protests against his actions as "paid for" by his political opponents.
The former Georgian president appears to have the support of President Poroshenko, but not of Prime Minister Yatsenyuk. His allies have already accused Mr Saakashvili of being corrupt himself. They claim Saakashvili and his officials have used the money earmarked for the support of soldiers fighting in East Ukraine to pay for banquets and other hospitality. Mr Saakashvili said he would complain to Ukraine's National Anti-Corruption Bureau about the allegations.
Meanwhile, the Prosecutor General's Office wants Saakashvili to present written evidence of his own allegations against the government. On the other hand, the government, and Mr Yatsenyuk personally, are under pressure to reply to Saakashvili's accusations in parliament, the Rada, this Friday. Some observers say this may seal Yatsenyuk's fate, as the Rada Speaker Vladimir Groisman, as well as Mikheil Saakashvili, are rumored to be vying for his position. Yatsenyuk's only hope appears to be the support of the United States. After all, his appointment to the post of Prime Minister was agreed by the Assistant Secretary of State Victoria Nuland with the US Ambassador in Ukraine Geoffrey Pyatt in the infamous telephone call made shortly before the coup of February 2014.
During Biden's visit last weekend Yatsenyuk tried to impress him with his program of reforms. Yet, in Biden's view "a lot of hard work remains" to be done and "what happens in the next year is likely to determine the fate of this country for generations."
Strong words from the US vice president, but the Ukrainian media was quick to quote from an article in The New York Times, saying:
"The credibility of the vice president's anticorruption message may have been undermined by the association of his son, Hunter Biden, with one of Ukraine's largest natural gas companies, Burisma Holdings, and with its owner, Mykola Zlochevsky, who was Ukraine's ecology minister under former President Viktor F Yanukovych before he was forced into exile."
The paper reported that Britain's Serious Fraud Office, specifically forbade Mr Zlochevsky, as well as Burisma Holdings, the company's chief legal officer and another company owned by Mr Zlochevsky, to have any access to their British accounts, which in US Ambassador Pyatt's words held "US$23 million in illicit assets that belonged to the Ukrainian people."
But after Ukrainian prosecutors refused to provide documents needed in the investigation, a British court ordered the Serious Fraud Office to unfreeze the assets, which were immediately transferred to Cyprus. The company's legal costs were recouped.
Ambassador Pyatt called for an investigation into "the misconduct" of the Ukrainian prosecutors who wrote the letters. However, he did not mention Hunter Biden's connection to Burisma.
It would be interesting to see what names Mr Saakashvili would disclose, if he abides by the demand made by the Prosecutor General's Office to present written factual evidence about top-level corruption in Ukraine.
ATTENTION READERS
Due to the nature of independent content, VT cannot guarantee content validity.
We ask you to
Read Our Content Policy
so a clear comprehension of VT's independent non-censored media is understood and given its proper place in the world of news, opinion and media.
All content is owned by author exclusively. Expressed opinions are NOT necessarily the views of VT, other authors, affiliates, advertisers, sponsors, partners or technicians. Some content may be satirical in nature. All images within are full responsibility of author and NOT VT.
About VT
-
Read Full Policy Notice
-
Comment Policy