TWO HEADS OF THE SAME COIN, "ELVIS BIN LADEN" AND "WIKI-ISRAEL"
By Gordon Duff STAFF WRITER/Senior Editor
"THERE AREN'T ONE OF THOSE, THERE ARE MANY OF THOSE"…Donald Rumsfeld, former Secretary of Defense

"10 YEARS AND STILL LOOKING…STILL LOOKING…STILL LOOKING…WHAT WE NEED IS RUMSFELD STRAPPED DOWN,  A FLASHLIGHT, A BLOWTORCH AND A PROCTOLOGIST. "…Gordon Duff, Veterans Today
In 1977 Elvis Presley, "King of Rock and Roll", died.  Since his death, sightings of Elvis around the world have numbered in the tens of thousands.  In 2001 Osama bin Laden, CIA asset and critic of Israel's policies in Palestine, died.  Since his death several video tapes and a string of audio recordings have been attributed to him.
In a sense, bin Laden has become "Elvis bin Laden," the "King of Terrorism".  However, unlike the real Elvis, whose musical legacy will live forever, the legacy of "Elvis bin Laden", the "Al Qaeda" organization and the illusory underground Tora Bora "terror-plex" is only kept alive by the charlatans of the military-industrial complex and their media partners.
NOT ANOTHER PHONY BIN LADEN TAPE…
A new "bin Laden tape," audio only, reputed to sound "something like bin Laden," was released today.   Media insiders have, for years now, referred to bin Laden as "Elvis bin Laden," a name believed coined by UPI's Arnaud de Borchgrave in July 2010.  (Corrected references credit Gordon Duff and Raja Mujtaba in October 2009)
"TERROR-PLEX"  BIN LADEN'S "UFO FORTRESS"
[youtube SSkk0Qa6CG0]
(link to Veterans Today's Tim Russert obituary)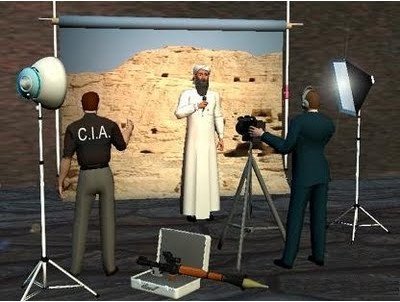 You see, across the Islamic world, Osama bin Laden's obituary was front page news back in 2001.  His "obit" was in the papers then because that was when he died.
In the years since his death, bin Laden, or more correctly "Elvis bin Laden," has been a busy boy.  The first crude attempts at videos, routinely "found" on the internet by an Israeli group, were laughable.  Actors playing bin Laden were chosen like department store Santas.  Eventually the videos ceased and Elvis bin Laden went "audio cassette only", but audio experts quickly debunked these as phony also.

The most recent Elvis bin Laden debacle, one those of us in the media have been dreading as we are tired of writing about this trash, has the long dead bin Laden discussing the fate of two French journalists held in Afghanistan.  A few minor inconsistencies are ignored, as is one very major inconsistency, which we will deal with in a moment:
The Taliban managed to supply video of the kidnapped journalists, but only audio of Elvis Bin Laden.  Perhaps the physical deterioration of years of decomposition has made him camera shy;
The Taliban, warlike, proud Pashtun tribesmen of Afghanistan and Pakistan never accepted bin Laden or any Arab as a leader.  In fact, Arabs are barely tolerated as guests, when they "behave", and then only because the teachings of the Koran demand it.  They are not held in esteem and are seen by the Taliban as a nuisance.
As "leaders" or "fighters", Afghan tribesmen look on outsiders as amateurs, something a thousand years of history seems to support quite easily.  In Afghanistan and Pakistan current estimates of Arab strength, a group the US labels as "Al Qaida," is less than 20.  No Arab, especially not one who has been dead for a decade, would ever be allowed to speak for the Taliban.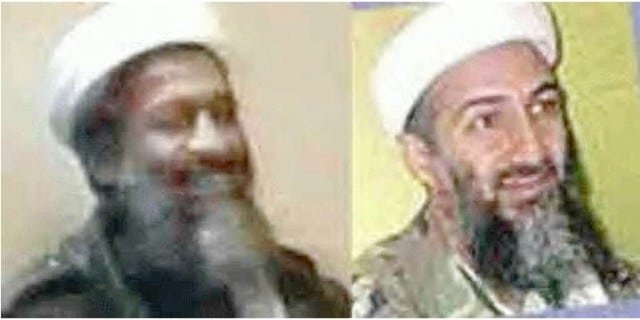 THE ASSANGE FACTOR
Elvis bin Laden and Julian Assange of Wikileaks have one very major thing in common, both are very "sensitive" to the needs and feelings of Israel.  Osama bin Laden, when actually alive, continually berated the United States as being controlled by Israel.  The real bin Laden couldn't order tea without using the word "Zionist".  The phony bin Laden tapes have a "Wikileaks" aspect to them.
They come from Israeli sources
They blame America and Arabs for everything
They call for attacks on America, implying that Israel's actions against Palestinians are entirely America's responsibility.
TWO HEADS OF THE SAME COIN
Elvis bin Laden, like Julian Assange, seems to have a powerful "pro-Israel" filter.  In continual calls for "holy war", there is always a suspicious absence of calls to actually attack Israel.  Targets are always "America and the West", even during "Operation Cast Lead", the Israeli attack on Gaza, which killed thousands of civilians.  Elvis bin Laden, instead of calling for a holy war or "Jihad" against Israel, for some strange reason said the following:
Calling Arab leaders "hypocrites"….. "liberating Jerusalem needed honest Arab leadership….It has become clear that some Arab leaders were complicit with the Crusade Zionist alliance against our people".
Elvis bin Laden then called the Gaza attacks an "historic event and a tragedy".   In place of a the murderous Jihad of Osama bin Laden, Elvis bin Laden called for "devoted committee from the Islamic world to establish an advisory body".
Does blaming Arab leaders have a familiar "Wiki-ring?  Despite Elvis bin Laden's mention of "Crusader Zionists", those he holds responsible for Israel's targeted attack on Gaza schools and hospitals using cluster bombs, depleted uranium and white phosphorous,  all war crimes and crimes against humanity, not a word about Israel.  No, Elvis bin Laden, like Julian Assange, blames Arabs but mostly blames America.
"Crusader-Zionists" are Americans, Evangelical "Christians", the "Israel-firsters" that Israel lobbies for money, but "throws under a bus" when "blamin' time" comes.  Elvis bin Laden doesn't blame Israel nor considers Operation Cast Lead a war crime.  He calls it an "historic event and a tragedy".  Murder can be an historic event.  Murder can be a tragedy.  Murder, however, is still murder.  Someone needs to remind "Elvis bin Laden" of that.
Our Elvis bin Laden, like Wikileaks Julian Assange, certainly sounds Israeli, but not just Israeli.  Elvis bin Laden never demands attacks on Israel. In fact, he never even suggests that Israel bears any responsibility whatsoever.  To the new guitar playing bin Laden, Zionism is an American problem.
Assange, however, is far more insidious than bin Laden was ever accused of being. He doesn't just censor things for Israel, but actively plants "leaks" fabricated by Israel as disinformation. This has been both admitted and widely acknowledged.
Assange lives to punish the enemies of Israel's ultra-nationalist faction.  In America, collecting money for an orphanage, which takes in children whose parents were killed by drone attacks, is considered "material support of terrorism" and makes one subject to immediate rendition.  Under this policy, long deemed "legal" by the United States and Britain, Julian Assange would have been named an "enemy combatant" and taken to Bulgaria, Poland or perhaps Southern Sudan for torture or even a shallow grave.
With him would go every person helping him, his "co-conspirators", not merely a dozen employees at the New York Times, the Guardian and other papers, but his "special internet friends" as well.  Anyone who can't see that amongst his "best friends" and co-conspirators the best of all is Benjamin Netanyahu of Israel, simply isn't paying attention.
Much the same, Elvis bin Laden seems to be equally allied with Netanyahu.  If "bin Laden" – albeit a "ghost", an actors voice on an audio tape or a clownish stooge in Arab "fancy dress" as though going to a masquerade – is considered a terrorist,  isn't  Israel, indeed Netanyahu himself, to be considered equally complicit?
Consider this.  If bin Laden was responsible for 9/11 why is it that the only terrorists arrested on 9/11 worked for Israel?  Five Israelis, dubbed the "dancing Israeli's for their celebration of joy,  later admitted on live television that they were sent to "document the attack."  Of course, the more likely scenario is that this Mossad camera crew was there to guide the planes to their targets,  given that they were strategically set up well in advance of the attack, cameras perfectly aligned for either filming the most dramatic footage since Zapruder…
Or were they "painting" the World Trade Center towers with target lasers?  Was it something else?  10 weeks of interrogation and they were shuttled back to Israel while Americans hunted for that other bin Laden, by that time dying, his last CIA paycheck uncashed.
Assange, Elvis bin Laden, custom leaks on demand, bizarre threats from a dead man, all have the same things in common.  They are two heads on the same coin.  Both are Israel.
Assange, now fighting exposure by feinting at attacking Israel, is trying to appear less the Mossad operative by "releasing" stories through selected newspapers and claiming they are secret documents.
Bin Laden, however, remains a mixed bag. His messages are supposedly intended to recruit and inspire real terrorists yet continually advocate only the death of American troops.  The even more ridiculous coincidence, if you consider such things either ridiculous or coincidence, and they are neither, is that the same sources who have been caught passing off Elvis bin Laden as real have also released video of  Americans being killed by snipers or IED attacks.
Whoever is managing the Elvis bin Laden franchise also seems to be murdering Americans and filming that also.  This much is not conjecture.  Murdering Americans seems to be the Assange agenda too. An agenda not of peace nor of "openness", not even of "freedom of speech" emanates from the "Wikileaks Censorship Bureau."
Two heads of the same coin.
Related articles:
Gordon Duff is a Marine combat veteran of the Vietnam War. He is a disabled veteran and has worked on veterans and POW issues for decades. Gordon is an accredited diplomat and is generally accepted as one of the top global intelligence specialists. He manages the world's largest private intelligence organization and regularly consults with governments challenged by security issues.
Duff has traveled extensively, is published around the world and is a regular guest on TV and radio in more than "several" countries. He is also a trained chef, wine enthusiast, avid motorcyclist and gunsmith specializing in historical weapons and restoration. Business experience and interests are in energy and defense technology.
ATTENTION READERS
Due to the nature of independent content, VT cannot guarantee content validity.
We ask you to
Read Our Content Policy
so a clear comprehension of VT's independent non-censored media is understood and given its proper place in the world of news, opinion and media.
All content is owned by author exclusively. Expressed opinions are NOT necessarily the views of VT, other authors, affiliates, advertisers, sponsors, partners or technicians. Some content may be satirical in nature. All images within are full responsibility of author and NOT VT.
About VT
-
Read Full Policy Notice
-
Comment Policy