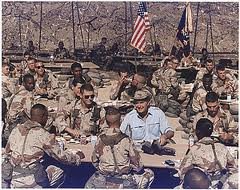 by Denise Nichols
It is 20 years since the Gulf War 1990-91, Operation Desert Storm(US), and our British Coalition Forces that are suffering with Gulf War Illness/es stood tall in London and welcomed the other coalition members that served and are also part of the unfolding health crisis of Post Gulf War Service.  This crisis involved the largest ever number of veterans that have been affected by their service in the most Hazardous Toxic Soup of Environmental Exposures in any war.
This has been a known factor for twenty years now and yet the media has lost the focus that hundreds of thousands of veterans have been affected in the US and in other coalition countries.  Thousands have died at an early age since the war in 1990-91.  Little has been done to pay attention to the Diagnosed illnesses these veterans are experiencing much less the undiagnosed condition now termed Gulf War Illness/es.   Less has been done for the members of these services that were undeployed but that got vaccines or secondary exposures from dealing with returning equipment that was not sterilized of potential hazards.  They have battled for twenty years. Many were in units that had more that deployed than those termed undeployed but yet the undeployed that became ill have been left to fend for themselves.  These are the ones that have been also left on the battlefield.
Any one in health care or research knows that the total picture will be needed if real answers are to be finally achieved.  There is no one bullet but multiple exposures with similar effects or synergistic effects.  From each subgroup or cohorts more health information may be obtained from research so it is important to remember the facts and to include subgroups in each medical research project.
It is a tragedy that the whole picture of illnesses that have occurred during the total 20 year history has yet to have appropriate compensation, diagnosis, and health care.  This involves those that were able to get a diagnosis, those that have undiagnosed illnesses, and the ones that were undeployed but got just as ill.  It is sad that the totality of the health picture has been ignored.  AS an educated(MSN) health care provider that served in theater and has experienced health deterioration, my voice has been there from the start.  It is a moral and ethical sworn duty for all those health care providers to speak up.
It is likewise a moral and ethical duty of any health care provider that be it civilian, Veterans Affairs, or Department of Defense, or any other category to become involved.  This is a tragedy that has gone to long to let politics, monetary issues, or any other concern to delay getting to the truth and getting the right strategy to guide us to real answers and help for these veterans.  It is a tragedy and a black mark that we have ill gulf war veterans deployed or nondeployed still sufferring and seeking answers and real medical diagnosis and care after 20 long years!  It is a slap in the face to the soldier that served to continue to have health care providers that want to just say this is stress, psychological, somatization and it is a slap in the face to the VA Research Advisory Committee on Gulf War Illness that their reports from 2004 and 2008 have not been read by all health care providers that supposedly are trying to provide diagnosis and care to any of these veterans!
It is a unfortunate fact that Kelly Brix and Michael Kilpatrick are still involved in blocking the US health care providers and the veterans from getting to the real answers.  These two government officials need to be permanently banned from any involvement concerning ill gulf war veterans immediately.  There are others but to show true good faith these two individuals need to be removed past tense.  The delays and roadblocks must be removed immediately to get the Gulf War Veterans the help they earned in their service to this country.
The meeting of the VA RAC GWI in DC on February 28- March 1 was marked I think by one clear statement made in a heated discussion when this was stated: " This committee is JUST AN ADVISORY COMMITTEE TO THE SEC OF THE VA!"  IT took the veterans, the outspoken veterans, the advocates within the veterans of the Gulf War, the ones that are ill to go to the US Congress and the Senate to get the bills and the legislation passed.  The sick, the injured, the dying were the ones that fought to get the VA RAC GWI into reality.  I guess it is up to us to show them that it is not just an advisory committee to the VA SEC.

It has taken all of us to speak up on the hill and to the National Academy of Science/Institute of Medicine to get the IOM to break and also side with the ill veterans.  The IOM was also dictated to by contracts written by the VA to contain the discussion and contain potential action that could have helped the ill and sufferring gulf war veterans sooner.  In the last couple of years we finally saw the shift occur at the NAS/IOM.  We saw the small but significant action of a few US Representatives and Senators that helped get the effort started thru the DOD Congressionally Directed Medical Research Program in 2005 to truly address the medical research that was needed.  This has been the bright light for us Gulf War Veteran Advocates.  It has been too little but it is not too late!
It is time to stop the PSY- OPS.  It is time for truth, accountability, responsibility, and a overall strategy and leadership.  I call now for JOINT HEARINGS SENATE AND HOUSE VA Committees ON GULF WAR ILLNESS to include all stake holders including all Gulf War Advocates and GULF WAR Groups to be involved and called to testify.  To have the spotlight on where we are at, the National and International Strategy developed to get the medical answers now, to get the real physical Diagnosis ability for each of these veterans, to get the real health care, to get the compensation problem resolved in a fast track because only that way can we cut down on the homeless issue of Gulf War Veterans.
This will take more than one hearing to get all Senators and US Representatives informed, educated, and acting in a uniformed way instead of divided with no overarching plan to start and gaps that create more problems than resolution after 20 years.  WE need the veterans, the researchers, the doctors, and all players to own up to their responsibility now!

Formosa marches with Gulf War veterans
by MS2 Media
4th March 2011 14:54
Taunton Deane Conservative spokesman Mark Formosa on Monday (February 28) joined veterans from the first Gulf War to march on Westminster to mark the 20th anniversary of the end of Operation Desert Storm.
Mark has been championing the cause of veterans who have suffered medical conditions linked to the conflict and termed 'Gulf War Syndrome'.
He took up the campaign last year after meeting in Taunton with many local 'Gulf War Syndrome' sufferers, including former RAF VC10 Flight Engineer Adrian Willson, who lives in West Monkton.
Mr Wilson, who was with Mark Formosa on Monday's march, gave evidence to the independent Lloyd Inquiry into illnesses suffered by Services men and women after the first Gulf War in 1990-91, the recommendations of which Mark Formosa is pressing the Government to adopt.
To date, the Ministry of Defence (MoD) has refused to admit the illnesses were due to service in the Gulf.
Mark Formosa said: "I want the the NHS and MoD to recognise 'Gulf War Syndrome' is a real condition caused when these Services personnel were exposed to things like multiple injections of vaccines such as anthrax and plague, organophosphate pesticides sprayed on tents, contact with nerve gases like sarin, and inhalation of depleted Uranium dust.
"These brave people, over a thousand of whom have since died, should be afforded proper treatment and compensation by the Government.
"We cannot expect members of our Armed Forces to be prepared to sacrifice their lives for us in battle without accepting our responsibility to properly care for those who survive.
"I am continuing personally to press Liam Fox, the Secretary of State for Defence, and Andrew Lansley, the Secretary of State for Health, on the issue of the rights of 'Gulf War Syndrome' sufferers."
Our photograph shows Mark Formosa (standing rear, right) and Adrian Willson (sitting front, right) with some of the Gulf War veterans who took part in Monday's march in London.

ATTENTION READERS
Due to the nature of independent content, VT cannot guarantee content validity.
We ask you to
Read Our Content Policy
so a clear comprehension of VT's independent non-censored media is understood and given its proper place in the world of news, opinion and media.
All content is owned by author exclusively. Expressed opinions are NOT necessarily the views of VT, other authors, affiliates, advertisers, sponsors, partners or technicians. Some content may be satirical in nature. All images within are full responsibility of author and NOT VT.
About VT
-
Read Full Policy Notice
-
Comment Policy