Beneath the Spin * Eric L. Wattree
A Radical Conservative Perspective: America Would be Better Off Without Black People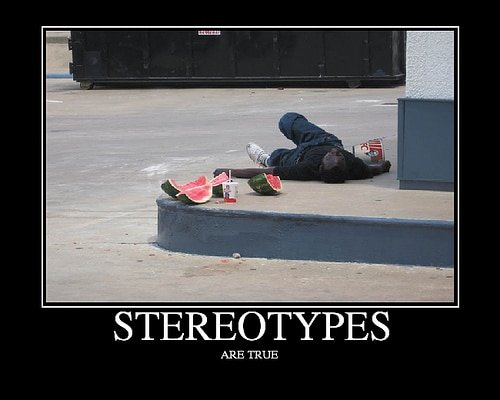 I rarely get into the debate over the lingering racism in America, because I feel that the vast majority of the American people have made an honest and concerted effort to put racism behind us. So as long as it's not blatant or damaging to individual or collective African-Americans, I look upon it as merely a distraction used as to keep the American people divided and unaware of the most insidious threat to America – the gross assault on the poor and middle class.
But all too often when African-Americans complain of racism that is indeed blatant and damaging to their financial or emotional well being, they're met with rolling eyes and the implication that it's a figment of their imagination. Confirmed racist are aware of this situation, and often use that knowledge to ply their passion for constant, but subtle racism. As a result many African-Americans are forced to go through life constantly being subtly harrassed by people like the individual below. It's like going through life with a tenacious fly buzzing around your face. It won't kill you, but it's quite irritating, and it has a direct causal relationship to what's been dubbed the "angry Black-man syndrome."
Thus subtle racism is a very effective device for keeping America divided, because virually every Black person is aware that the mindset illustrated below lingers just beneath the surface of polite society. And unfortunately, more often than not, it's the innocent White person, making a completely innocent remark, who's forced to bear the brunt of the resulting frustration – and the GOP has become masters at this game.
The most recent example of the GOP engaging in subtle racism is when Mike Huckabee claimed that President Obama viewed the world from the perspective of the Mau Mau. Then when it became clear that he'd crossed the line, he claimed that he misspoke and didn't understand what all the uproar was about. The true attitude that the GOP harbors toward African-Americans is reflected in this exchange that I recently had over the internet:
Pepe says:
March 24, 2011 at 1:39 pm (Edit)
I agree blacks have destroyed this country and they are the reason we never evolved into a great nation. We have to feed and clothe 30 million lazy ass blacks that dont want to work and dont know who their daddy is. We could save this country by sending their asses back to Africa and sending the Mexicans back to Mexico closing our borders and live in peace and harmony imagine a white america for whites only.
Reply
Eric L. Wattree says:
March 24, 2011 at 2:23 pm (Edit)
Hey Pepe,
Spoken like a true fascist. It sounds to me like you're the one who doesn't belong here. You're views are un-American. Aren't you smart enough to see that? If America was filled with people with your mentality, it would no longer be America.
Even if you got your wish that America was all White, with the kind of people that you represent, the right-handed people would start discriminating against everybody who was left-handed. You see, you're suffering from an inferiority complex, and you probably lack talent, and you're comment clearly demonstrates that you lack intellect. So due to your insecurity over your shortcomings as an individual, you have an innate need to feel like you're a part of something special that's bigger than yourself – being White. Psychology 101.
If you had any kind of brain at all, you'd realize that you're advocating the very same philosophy that countless Americans died to abolish. So again, by definition, you're un-American. Thus, every headstone in Arlington Cemetary attests to the fact that your very presence desecrates this veteran's site.
Reply
Pepe says:
March 24, 2011 at 2:48 pm (Edit)
pls save all that bs for someone else look at japan. They have a great society bcs they didnt let hordes of third world savages in. little crime and high employment above average living standards. It's called quality of life buddy. If we don't send them back to Africa give them half a state and see how they do. Have you been to Atlanta. What a shithole. Anyway grow up so our kids can have a better future safe from mindless idiots that smoke blunts and drink 40 oz beer all day. Spreading diseases and having abortions like crazy. this is insane.
Reply
Eric L. Wattree says:
March 24, 2011 at 3:39 pm (Edit)
You know, Pepe,
A mind is a terrible thing to waste. Have you ever heard of a logical syllogism? You probably haven't. That's why you're such an inefficient thinker. Your entire philosophy of life is based on an ILLOGICAL syllogism. Black people are like any other group. There are good and bad, brilliant and ignorant within our ranks, and your very existence suggests that the same is true among Whites. Yet, your thinking suggests the following:
All dogs have fleas. My cat has fleas. Therefore, my cat is a dog. That's clearly inefficient thinking. But you continue to embrace that philosophy in spite of clear evidence to the contrary for the reasons cited in my previous post.
You have this gnawing need to feel superior in order to dress your wounds of insecurity. And the very existence of a Black man like myself is a direct assault on your delusions of grandeur. So you're desperately trying to hold on to your self-esteem by insisting that you're superior by virtue of your race, in spite of the fact that it's abundantly clear that you're nowhere close to my intellectual equal. I can handle people like you on one brain cell. It's like dealing with a child – and you know it. Thus, all of your hostility.
Your delusional portrayal of ALL Black people are inconsistent with the facts. I'm a former Marine, and my son had a distinguished career in the Air Force, and he's now a federal agent. The Air Force and several federal agencies were literally fighting over him. So tell me, Pepe, when was the last time America fought over you?:
23 April 2002
MEMORANDUM FOR OFFICER TRAINING SCHOOL SELECTION COMMITTEE
FROM: 92 SFS/SFO
2 E. ARNOLD STREET
FAIRCHILD AFB, WA 99011
SUBJECT: Recommendation for Staff Sergeant Eric L. Wattree
1. I wholeheartedly concur with Staff Sergeant Wattree's request to attend Officer Training School. He represents the enlisted ranks with the highest standard and will bring that dedication and professionalism to the officer corps.
2. Eric continues to lead a stellar military career; his enlisted performance reports speak for themselves. His leadership and experience, especially in contingency environments, remains a vital asset to our unit and wing. As one of my primary Phoenix Raven team leaders, he's propelled to the forefront of all major deployments throughout the world. He's repeatedly secured aircraft and crews, supporting a wide variety of missions, in the most austere and terrorist-ridden environments where security is severely inadequate. The diversity of these missions never limited SSgt Wattree's capacity to adapt to each situation. For this reason, Eric was selected as our 2000 Outstanding Phoenix Raven Member of the Year and the 2001 Air Force Reserve Component Airman of the Year for the 92d Security Forces Squadron.
3. Whether operating under peacetime or contingency operations, Eric easily assumes control and tackles every situation with meticulous tenacity, a quality highly desired in our Air Force officers. Requested by name, Sergeant Wattree, provided security for presidential Banner missions throughout Greece, Peru and Viet Nam. While deployed to Afghanistan, he flew numerous combat missions in our nation's pursuit to eradicate terrorism through Operation ENDURING FREEDOM. Additionally, he provided round-the-clock force protection for aircraft in other high-threat environments including Uzbekistan, Pakistan and Oman.
4. Sergeant Wattree motivated his personnel during the worst conditions and raised the level of esprit de corps to integrate personnel from other Air Force specialties into a cohesive team. His leadership, integrity and devotion to our Air Force play an integral part in our future leadership. Eric has what it takes to become a commissioned officer and earns my full support to attend Officer Training School.
FRANK HELLSTERN, JR.,
Captain, USAF
Operations Officer
After serving six years in the Air Force the agency that he's currently working for obtained a same-day discharge for him with just a phone call so he could begin Special Agent training in Quantico, Virginia.
I raised that young man. So I put forth the proposition that if America had more people like me and fewer like you, and whoever raised you, that this would be a much better country – and I have the evidence to back that up. What do you have?
Eric L. Wattree says:
March 24, 2011 at 5:27 pm (Edit)
Just as I thought. The silence is deafening.
Eric L. Wattree
http://wattree.blogspot.com/
[email protected]
Citizens Against Reckless Middle-Class Abuse (CARMA)
Religious bigotry: It's not that I hate everyone who doesn't look, think, and act like me – it's just that God does.
Eric L. Wattree is a writer, poet, and musician, born in Los Angeles. He's a columnist for The Los Angeles Sentinel, The Black Star News in New York, and a Staff writer for Veterans Today. He's also the author of A Message From the Hood.
ATTENTION READERS
Due to the nature of independent content, VT cannot guarantee content validity.
We ask you to
Read Our Content Policy
so a clear comprehension of VT's independent non-censored media is understood and given its proper place in the world of news, opinion and media.
All content is owned by author exclusively. Expressed opinions are NOT necessarily the views of VT, other authors, affiliates, advertisers, sponsors, partners or technicians. Some content may be satirical in nature. All images within are full responsibility of author and NOT VT.
About VT
-
Read Full Policy Notice
-
Comment Policy