(Reuters) – Countries around the world have either banned or stepped up tests on imports from quake-stricken Japan after radioactive substances were found in its food and water following blasts at a nuclear plant.
Exposure to large amounts of radioactivity can cause nausea, vomiting, hair loss, diarrhea, hemorrhage, destruction of the intestinal lining, central nervous system damage, and death. It also causes DNA damage and raises the risk of cancer, particularly in young children and fetuses.
Below are the three radioactive substances health experts are most concerned about, the detected levels in Japan, and what they mean for human health:
IODINE-131
Leafy green vegetables in Japan were found this week to contain up to 22,000 becquerels of iodine-131 for every kilogram.
Such a level exceeds the limit set by the European Union by 11 times. Becquerel is a measure of radioactivity.
Eating a kilogram (slightly more than two pounds) of such vegetables would give half the amount of radiation typically received by the average person from the natural environment in a year.
Eating this amount every day for 45 days will accumulate 50 millisieverts, the annual radiation limit set for a nuclear plant worker. Millisievert quantifies the amount of radiation absorbed by human tissues.
Exposure to 100 millisieverts a year increases the risk of cancer. That is equivalent to about three whole body CT scans.
If inhaled or swallowed, iodine-131 concentrates in the thyroid gland and increases the risk of thyroid cancer. Children, fetuses and young adults are especially vulnerable.
The risk of thyroid cancer can be lowered by taking potassium iodide pills, which helps prevent the uptake of the radioactive iodine.
However, iodine-131 disintegrates relatively quickly and its radioactivity is halved every 8 days. This means it loses all its harmfulness in 80 days.
CESIUM-134 and CESIUM-137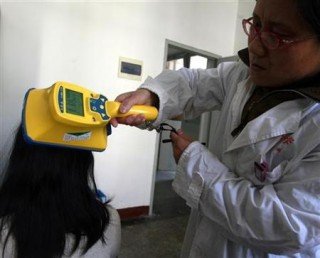 Vegetables in Japan have also been tainted with up to 14,000 becquerels of cesium for every kilogram.
That exceeds the EU limit by over 11 times.
Eating a kilogram of such tainted vegetables every day for a month would accumulate radiation equivalent to a full body CT scan – or 20 millisieverts.
External exposure to large amounts of radioactive cesium can cause burns, acute radiation sickness and death. It can also increase the risk of cancer. Ingesting or inhaling cesium allows it to be distributed in soft tissues, especially muscle tissue, increasing cancer risk. It can also cause spasms, involuntary muscular contractions and infertility.
Unlike iodine, uptake of radioactive cesium cannot be prevented once the person is exposed.
This substance is of more concern than iodine-131 because it is very hardy and takes far longer to disintegrate.
Cesium-137 has a half life of 30 years, meaning it takes that long to reduce its radioactivity by half. It will take at least 240 years for this contaminant to exhaust all its radioactivity.
Cesium-134 has a half life of 2 years, which means it will take about 20 years for it to become harmless.
Below are the effects of short-term, high-level exposure to radiation, as published by the U.S. Environmental Protection Agency. Unlike cancer, these effects from acute radiation exposure usually appear quickly, causing what is known as radiation sickness, which includes symptoms like nausea, hair loss and skin burns. If the dose is fatal, death usually occurs within two months.
– Exposure to 50-100 millisieverts: changes in blood chemistry.
– 500: nausea, within hours.
– 700: vomiting
– 750: hair loss, within 2-3 weeks
– 900: diarrhea
1,000: hemorrhage
– 4,000: possible death within 2 months, if no treatment
– 10,000: destruction of intestinal lining, internal bleeding and death within 1-2 weeks
-20,000: damage to the central nervous system and loss of consciousness within minutes, and death within hours or days.
Sources: Taiwan Atomic Energy Council, World Nuclear Association, US Environmental Protection Agency, Japan's Ministry of Health, Hong Kong's Center for Food Safety
(Compiled by Tan Ee Lyn, Editing by Daniel Magnowski)
Ashraf Ezzat is an Egyptian born in Cairo and based in Alexandria. He graduated from the faculty of Medicine at Alexandria University.
Keen not to be entirely consumed by the medical profession, Dr. Ezzat invests a lot of his time in research and writing. History of the ancient Near East and of Ancient Egypt has long been an area of special interest to him.

In his writings, he approaches ancient history not as some tales from the remote times but as a causative factor in our existing life; and to him, it's as relevant and vibrant as the current moment.
In his research and writings, Dr. Ezzat is always on a quest trying to find out why the ancient wisdom had been obstructed and ancient spirituality diminished whereas the Judeo-Christian teachings and faith took hold and prospered.
Dr. Ezzat has written extensively in Arabic tackling many issues and topics in the field of Egyptology and comparative religion. He is the author of Egypt knew no Pharaohs nor Israelites.
He writes regularly at many well-known online websites such as Dissident Voice and What Really Happened.
Dr. Ezzat is also an independent filmmaker. His debut film was back in 2011 The Annals of Egypt Revolution and in 2012 he made Tale of Osiris a short animation for children.
In 2013 his short The Pyramids: story of creation was screened at many international film festivals in Europe. And he is working now on his first documentary "Egypt knew no Pharaohs nor Israelites".
ATTENTION READERS
Due to the nature of independent content, VT cannot guarantee content validity.
We ask you to
Read Our Content Policy
so a clear comprehension of VT's independent non-censored media is understood and given its proper place in the world of news, opinion and media.
All content is owned by author exclusively. Expressed opinions are NOT necessarily the views of VT, other authors, affiliates, advertisers, sponsors, partners or technicians. Some content may be satirical in nature. All images within are full responsibility of author and NOT VT.
About VT
-
Read Full Policy Notice
-
Comment Policy