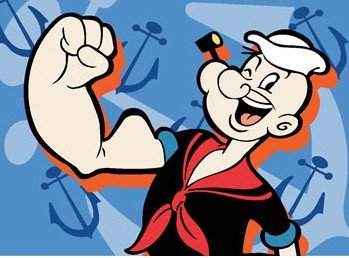 Teaching cartoons as truth
By Gordon Duff, Senior Editor
Listen to Kevin Barret on Radio du Jour
Little teaching goes on in schools, even less happens in homes.  Popular culture teaches our children as it reeducates and propagandizes our adults.  Simply examine the terms.
Popular.
Few remember the 1950s.  Music tastes, then, as especially now, were dictated corporations who bribed disc jockeys to play mindless blither.  The scandal was called "payola."  With so much good music out there, then at least, millions were unaware that "factories" were producing the utter crap they were listening to and buying, crap they learned to love, crap that has since disappeared.
There is nothing left of the thousands of "hit songs" from the 1950s, almost all have simply gone away, not worth stealing, not illegally downloaded even.
The same people who "did" our music, built the rest of our culture too, a culture built on mythology, a hokey form of phony patriotism and totalitarian "brain washing"  based on the carryover of cheap wartime propaganda.  Think tanks with unpleasant globalist political agenda's reinvented America by controlling our education and culture.  This is me discussing the issue with Daryl Bradford Smith a couple of years ago..

[youtube MUhgpxt_VbI]
We became slaves and today have awakened, some of us at least, an in Orwellian nightmare.  Most, however, are still asleep, watching the evening news, looking "left" or "right" for direction in the world of "tweedle dumber" politics.
Remember "Popeye?"  In his cartoons, the wartime versions I would see as a child, he destroyed Japanese planes by the dozen, beat cartoon Hitler's senseless, wiped out entire armies after eating his magic can of spinach.
[youtube sOmkvEMLIT0]
I would like to tell you that "real history" had corrected the inaccuracies of these childish depictions, worse propaganda than our enemies ever stooped to but that would be wrong.
Discussing truth is so controversial, so dangerous that no academic will do it.  In most of the world it is simply illegal.  But, if we are going to step into it, let's go all the way.
Let's talk "Hitler."
I spent alot of time in Germany.  Germans either hate Hitler, or the older generation, mostly gone now, will say, "He was OK then he went crazy."
I have heard it a hundred times.
Historians, those who work at universities are cowards.  Controversy means loss of tenure, firing or worse.  The list of history professors fired for accurate research of World War II is there but not publicly seen.  Other researchers know and are warned.  "Don't go there."
"Keep teaching the "Popeye" version of history."
And they do.
I have had the opportunity to discuss World War II with moderate, liberal German professors in private.  All are willing to stick to the rules.  None question a single word about the Holocaust.  All are silent about the Nuremberg trials and all damn Hitler.  All also point out that there are areas they would like to have redressed, areas where they are forced to teach lies that serve no purpose at all other than to debase the German people.
They all are quietly outspoken on this narrow area.  They are sick of having to live lives of shame because of Hitler.
Then, of course, David Irving came along.  Irving was Britain's "pop culture" historian, a brilliant and tireless researcher, a top TV personality and a great writer.  As long as he stayed "on target" with the "Popeye" version of history, his books sold, he pulled in wealth by the ton and was beloved by all.
Then he decided to write about Hitler.
We had all seen odd things about Hitler.  Germany, while the rest of the world floundered, was an economic miracle under Hitler.  Historian, author Len Deighton touches on this from time to time.  Brits were starving, malnourished, Americans the same and German children, under the Nazis, were cared for, their teeth were fixed, they got exercise, decent diets and all graduated from their equivalent of high school while most Brits were illiterate and few Americans got past 5th grade.
Hitler did wonders, but then, he was insane and did nothing but talk about killing Jews and plotting to take over the world.
We all know this to be true because Popeye says so, that and hundreds of TV shows, movies and our history books.
Irving got himself into trouble, so much trouble he actually ended up in prison.
He found that Hitler wasn't Hitler at all.
Hitler was, as Irving discovered, the Osama bin Laden of his day.
Most Americans believe bin Laden to be a monster, a figure out of a Popeye cartoon.  I could tell you that bin Laden was never a terrorist, never had followers, never admitted complicity in 9/11.  Most wouldn't believe it.  If you want to read what I have written and see the documents supporting same, Google can help you down that path.
The bin Laden Americans know about is a cartoon character that never existed.  He was invented to support the idea of a series of useless wars, financial crimes and rigged elections in the US.
If you want to know how the game works, look up the name "Smedley Butler."  Use Google, it will work just fine.  Do this now if you will, come back and finish the rest, should you think it worthwhile, afterword.
Prepare to be embarrassed. We all started out the same place, not just you.  I was there too.  I hate my teachers for the lies they told.  Some knew better.
Yes, the 1950s, with McCarty and the FBI looking for communists under every bed was a bad time for honest, decent people.
Because so few spoke up then, today is worse.  We have nothing left but lies.
Let's hand out another assignment.  If you haven't heard of Dr. Ingrid Zundel, it isn't important.  She is German.  She is confrontational.  Ingrid just doesn't care.  This makes her honest.  It also makes her enemies.  Dr. Zundel writes a very different version of some events.  Read them here. You don't have to believe them.  That's the whole point.  You don't have to believe anything.
That's how you got there in the first place, believing things people told you that simply weren't true.  Saddam didn't have WMDs. There was no Al Qaeda, still isn't.  Osama bin Laden wasn't a terrorist.  He wasn't killed in Pakistan, not a chance on that one.  (good or bad, he died years ago)
I talk with his CIA and ISI handlers, people I know well.  What we are told is so far from the truth, well, learn for yourself.
Then start the road to learning about 9/11.  Read David Ray Griffin, Jeff Prager, Christopher Bollyn.  Read me.  Listen to Dimitri Khalezov.  Learn about "Building 7."
If you wonder about the price of our silence, consider the Kennedy killings.  Recently, a powerful and compelling case has been made for the relative innocence of Sirhan Sirhan in the killing of Robert Kennedy.
As for JFK, Americans have been battered into shameful silence, a beloved president, considered by many the greatest man of our time, murdered.  We were bullied into accepting a "9/11" type coverup, childish in scope, as with 9/11, not only defying reason and logic but physics as well.  Oswald's "magic bullet" act is still a TV regular, every season mythologists have to resell the 6.5mm Carcano as a weapon capable of exploits beyond science fiction.
The end price may well have been more than just the Vietnam War and a generation of America's best and brightest destroyed, not 50,000 but more like a million, or by recent counts, even more.
Then start thinking about David Irving, someone mostly forgotten and learn why writing about Hitler, the most famous man in world history, sent him to prison.  What did Irving learn?
Today, millions of Americans would gladly see former President George "W" Bush arrested and imprisoned, even executed.  My guess is that a majority of Americans feel that way.  You will never read it but I hear it every day.  He is as hated as Hitler.  He is seen as responsible for the destruction America has suffered, certainly not entire cities flattened as with Nazi Germany under Hitler but thousands killed.
It is a good guess that most Americans believe Bush planned the 9/11 murders.  People don't hold polls on things like that except, once in Australia they did.
So, if the news tells you that people who think 9/11 was a government conspiracy are a minority of "nutters" and you find they are a large majority instead, what do you learn.  Anthony Lawson did an excellent video about this issue.  I am going to link it up here.  Lawson is a fun guy and this will help lighten things up.
[youtube UntixeRiEK8]
If you like this, go to www.youtube.com and find Anthony Lawson's channel.  Some of his best videos have been removed because of censorship.
That should make you afraid.  If not, keep reading.
A year ago, former professional wrestler and governor or Minnesota, Jesse Ventura did a television show exposing 9/11 as a government conspiracy.  I don't always like everything he does but here, Ventura hits one "out of the park."  I wrote an article about it, nothing fancy, simply put up his video and made a few comments.  The video is a masterpiece.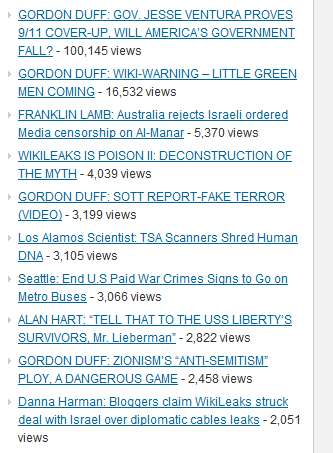 The article I wrote hit so much traffic, it shut down our counter after a few hours.  Total reads topped well over 6 million with the article mirrored over 25,000 times around the world.  I only wish I had taken more than 15 minutes to write it.
But, the article wasn't about me, it was about truth.  People weren't buying me, they had a rare chance to hear and see the truth, incontrovertible proof that the American government hadn't just lied but had done something terrible and blamed Osama bin Laden.
The article has a series of videos and is available here.
I will put the 43 minute video up for you to see.  Take this rare opportunity to do something with your children that might help form their lives into something we can all be pound of.  Teach them to question.  Be a real parent.
[youtube TrZ14NRbT-s]
This takes us back to Hitler, the "bin Laden" of his day.  If what we are told of Hitler is correct, a painful question or it should be, some of us know that Stalin was worse.  What few of us realize and Irving proved is that Stalin invented the version of Hitler we know today.
What if what we know about the worst person in the world was told to us by someone even worse than them?
Confused?
So, why did Irving go to prison.
Here is a photograph of a coin.  This is a clue: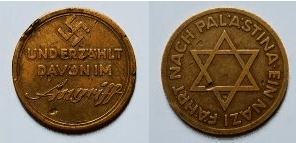 What if I could prove Osama bin Laden was innocent? I can.  I have witnesses, members of the US intelligence agencies and FBI who are willing to testify that bin Laden always worked for the US.  I have documents that prove he was never the person Americans were told to fear and hate, that Bush and Cheney invented the whole thing, just like they invented so much else.
In fact, it wouldn't take much effort to prove Bush and Cheney to be war criminals.  In fact, they aren't allowed to travel outside the US because they face arrest for war crimes now.  To go anywhere, most members of the Bush administration require guarantees they won't be arrested.  Dozens of top US officials are on arrest lists, wanted by war crimes tribunals around the world.
Ah, but I digress…
What did David Irving find about Hitler that made people want to destroy him, silence him.  Irving used to make millions selling his books.  You can now download them free, most of them.
Irving proved that "Hitler" was not "Hitler."
Do I want to turn the world upside down?  Not really.  We have problems today and, unless you are a poor German or a Palestinian being imprisoned because someone in Israel feel Stalin's version of history gives them "cover" to run an apartheid state, well, you can see where this is going.
Is truth worth sacrifice?
Here is the deal.  What if news is controlled.  What if, even the "best of it" is nothing but lying propaganda, lies built on lies?  What if every decision you made, your ideas about America, your ideas about truth, your votes, even who you think you are, we are, is based on bare faced lies so convoluted, so evil, so wild and distorted that you might eventually feel you have spent your life as a character in a Matrix movie?
Then, then you would finally begin to understand.
Gordon Duff is a Marine combat veteran of the Vietnam War. He is a disabled veteran and has worked on veterans and POW issues for decades. Gordon is an accredited diplomat and is generally accepted as one of the top global intelligence specialists. He manages the world's largest private intelligence organization and regularly consults with governments challenged by security issues.
Duff has traveled extensively, is published around the world and is a regular guest on TV and radio in more than "several" countries. He is also a trained chef, wine enthusiast, avid motorcyclist and gunsmith specializing in historical weapons and restoration. Business experience and interests are in energy and defense technology.
ATTENTION READERS
Due to the nature of independent content, VT cannot guarantee content validity.
We ask you to
Read Our Content Policy
so a clear comprehension of VT's independent non-censored media is understood and given its proper place in the world of news, opinion and media.
All content is owned by author exclusively. Expressed opinions are NOT necessarily the views of VT, other authors, affiliates, advertisers, sponsors, partners or technicians. Some content may be satirical in nature. All images within are full responsibility of author and NOT VT.
About VT
-
Read Full Policy Notice
-
Comment Policy