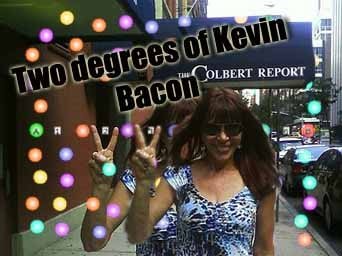 DISCLOSURE: VT condemns the horrific tragedy committed by the NAZI Party against Jewish Citizens of Europe during Word War II known as the "Holocaust". VT condemns all racism, bigotry, hate speech, and violence. However, we are an open source uncensored journal and support the right of independent writers and commentors to express their voices; even if those voices are not mainstream as long as they do NOT openly call for violence. Please report any violations of comment policy to us immediately. Strong reader discretion is advised.
---
Two degrees of Kevin Bacon and Message through The Door of The Colbert Report Vis-a-Vis Vanunu Mordechai and oPt
by Eileen Fleming
[New York City]–Six Degrees of Kevin Bacon is a game based on the understanding of our interconnected world and plays upon the assumption that individuals can be linked through film roles to actor Kevin Bacon within six steps. The name of the game plays upon the "six degrees of separation" concept. In 2007, Bacon began a charitable organization named SixDegrees.org.
Last week, I went back to my homeland-New York City, by way of Jersey where I had flown my 85 year old early Alzheimer's mother to visit with her 75-year-old sister who can pass for 60 by way of looks, dress, attitude and vigor.
My Uncle is also younger than his birth certificate claims. He buys his hats in Harlem and he has dozens of them. Their home is happy and filled with the sounds of Sinatra and photos of the well-mixed Italian, Polish Jew and Irish Catholic family.
Last Thursday my Uncle was coordinated in champagne and cream from brim to sandals for our day in West Central Park, where their youngest son, his wife and the best baby in the world know home in a brownstone down the block from Jerry Seinfeld and up the street from Kevin Bacon-thus I stake claim to a second degree connection.
My cousin's wife laid out a feast of jumbo-sized shrimp, mango and corn salsa, fresh veggies, roasted red peppers, meats, cheeses and the crustiest outside and lightest within Italian bread that I haven't had since my last trip to NYC in 2007.
At 2 PM my Aunt, mother and cousin grabbed a cab to travel the few blocks to the hair salon where my mother and me received much-needed haircuts and blowouts. Just after 4PM, I grabbed a cab to The Colbert Report Studio "on a mission from God" [The Blues Brothers] and my family spent the afternoon in Central Park on a mild sunny day in the city like no other.
Twelve other non-ticket holders had arrived before I had and their names were on the Stand By list. They had all taken off and would not return until around 5:45 PM to learn if there was room for them after all the Ticket holders who had lined up against the Wall were let in.
I spoke with the Intern known as "the dashing roguish one" who aspires to be a playwright. He was busy but pleasantly patient as I tried to BRIEFLY explain that I was a nurse, then novelist, turned reporter-muckraker and was now a serious candidate for US House of Representatives from District 5 in Florida and I wanted to get a message through to the Supreme Allied Commander of the Colbert Super PAC Nation.
He accepted a copy my only fund raising vehicle- BEYOND NUCLEAR: Mordechai Vanunu's FREEDOM of SPEECH Trial and My Life as a Muckraker: 2005-2010, and letters from the offices of Bibi and Peres, Obama and Biden acknowledging receiving the copies that I had mailed them. The Intern known as "the dashing roguish one" sweetly laughed as he viewed photo of me with Helen Thomas as I said that when I told Ms. Thomas I wanted to reach Colbert, she warned me "that's toxic."
[READ MORE: An Evening with Helen Thomas and Flashback to John Lennon and Vanunu Mordechai ]
The Intern known as "the dashing roguish one" snapped this picture of me and delivered all of my offerings to the front desk of The Colbert Report and I stood next to the Fence at 513 West 54th Street under the "STAND BY" sign and Ticket Holders stood in line along The Wall next to the Studio under the sign "Ticket Holders."
I spent my time back in my mind at the Checkpoints in the Wild West Bank of occupied Palestine. I also thought about the 20% of the House of Representatives who will be spending their holiday recess on an American Israel Public Affairs Committee (AIPAC) paid tour of Israel.
[READ MORE: Out of the Belly of AIPAC and Why I am too RED to be Pink! ]
The spin is that the trips for the 26 Democratic congressmen headed by House Minority Leader Steny Hoyer of Maryland, and two other continegents of 55 Republicans, one led by House Majority Leader Eric Cantor- the latest darling of the tea partiers- are about providing congress with a "deeper understanding" of the situation in the Middle East.
Until ALL Congressional reps also spend EQUAL time in occupied Palestine, walk through The Terminals and stand in line at the 600 odd Checkpoints scattered throughout the West Bank and view The Wall without the faux paint and landscaping that hides Apartheid from the eyes of travelers on the highways and byways of Israel; they will never know jack about the true facts on the ground in the so called holy land.
Israel's Wall is also funded by USA Tax payers and it has eviscerated the land as it grabs legally owned Palestinian property, devours their resources and denies them access to their jobs, families and holy sites.
"Financed with U.S. aid at a cost of $1.5 million per mile, the Israeli wall prevents residents from receiving health care and emergency medical services. In other areas, the barrier separates farmers from their olive groves which have been their families' sole livelihood for generations." [1]
"Meanwhile back on Capitol Hill, other friends of Israel were busy prior to recess, also without any mainstream media coverage. Two congresswomen from Florida, Debbie Wasserman-Schultz and Ileana Ros-Lehtinen, have introduced legislation that will allow Holocaust survivors living in the United States to receive federal funds to help them stay in their homes, rather than having to move to an institution. The bipartisan bill places survivors on a special list of elderly citizens receiving preferred treatment through a grant program to help them with their transportation and other needs." [2]
Around about 5:45, a china doll petite blonde with a Colbert Report cap on, announced the names on the stand by list who would walk through the doors of The Colbert Report Studio for that evenings taping.
I was not among them, but will forever be grateful that my third book at least made it through the door of The Colbert Report Show and had traveled beyond the front desk by the time I bid goodbye and again thanked the Intern known as "the dashing roguish one."
I walked 30 blocks back to my family just as joyous to deeply inhale traffic fumes as fresh flowers and pizza.
I went off in my mind and imagined the Intern known as "the dashing roguish one" might one day write a script and Kevin Bacon will star in it; and I will claim another second degree of Kevin Bacon.
But far better will it be if Colbert will break the News that THE MEDIA has been ignoring and as The Media pays rapt attention to Colbert they can be FORCED to finally Report "The Big Get" I documented in my third book.
On 26 March 2006, the Whistler Blower of Israel's WMD Program, Mordechai Vanunu told me:
"Many journalists come here to the American Colony, from CNN and NY Times. They all want to cover my story, but their EDITORS say no…CNN wants to interview me; but they say they can't do it because they don't want problems with the Israeli censor. BBC is doing the same thing.
"Sixty Minutes from the United States from the beginning they wanted to do a program, but because of the censor situation they decide not to do it. Also big media from Germany, France, Italy, Japan. None of them wants problems with the Israelis." [The "Big Get" Don Hewitt and "60 Minutes" Didn't Get Read more… ]
On 14 July, the Israeli High Court justices ruled that Vanunu's petition to have his citizenship revoked under the recently passed Citizenship Revocation Law must be answered within 30 days. [3]
Vanunu Mordechai ,Revoking my Citizenship-MAY 5-2011eng'
That deadline expired on the 13th of August.
On Friday morning before I flew my revived mother back to Florida, my Aunt handed me her 'bible' a small book of short stories and inspiring quotes.
The one that popped out at me was by Helen Keller:
"I am only one, but still I am one. I cannot do everything, but still I can do something. I will not refuse to do the something I can do."
May it also be for all of you.
May it also be that Israel comes to its senses and frees Vanunu Now and Ends the Occupation of Palestine.
1. Washington Report on Middle East Affairs, Page 43, Jan/Feb. 2007
2. Its Still Occupied territory
3. Vanunu to High Court: I no longer want Israeli citizenship
Eileen Fleming founded WeAreWideAwake.org. She produced videos "30 Minutes with Vanunu" and "13 Minutes with Vanunu".  She has authored many books including; A USS Liberty Remembrance of 50 years USA Government Cover-Up of Israel's 8 June 1967 Attack on USA Spy-Ship, Wabi Sabi Body ETERNAL SPIRIT, and Heroes, Muses and the Saga of Mordechai Vanunu. Click here to see her latest books. Visit Eileen's YouTube Channel
ATTENTION READERS
We See The World From All Sides and Want YOU To Be Fully Informed
In fact, intentional disinformation is a disgraceful scourge in media today. So to assuage any possible errant incorrect information posted herein, we strongly encourage you to seek corroboration from other non-VT sources before forming an educated opinion.
About VT
-
Policies & Disclosures
-
Comment Policy
Due to the nature of uncensored content posted by VT's fully independent international writers, VT cannot guarantee absolute validity. All content is owned by the author exclusively. Expressed opinions are NOT necessarily the views of VT, other authors, affiliates, advertisers, sponsors, partners, or technicians. Some content may be satirical in nature. All images are the full responsibility of the article author and NOT VT.