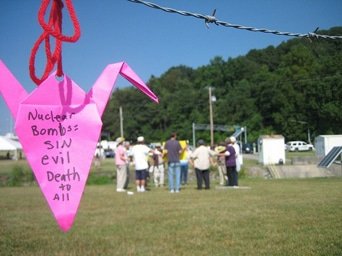 [Tennessee]–Come September, The Y-12 thirteen nuclear resisters will be sentenced for their July 5th 2010 nonviolent civil disobedience protest against USA MADE Nuclear Weapons.
I was eyewitness to that day when priests and nuns, atheists, anarchists and a clown were among the 23 arrested by the State and 13 by the Federal Government for nonviolently resisting Nuclear Weapons at the Y-12 Complex.
Federal charges were for trespassing-and I was tempted to join those who crossed under the wire fence as MEDIA when I saw the 'photographer' who had been very busy the preceding few hours snapping photos of our crowd of over 200 nuclear resisters who had come together two days prior for a weekend long celebration of 30 years of The Nuke Resister and Nukewatch.
Jean and Mr. Gump, and two clowns a few hours prior to arrest and incarceration.
Just as I put my hand to the wire fence, I saw that 'photographer' converse with one of the officers that surrounded the 13, and only then did I realize she was a Federal Agent who had been among citizens of conscience who had come from Australia, California, New Hampshire, Canada and this lone voice out of Florida to demand an END to USA manufacturing, storing and using Nuclear Weapons.
The Declaration of Independence from Nuclear Weapons at Y-12, was read just prior to the arrests:

The Declaration of Independence on July 4, 1776 indicted a government that engaged in barbaric conduct contrary to the laws of Humanity that included "works of death, destruction and tyranny unparalleled in the most barbaric ages" until the Age of Now!

Current Law requires an end to all planning, preparation, production, threat, or use of nuclear weapons and we the people have gathered here today, July 4, 2010 at Y-12 to demand this Government adhere to the fundamental rules and principles of Humanitarian Law.

These rules and principles require that civilians never be the object of attack. Consequently we must never use weapons that are incapable of distinguishing between civilians and military targets.

Whereas, all W-76 and W-76-1 thermonuclear secondaries produced at Y-12 are designed and produced to unleash 100 KT of uncontrollable and indiscriminate heat, blast and radiation, six times more than the Hiroshima Bomb,

Whereas, the International Court of Justice found that the destructive power of nuclear weapons cannot be contained in either space or time, and that the potential to destroy all civilization and the entire ecosystem of the planet,

Whereas, citizens have both rights and duties we the people of conscience must ensure future generations their right to life,

Whereas, under the principals of democracy we the people of conscience demand this government to fulfill its promise and responsibilities to pursue and achieve nuclear disarmament,

We the people of conscience therefore exercise the right of every citizen of this republic and this planet to peacefully resist the nuclear threat; attacking as it does every core concept of human rights.

Whereas it is a basic human right to be free of threat or violence, and it is our duty to protect children and future generations we call on this government to use our tax dollars that are now being used to wage permanent war unequivocally demand they be used to pursue a nuclear free world and clean up all chemical and radioactive contamination.
A Little History:
The DOE/Department of Energy's nuclear weapons design and production complex consists of eight sites.
The NNSA/National Nuclear Security Administration runs the weapons complex, and is planning to build three new nuclear facilities that will significantly expand U.S. warhead production capacity.
The Y12 Plant in Oak Ridge, Tennessee will produce "secondaries" which equates to 125 new nuclear weapons per year.
The Y-12 Plant is currently scheduled to manufacture upwards of 2,000 LEPS/Life Extension Programs warheads by 2016, which are refurbished WMD and which will equate to 80 NEW Nuclear Weapons a Year.
This will also exceed the number of deployed warheads permitted under the New START Treaty (1,675), as well as undermining the argument that new production facilities are even needed!
Most nuclear weapons in the current U.S. stockpile were produced anywhere from 30 to 40 years ago and they were not designed or intended to last indefinitely.
In the mid-1990's, the DOE embarked upon "Life Extensions Programs/LEPs to refurbish and extend the 'shelf life' of existing nuclear weapons. Under the LEP, warheads in the current arsenal are disassembled, parts are refurbished or replaced with new components, and the warheads are reassembled and redeployed.
"The purpose of the LEP is to maintain an enduring nuclear arsenal…[adding] at least 30-40 years to a warheads usable life, according to the DOE [one official has been quoted at 100-120 years], and addresses aging issues of limited life components. [Under the LEP, the] DOE plans to upgrade every type of nuclear warhead in the planned United States arsenal." [1]
While programs for education and cleaning up our environment are being cut or are frozen, funding for nuclear weapons research and production programs by the Department of Energy's National Security Administration has increased. We the people who pay taxes in the USA currently provide over $6.4 billion, which is to be increased to $9 billion by 2018!
"Any nation that year after year continues to raise the Defense budget while cutting social programs to the neediest is a nation approaching spiritual death." – Rev. MLK
Three decades after the Cold War, we the people of the US are being taxed at a rate 75% higher than the annual Cold War average of $5.1 billion!
We the people are also being forced to pay for "modernization" which equates to EXPANSION to fund new multi-billion dollar facilities for the production of plutonium pits at Los Alamos, NM and thermonuclear "secondaries" at Y-12, in Oak Ridge. Tenn.
The FY 2012 budget for the National Nuclear Security Administration includes 7.6 billion for nuclear weapons research and production.
Funding for a new "Uranium Processing Facility" for production of thermonuclear secondaries at the Y-12 production plant near Oak Park Ridge, TN, is proposed to increase to $160.2 million from $115 million in 2011.
The 2012 budget request also creates a new Life Extension Program for the B61 warhead funded at $223.6 million, even though that gravity bomb's original mission of forward deployment in Europe against a Soviet threat vanished at the end of the Cold War.
Life Extension Programs extend the service lives of existing nuclear weapons for three decades or more, in contradiction to our declared national security goal of a future world free of nuclear weapons, and it also endows them with new military capabilities. [2]
This six billion year old planet could be gone in one dark day due to nuclear war or a nuclear 'human mistake' yet every factory in the USA that is a producing cogs and bolts for nuclear weapons could be re-tooled within a year to manufacturing or researching Green Energy.
13 Nonviolent citizens of conscience are facing more jail time and Mr. Gump is asking citizens of conscience to mail a brief letter to the Judge for the Y-12 Thirteen, requesting leniency because of the undue severity of the charge, the motivation of the defendants and the nonviolent action involved.
Dear Relatives, Friends and Supporters,

Jean [and all others] will face a possible sentence of one year in prison and a $100,000 fine when she is sentenced on September 12, 2011.

Her crime, a misdemeanor charge of trespass at Y-12, Oak Ridge, TN with twelve others on July 5, 2010.

Her motive, to protest the continued and soon to be expanded production of Hydrogen Bomb materials at that location.

This plant produced the Uranium used to make the Atom Bomb dropped on Hiroshima, Japan sixty years ago. Such production is prohibited by International Law and various treaties which our government has signed.

The Nuremberg Principles established at the end of WWII were used to prosecute German citizens for failing to do what Jean is now being punished for, namely objecting to the criminal activities of their country.

I write you who have known Jean and of her nonviolent resistance to nuclear weapons for the past forty years to write a letter on her behalf which her attorney believes might help the judge give a lenient sentence.

The letter should be addressed to:

The Honorable H. Bruce Guyton

U.S. District Court

800 Market Street

Knoxville, TN 37902
THE Y-12 Thirteen and SENTENCING DATES:
Bill Bichsel Sept. 12 at 1:30 PM
Jean Gump Sept. 12 at 9:30 AM
Bonnie Urfer Sept. 14 at 1 PM
Sr. Carol Gilbert Sept. 16 at 9:30 AM
Sr. Ardeth Platte Sept. 16 at 1:30 PM
RIP Jackie Hudson Sept. 19 at 9:30 AM
Michael Walli Sept. 19 at 1:30 PM
Brad Lyttle Sept. 20 at 1:30 PM
Steve Baggarly Sept. 20 at 9:30 AM
Sr. Mary Dennis Lentch Sept. 21 at 9:30 AM
Paula Rosdatter Sept. 21 at 1:30 PM
Dave Corcoran Sept. 22 at 9:30 AM
Dennis Duvall Sept. 22 at 9:30 AM
Father Berrigan also said: "If enough Christians followed the gospel, they could bring any state to its knees."
In 1987, Mordechai Vanunu wrote from his windowless tomb sized jail cell that held him captive for 18 years for "objecting to the criminal activities of his country":
"No government, not even the most democratic, can force us to live under this threat. No state in the world can offer any kind of security against this menace of a nuclear holocaust, or guarantee to prevent it…

"Any country, which manufactures and stocks nuclear weapons, is first of all endangering its own citizens. This is why the citizens must confront their government and warn it that it has no right to expose them to this danger. Because, in effect, the citizens are being held hostage by their own government, just as if they have been hijacked and deprived of their freedom and threatened…

"When governments develop nuclear weapons they are violating the basic rights of their citizens, the basic right not to live under constant threat of annihilation."
ATTENTION READERS
Due to the nature of independent content, VT cannot guarantee content validity.
We ask you to
Read Our Content Policy
so a clear comprehension of VT's independent non-censored media is understood and given its proper place in the world of news, opinion and media.
All content is owned by author exclusively. Expressed opinions are NOT necessarily the views of VT, other authors, affiliates, advertisers, sponsors, partners or technicians. Some content may be satirical in nature. All images within are full responsibility of author and NOT VT.
About VT
-
Read Full Policy Notice
-
Comment Policy